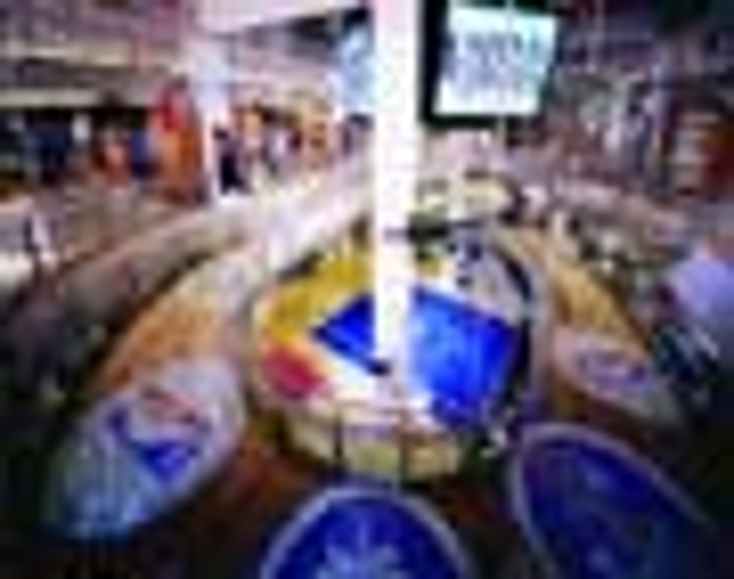 ]>
Juniors' retailers have some burning questions to answer this month in Las Vegas. Will the peasant blouse still graze prairie skirts next spring? What's next for the funny faces of SpongeBob and the Osbournes? In menswear, where emphasis is on classification sportswear and specialty items, shopping MAGIC is more about taking chances. Maybe writing orders with a little-known vendor. Or finding interesting colors and patterns to liven up a staid classification mix. Whatever the market, retailers will be looking for newness this MAGIC Marketplace. Most are ready to buy for holiday, but are reportedly "just looking" for spring '03. Denim and accessories will be in the spotlight for the younger market. Retailers will be shopping the edge for inspiration and for a peek into a trend-filled crystal ball. They'll be checking out streetwear to see who's wearing what, with an ear to what the DJs are spinning. And while some major children's wear retailers we spoke to are opting out this show, chances
are, they'll be back in February-along with a stronger economy.Here, License! gets the scoop from five retailers-from catalogs to department stores and from women's accessories to menswear-on buying patterns and expectations."We always have a rep at MAGIC, and we do a significant amount of licensed product. We're shopping for both holiday and early spring. We're somewhat unusual to the direct- purchase genre in that we buy product for the catalog pretty close to season. Look for new washes and finishes in denim-more for early spring because lead times are longer than for most other items. Our philosophy revolves around newness in items, brands, categories, and trends.The screen T-shirt category is offered in every book we publish, and 99 percent of the time it's branded. We'll go for whatever looks like it's a trending category or character. For a while, animals were hot. If characters are trending, we'll be looking for that. We're looking for My Little Pony, Wonder Woman, and Superman. Also, new ways to do destinations. New York has been very important, and we're looking for new ways that can be done. We'll also look for a new band to trend, such as Weezer, No Doubt, or The Strokes.Another trend is kitsch. We can do it in accessories, roomwares, socks, and jewelry. We'll look for a character that is unconventional or done in an unconventional way. Last year, we did Hello Kitty on a sneaker. We'll do traditional characters such as Care Bears and Peanuts on clocks and roomware. Paul Frank's entire line of T-shirts and novelty accessories does well, as do the Osbournes. the edge is so important to us because it identifies what teens want-it's our job to offer them product at the right time and the right price.MAGIC gives us insight into what the new trend may be and whether or not we should carry it."
-Sharon Pommer, president, Phase Three (the merchandising division of Alloy Inc.)
"We're looking for newness in denim and newness in licenses. I can't say too much about forward trends [in denim], but let's just say there will be some changes happening for spring. In licensing, we look for new ways to do the licenses we have, whether it's new product categories or line expansions, or new ways to interpret a license. I shop the show for licenses with our partner, Hot Topic. We like to be open-minded and not necessarily predetermine what we want. With a new license, we tend to start with stickers, pins, and patches first. We're still doing well with Emily, the Care Bears, and Strawberry Shortcake. For us, MAGIC is all about the edge and licensing, since there is a junior market week every month. the edge provides a foundation from which we get a vision of what we want our stores to look like. Our streetwear comes from brands such as Kikwear and Illig. It tends to be a blend of normal street and a little girlier design. If our customer wants a fully tricked-out cargo pant, she'll buy it in the guys' department."
-Meg Clymer, DMM, Torrid (junior plus-size spin-off of Hot Topic; 13 stores carrying sizes 14 to 26x)
"We're looking for anything we haven't covered for holiday and new items going forward for transition to spring. We prefer to go to MAGIC with a clean slate because it leaves us more open to [new] things, but it's also about knowing what's working right now-and finding the update and evolution of something that's working right now and what product we can build around a trend that's working right now. We're open to new private-label partners, but they must offer something we can't already get. It has to be a new idea.I'm looking at anything in the natural elements: shell, wood, hemp, mother-of-pearl, abalone, and precious-looking rocks. That's what is hot now. So at this point, I'm still looking for things that have that same feeling, but I want to bring it to the next level for holiday and spring. Turquoise is big [so I'm looking for it] with strong accents or with color directions. Claire's always sells blue, pink, and purple-blue is always good. In fashion color, coral is happening; the other color directions I'm working with are natural/neutrals, and black and red and Asian inspired. What's over? Nameplates, initials, and more tailored looks. Color is driving sales."
-Michael Rosa, senior DMM, jewelry, Claire's
"We're generally more private-label driven in most classification items. We do snowboard jackets, sweaters for BTS and holiday, denim, casual pants, T-shirts, short-sleeve knits, wovens, and accessories such as hats, belts, socks, boxers, and bags. We don't go to MAGIC looking for direction or inspiration as much as we do to meet with some of our core vendors, such as Quiksilver. There's also more of an accessories business there. We meet with a lot of the shoe people including DC and Globe. I don't necessarily walk through the entire show. I check out streetwear for the music and the edge-the happening parts of the show. I am mostly looking for holiday and planning for spring."
- Ann Trapp, DMM, young men's, Zumiez
"We send select management-DMMs and GMMs, but no buyers. We're there to find vendors not on our current list [of partners]. Since we're already well developed in private label, we're looking for newness in branded product. Men's is stagnant, so we're looking for what we don't have on the floor already in sportswear. But not another pique shirt, I can tell you that. We're just starting to develop ideas as to what we're looking for, and we won't complete our plans until the show. We hold off [on planning] to keep as current as possible."
-Tony Menzie, GMM men's, Dillard's (Fort Worth, TX)
Subscribe and receive the latest news from the industry.
Join 62,000+ members. Yes, it's completely free.
You May Also Like
Loading..