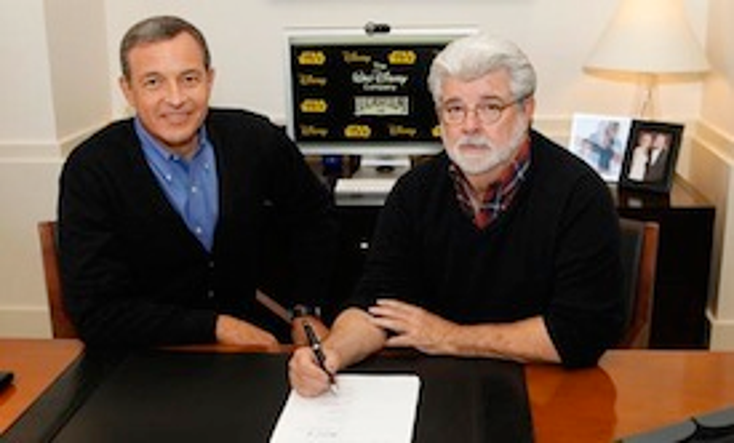 With its third mega-acquisition in six years, The Walt Disney Company further distances itself from its rivals, bringing one of the most successful franchises ever into the fold.
Whether it was Disney's chief executive officer Bob Iger's relentless commitment to growth and expansion or Lucasfilm's founder George Lucas' desire to protect the legacy of his beloved 35-year-old Stars Wars franchise and move on to other personal projects, the timing was perfect for both companies.
The $4 billion deal gives Disney a multitude of opportunities that will justify its investment, much like the acquisitions of Pixar in 2006 and Marvel in 2009. Since then, Disney has spent more than $15 billion to expand its portfolio and position the company for decades to come.
With Lucasfilm, the world's largest licensor gets the 15th largest licensor, putting Disney Consumer Products at $40.5 billion in retail sales of licensing products worldwide.
Lucasfilm also gives Disney an instant presence in the sci-fi sector
and strengthens its position in all related disciplines among retailers and consumers.
Content. The deal solidifies Disney's pipeline for theatrical, television, publishing and digital content for years to come with Star Wars and perhaps someday again with Indiana Jones. Star Wars: Episode 7 is already planned for a 2015 release with Episodes 8 and 9 planned in subsequent years.

Brand licensing. While Lucas Licensing has leveraged the brand extensions as well as any licensor ever has, Star Wars expands its market position in the boy's toy category and gives Disney a more dominant position at retail;

Live entertainment. With its live events and conventions, Lucas has already established a robust, fan-driven lineup that Disney will continue to leverage and expand, not only within its theme parks, but as separate events as well.

Technology. A part of the deal that will likely be overlooked is Lucasfilm's other businesses in lighting, visual effects and sound that will complement and enhance Disney's dominance in cutting-edge technology. They include Industrial Light & Magic and Skywalker Sound.

Marketing and promotions. The Star Wars property will benefit from Disney's powerful global marketing initiatives and create even more opportunities for various promotional partnerships.
In any given year, the Disney juggernaut has the wherewithal to produce blockbuster releases from Star Wars, Marvel and Pixar, as well as additional content from its other divisions. The key to long-term success for Disney is to keep these diverse franchises separate to the point that they still drive creative development independently, while leveraging internal global synergies in licensing, marketing, promotions and the like.
Disney must also recognize that what drives one character's success and power, could lead to another character's demise.
As the studio and its various divisions, including consumer products, continue to implement its new strategies (see
License! Global
's June issue
for more) the addition of Lucasfilm adds yet another competitive advantage to a content-rich company, another level of challenges for integration and implementation, and a greater demand for results among shareholders.
Subscribe and receive the latest news from the industry.
Join 62,000+ members. Yes, it's completely free.
You May Also Like
Loading..