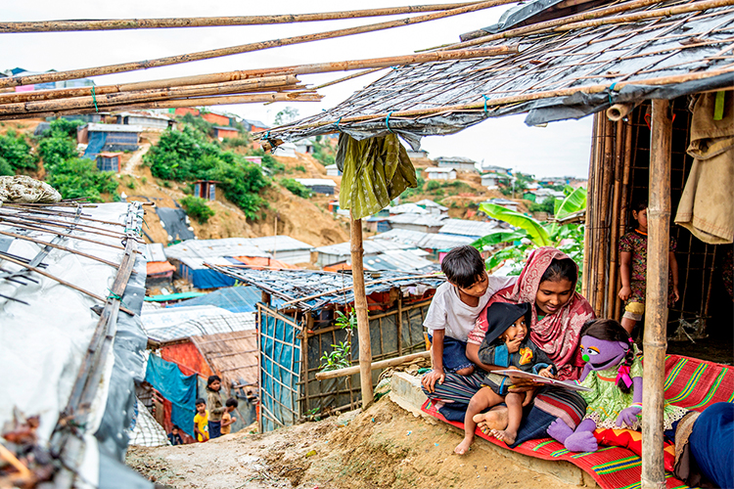 Sesame Workshop will work with BRAC, the International Rescue Committee (IRC) and New York University's Global TIES for Children to deliver early-childhood and play-based learning tools to the group. New videos, storybooks, games and puzzles will feature the Muppets on Sesame Street. BRAC will scale its network of humanitarian play labs with new locations for children ages 0-6 from Rohingya refugee and Bangladeshi host populations. BRAC's Play Lab model is built to give preschool children age-relevant and culturally-appropriate play materials, a play-based curriculum and safe spaces for supervised play. Harnessing the power of the "Sesame Street" Muppets, Sesame Workshop will produce videos focused on play to be shared via family-friendly mobile and pop-up viewings in refugee and host communities. Sesame Workshop will develop programming through its Bangladeshi version of "Sesame Street," "Sisimpur," and through a new TV series created for the Syrian response region. A significant amount of content will use animated and nonverbal formats to combat language barriers. NYU's Global TIES for Children has been selected as the independent evaluation partner for the program and will implement an evidence-based research and evaluation program.
The grant will be paid out over five years as established milestones are met. The new program builds on the existing Sesame Workshop-IRC program that serves children and families affected by the Syrian conflict and supports caregivers to better engage in playful learning with their children.
"This
partnership marks the first step of the LEGO Foundation's commitment to work within the humanitarian field to support children's holistic development that incorporates learning through play," says Thomas Kirk Kristiansen, chairman of the LEGO Foundation Board and fourth generation owner of the LEGO Group. "We hope to inspire other funders, humanitarian actors, world leaders and governments to act and urgently prioritize support for play-based early childhood development for children in humanitarian crises–a vastly overlooked but vital component in the progress of humanitarian aid. We hope that young children impacted by these crises will have opportunities to benefit from learning through play and also develop the skills needed for them to thrive in the future."
The award is a response to the John D. and Catherine T. MacArthur Foundation's call for philanthropy to modify the way the humanitarian system services children affected by crises in early childhood. According to a company statement, roughly 68.5 million people are displaced around the world, which includes 25 million refugees, half of whom are children.
Because refugees are displaced an average of 10 years, the instability significantly affects the mental, physical and educational development of affected children. Less than 3 percent of the current global humanitarian budget is dedicated to education.
"Research shows that not only is play vital for children's psychological, emotional and cognitive health and development, but it also hones the resilience they need to overcome adversity and build their futures," says John Goodwin, chief executive officer, LEGO Foundation. "Early adverse experiences negatively affect the development of brain architecture, which provides the foundation for all future learning, behavior and health. By providing play-based learning to children in crisis, we can help mitigate the detrimental, long-term effects of displacement and trauma, ultimately giving a generation of refugee children a path forward."
Read more about:
Subscribe and receive the latest news from the industry.
Join 62,000+ members. Yes, it's completely free.
You May Also Like
Loading..