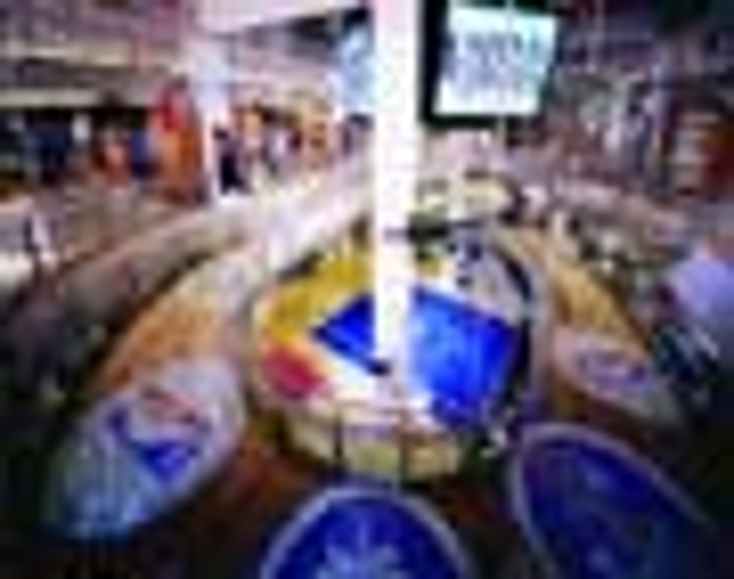 ]>As comic book, video game, and movie characters move among the three media, licensees must differentiate product while maintaining brand integrity.
Action! That's what the coveted 18- to 34-year-old consumer demographic demands when it comes to comic books, video games, and movies. As a result, characters from all three media often move seamlessly from one world to the next, offering myriad opportunities for licensing. But the questions remain: How do licensees remain true to the franchise while offering consumers a fresh take on characters and storylines? And how can licensees capitalize on a coordinated marketing strategy?Such questions loom particularly large this year with the release of a slew of video games and movies based on comic book characters, plus movies based on video games and vice versa. Marvel's Spider-Man for example, hits both the silver screen and the video screen this month, followed by movies and games for Marvel's Daredevil and X-Men. Several DC Comics characters, including Superman, Batman, Aquaman, and the Justice League, will combat evil in new video games released later this year. Following in the footsteps of Tomb Raider and Resident Evil, video game House of the Dead will be turned into a movie, while upcoming movie Reign of Fire will spawn a video game. In all cases, strong, identifiable characters and compelling storylines are what makes these properties viable candidates for comic books, video games, and movies.Staying in Character"Our biggest concern is that the characters do what they do in our comic books," says Russell Brown, executive vice president, consumer products, promotions, and media, Marvel Enterprises. "For example, Spider-Man doesn't kill people. That said, you have to have some differentiation between the character in the movie, but it's small in the case of Spider-Man-mostly the costume."
Movie
studio Sony Pictures also took some liberties in the quotes, special effects, and surprise elements to enhance the film, according to Al Ovadia, executive vice president, Sony Pictures Consumer Products. "After all, we have to recognize the original story was launched some 40 years ago, and now it's modern times." The costume is probably the most striking difference between movie and comic book, with the film utilizing a more textured look, with raised webbing.
For the new Spider-Man video game, Activision chose to base the look on the movie rather than the comic book. "Sony gave the movie a contemporary look, feel, and style, and we did the same with the video game, so it has a stylistic, cinematic appeal," says Tricia Bertero, vice president, global brand management, Activision. The company worked with the movie's director to make the storyline bigger and broader with more villains, since 40 hours of game play were needed versus 90 minutes of a movie.
Several new video games based on DC Comics characters soon will hit the market (DC Comics handles the licensing based on comic characters, while Warner Bros. Interactive oversees licensing for video games based on the movie and TV characters). "One of the assets of DC characters is that they have different looks depending on the media form in which they appear," says Cheryl Rubin, vice president, licensing and merchandising, DC Comics. "This gives us more opportunities to license based on comic books, animated TV series, and movies."
"In our PlayStation 2 title, Superman: Shadow of Apokolips, the characters and world are rendered in a 'cell-shaded' style consistent with the look of the animated TV series," says Tim Campbell, director, new business development, Infogrames, Inc. "For our Xbox title, Superman: The Man of Steel, we went with a more mature, photo-realistic look."
BAM! Entertainment utilizes technology to ensure the cinematic quality of its new Reign of Fire game for PS2 and Xbox, which is based on the Spyglass Entertainment movie due out this summer. "We receive photos and film from the film rushes, and we scan in the actor's profile," says Nick Goldsworthy, producer, Reign of Fire, BAM! Entertainment. "This is usually touched up and then skinned over the character's in-game face." Goldsworthy says the game is based around the film's plot with the addition of many extra creatures and military hardware not seen in the film.
Of course, the addition of any type of elements to a game or movie generally requires approval from the character's licensor. "We're very careful about what goes into the game," says DC Comics' Rubin. "It needs to be exciting for the teen market, but we also have an obligation to the younger audience and the characters themselves when it comes to violence. We won't cross the line."
Goldsworthy says BAM! Entertainment keeps the movie studio continuously updated with the video game's progress, usually in the form of personal demos and video presentations. "The movie studios are protective of key assets such as actor likenesses," he explains. "Getting this right takes more of a formal approval process until everyone is happy."
Marketing Strategies
Coordinating marketing strategies is equally difficult across media because of the long development lead times necessary for both video games and movies. "The stars really have to line up for the video game to be released at the same time as the movie," says Daniel Kletzky, executive producer, Resident Evil and House of the Dead; president, Entertainment Licensing Associates; and partner, Mindfire Millennium. The Resident Evil movie took about five years from the initial deal to the movie hitting the big screen March 15, Kletzky says. It made about $35 million in box-office sales. Capcom Entertainment has sold more than 18 million units worldwide of the entire Resident Evil video game series (the first one was released in March 1996), according to Melinda Mongelluzzo, director, public relations, Capcom Entertainment. None of the games was released simultaneously with the movie.
Movies are notorious for delays stemming from rewritten scripts, shooting problems, budget constraints, and re-editing. Plus, the scripts often don't get nailed down for six months after the concept is broached, according to Jim Wilson, president, Universal Interactive. "Rather than waiting for a final script, we focus on building a game that takes elements of the movie but doesn't follow the whole thing." He doesn't want to make a console game in less than 18 months or a handheld game in less than nine months.
Pre-production to post-production for a movie normally takes less than a year, and the film is usually released within months once the post-production is complete, according to BAM! Entertainment's Goldsworthy. "With Game Boy Advance taking six to 12 months to develop, we can strive to meet the film's release," he says. "With the multimillion-dollar, next-generation console platforms, we can't afford to rush the game."
Often, video game makers plan their releases to coincide with DVD/home video distribution rather than the movie release date. Universal Interactive was able to release The Mummy Returns game on one platform concurrent with the movie release and then synchronized shipment of the game on PS2 with the DVD release of the movie in a bundled package available nationwide exclusively at Toys "R" Us stores.
"It's important for licensors to work closely with licensees on their publishing plans," says Philippe Erwin, vice president, interactive entertainment, Warner Bros. Consumer Products. "You need to know their marketing plan and budget, and how many games they plan to produce and when."
For comic licensors, that advance knowledge allows comic books to pre-promote the video game or movie, says Marvel's Brown."The intent is to develop a storyline in comics that will come out six months ahead of game release and promote it."
Activision will do its own marketing for its Spider-Man video game targeted to the gaming community, including advertising in Marvel comic books. It also is working with Sony on Spider-Man promotions and doing programs with other licensees for mass merchants such as Wal-Mart and Best Buy.
When leveraging advance movie publicity, video game developers must be wary of falling into a marketing snare. "You get a lot of attention from the marketing wave surrounding the movie launch, but a bad movie can negate interest in the game," warns Warner Bros.' Erwin. "On the flip side, you could have a great movie and a poor game, which also will hurt the overall brand."
Video Game Properties to Watch
Aquaman (DC Comics) from TDK Media Active, coming out on GameCube and Xbox in November 2002.
Batman: Dark Tomorrow (DC Comics/based on comic book) from Kemco, coming out on GameCube in November 2002; PlayStation 2 and Xbox to follow
Blade (Marvel/based on Blade 2 movie) coming out in fall 2002, coinciding with release of DVD/home video
Daredevil (Marvel/based on movie) from Encore, Inc.
Incredible Hulk (Marvel/based on movie and comic book) from Universal Interactive coming out day and date with the movie in 2003
Justice League (DC Comics/animated and comic book versions) from Midway Games, first release based on animated series coming out on Game Boy Advance in November 2002.
Reign of Fire from BAM! Entertainment (with movie) coming out on Playstation 2, Xbox, GameCube, and Game Boy Advance in November 2002
The Scorpion King (based on movie) from Universal Interactive coming out on PS2 and GameCube fourth quarter
Spider-Man (Marvel/based on movie) from Activision coming on PS2, Xbox, GameCube, Game Boy Advance, and PC day and date of film (May 3, 2002)
Superman (DC Comics/based on animated series) from Infogrames, Inc., coming out on Game Boy Advance in July 2002; PS2 game anticipated in October 2002
Superman: The Man of Steel (DC Comics/based on comic book) from Infogrames, Inc., coming out on Xbox in late September 2002
Superman: Shadows of Apokolips (DC Comics/based on animated series) from Infogrames, Inc., coming out on PS2 in October 2002
The Thing (sequel to the movie) from Universal Interactive coming out on PC, PS2, and Xbox third quarter
X-Men: Next Dimension and X-Men: Wolverine's Revenge (Marvel) from Activision
Subscribe and receive the latest news from the industry.
Join 62,000+ members. Yes, it's completely free.
You May Also Like
Loading..