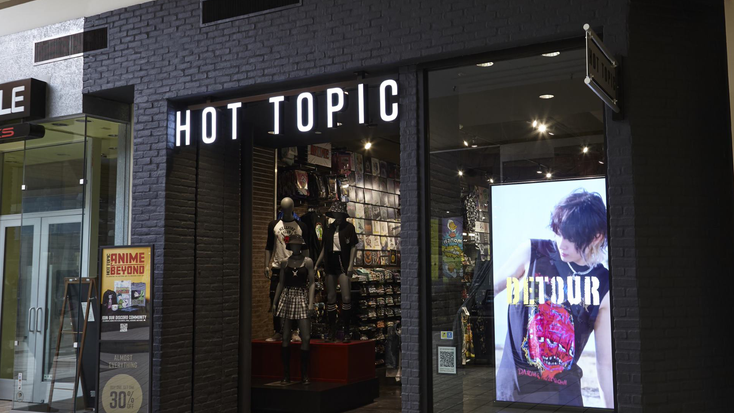 Hot Topic storefront.
Hot Topic
At A Glance
How Hot Topic began and expanded into three brands: Hot Topic, BoxLunch and Her Universe.

The brands' expansion into location-based entertainment.

BoxLunch's successful collaboration with McDonald's.
It started at the mall. Well, technically,
started out of a garage in Southern California in 1989. (But after the original idea, came the shops in the mall.) Very quickly, Hot Topic opened as a store specializing in pop-culture apparel, accessories, gifts and music aimed mostly at teenaged consumers. If you were looking for a band T-shirt outside of a concert hall, you could probably find it at Hot Topic. And the merchandise focused on a broad range of lifestyles, music styles and clothing styles – street wear, club wear, punk, goth – whether it was clothing or accessories – Hot Topic likely had it covered. The company has grown and changed a lot since the early years; Hot Topic, Inc. is now the parent company of Hot Topic,
and
. Her Universe is a fangirl fashion company and lifestyle brand founded by actress and entrepreneur, Ashley Eckstein, in 2010. The business was acquired by Hot Topic in 2016. The first BoxLunch stores and the Box-Lunch website were launched in 2015 after the company realized there was a gap in merchandising experiences for adult pop-culture consumers and their families. They are now more than 200 locations with plans for more. Steve Vranes, chief executive officer, Hot Topic, Inc., spoke with License Global about the growth of BoxLunch, its recent Retailer of the Year win from Licensing International and the licensing journey of both Box-Lunch and Hot Topic.
"With
BoxLunch, we set out to create a concept that would cater to pop-culture fans 25 and older," says Vranes. "We were very excited about this concept, but we didn't want to just build another brand. We wanted this brand to have meaning – to have a positive and powerful impact. This was important to us, and we also knew it would be important for our future team and customers."
One thing the company wanted was to have a localized impact. It created a civic-minded web/ brick-and-mortar-based specialty retailer.
"We decided that we wanted to help solve the problem of hunger and food insecurity here in the U.S.," he explains. "And that brings us to the name, BoxLunch, we chose the name BoxLunch so that the brand will always be connected to its philanthropic mission. We want this brand to do good for many years to come, and the name BoxLunch will forever connect the brand to that goal."
The company literally puts its money where its mouth is. For every $10 spent in a BoxLunch store, the company donates a meal to Feeding America.
"We chose the name BoxLunch so that the brand will always be connected to its philanthropic mission. We want this brand to do good for many years to come, and the name BoxLunch will forever connect the brand to that goal."
Winners in Partnership
BoxLunch has collaborated with numerous big brands –
,
, "Stranger Things" and many more. But recently, one of those collaboration was award-winning. In 2021, BoxLunch and McDonald's
announced the launch of a multi-category collaboration
featuring an assortment of apparel, accessories and collectibles. The collection celebrated the impact of
on pop culture through an exclusive collection that spotlights retro graphics, characters and modern iconography from the archives of the Golden Arches. Marketing support delivered more than 212 million impressions utilizing dedicated window takeovers and McDonald's merchandise displays and kiosk showcases at malls.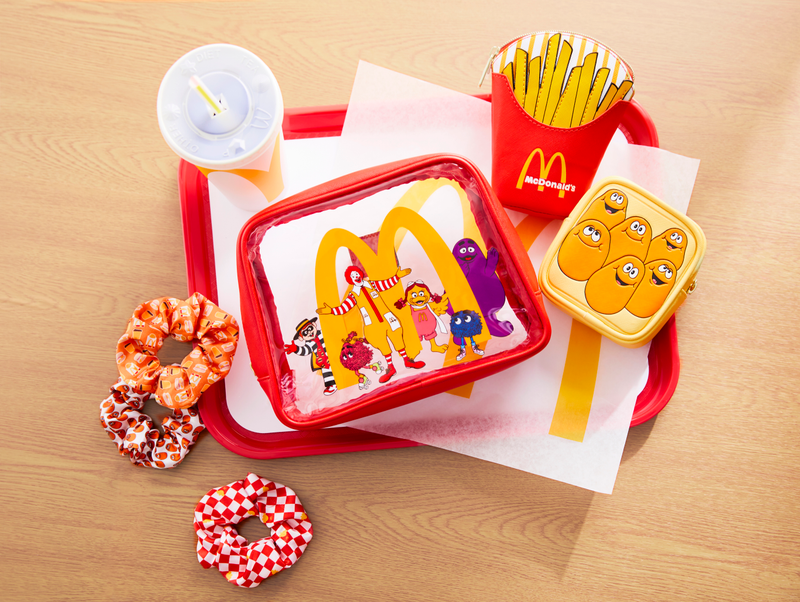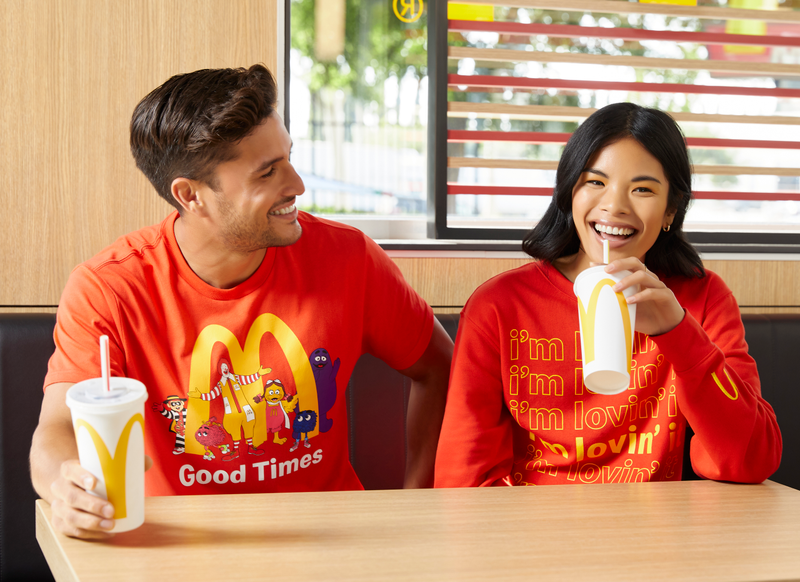 "That collaboration began with us wanting to truly honor the heritage of the McDonald's brand," says Vranes. "McDonald's has such a rich library of logos and graphics that have resonated with this country for almost a century and that iconography translated into a fantastic assortment. Building from the heritage guide provided by McDonald's, we were able to create a collection that balanced that nostalgia with a fresh and contemporary BoxLunch spin. McDonald's, as a license, was very easy to market since that strong brand affinity lent its power to each stage of the process. The legacy informed the product which informed the creative marketing which informed the customer that Box-Lunch x McDonald's was a collection made for them."
The collaboration was a huge success, with products selling out within the first 48 hours.
"Winning the award for that campaign means a lot – it helps solidify our place as the brand for elevated pop culture merchandise experiences," explained Vranes. "It also served to highlight the hard work that our merchandising, creative and marketing teams do. They work with a synergy on every campaign, with every license, that results in these striking, contemporary takes on current and legacy pieces of pop culture and this McDonald's collaboration is a shining example of that."
Adding LBEs to the Mix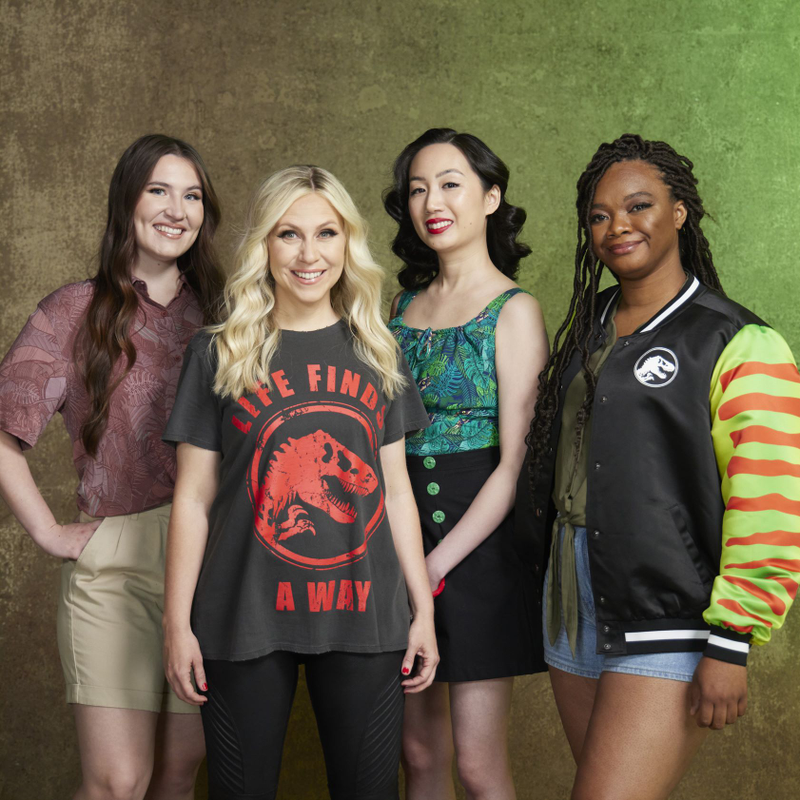 Another trend that Hot Topic, Inc. has been embracing is location-based experiences, bringing several of these to its stores and with more planned for the future.
"After being confined to their houses over the past two years, we were thrilled to be able to connect consumers with licenses they loved," says Vranes. "Content consumption has taken huge steps forward over the last couple years, and we wanted to let people step into the worlds that they came to love both recently and not so recently."
Most recently, BoxLunch installed a "Stranger Things" immersive shopping experience within four of its stores. BoxLunch took recreated sets from the last season and from season 1 and installed that with adjacent merchandise.
"We were excited to be able to bring Hawkins, Ind., to consumers around the country with immersive 'Stranger Things' installations in our stores," explained Vranes. "One featured the Byers Family living room with the alphabet scrawled on the wall, as seen in season 1, and the Creel house attic from season 4. We are the only outlet to leverage the attic for activations, which we hope gave the events an exclusive and unique air. Both were outfitted with fun props for guests to take pictures in, and each location had a virtual reality filter to make the experience that much more immersive. Connecting fans with the licenses they love is what BoxLunch does and bringing unique fan-forward experiences to our customers will always be a big part of that."
Hot Topic, BoxLunch and Her Universe all offer a wide variety of licensed products from many different pop culture entertainment brands. One example is The Her Universe Fashion Show. Vranes says the event has allowed the company to work with burgeoning designers paired with major studios/licenses to design, create, produce and sell apparel supporting some of licensing's biggest properties. Examples of past collections include
and
.
"Similarly, Hot Topic's Anime & Beyond Discord server gives us direct insight into which products of ours resonate with our anime customer, as well as ideas for future anime product and trends we can develop and incorporate into our business," explains Vranes. "The Hot Topic Discord Server was established in 2021 and gained 1,000 members within 24 hours, surpassing the benchmark by four times and making it one of the most successful brand launches on Discord ever. To date, the Discord server has over 13,000 members and growing."
Aggressive Growth Strategy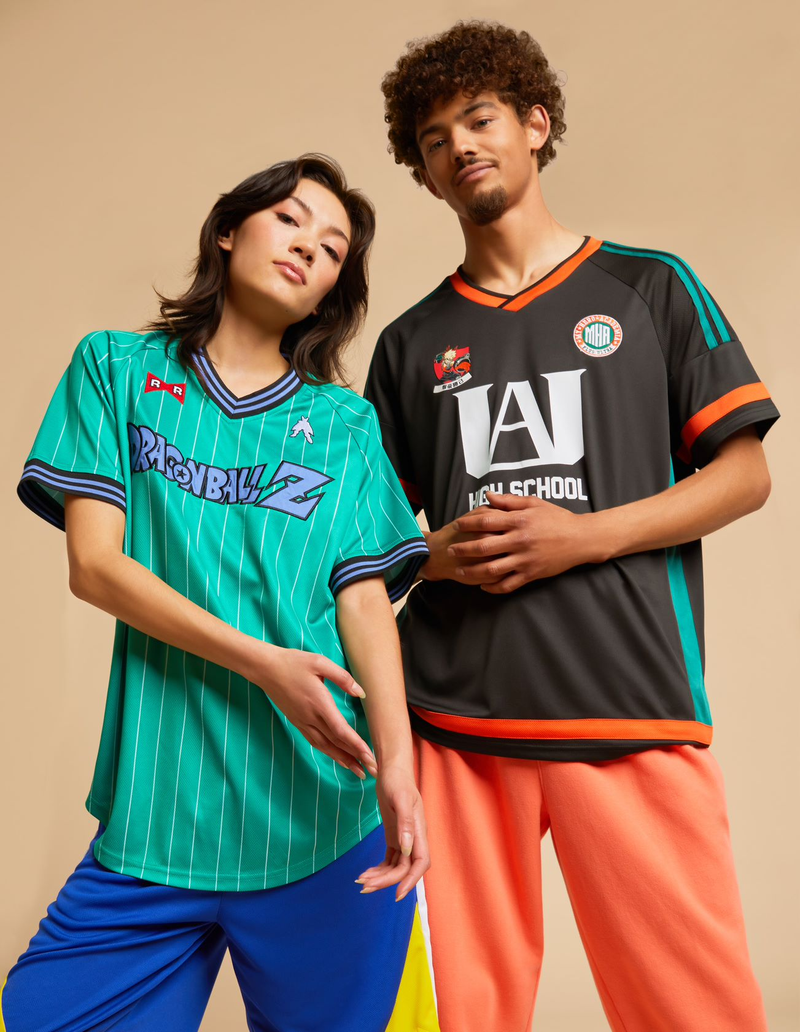 As retail continues to evolve, both BoxLunch and Hot Topic have a brick-and-mortar and an online presence. The company plans to grow and evolve its retail presence.
"We are going to continue to set up our business model to help the customer shop however and wherever they want to shop," says Vranes. "Brick-and-mortar and e-commerce will both continue to be important channels for us. In terms of brick-and-mortar, we think stores are a key part of merchandising and marketing strategy, and they help us build a strong community of pop-culture and music fans. They also serve as omnichannel fulfillment hubs. As a result, we continue to rapidly grow the Box-Lunch store count. We are also opening larger square footage stores than we have in the past in BoxLunch, and even expanding select existing store footprints within the Hot Topic brand."
"We are going to continue to set up our business model to help the customer shop however and wherever they want to shop."
Vranes goes on to say that the brand is constantly challenging itself to think differently, not only based on what it sees happening in the market, but what it thinks will happen in the next year or two.
"This allows us to have the freedom to evolve and bring forth experiential opportunities to the consumer," he says. "In addition to rapidly expanding our social media presence with macro and micro influencer programs, we have recently launched live-selling platforms. This allows our fans to shop the hottest fandom merchandise first and connect with other fans as well as the brands and hosts live during each show."
The company also has some exciting international plans. Hot Topic has long had a partnership with Studio Ghibli and
"We are really excited to collaborate with our long-time partner, Studio Ghibli, on a collection sold, for the first time ever, on multiple continents," says Vranes. "The Harajuku Collective collection will make its exclusive debut in both our Hot Topic and Her Universe booths at San Diego Comic-Con, with each brand showcasing bespoke pieces. Then, on Aug.10, Hot Topic stores, online at Hottopic.com, HerUniverse.com and the Harajuku Collective pop-up store in Tokyo, Japan, will drop the collections simultaneously. This is our first foray in a retail experience outside of the U.S./Canada and we couldn't be more thrilled that we're launching this limited-time pop-up with Studio Ghibli."
Subscribe and receive the latest news from the industry.
Join 62,000+ members. Yes, it's completely free.
You May Also Like
Loading..