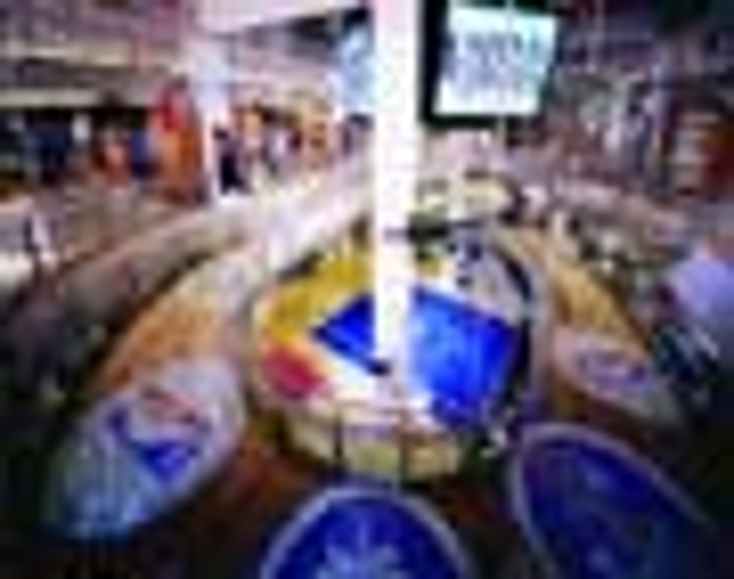 ]>New licensing deals and retail initiatives heated up August MAGIC Marketplace.
Although attendee traffic was noticeably down at the August edition of MAGIC (visitor numbers were not available at press time), new licensing deals and initiatives kept up the pace for License! editors. A variety of licensed apparel collections debuted at MAGIC, notably Hummer, Dockers, and Franky & Minx; others announced new licensing agreements in a variety of categories. One of the biggest announcements came from New York-based Woolrich with its exclusive home deal in all Target doors. Plus, License! editors learned of initiatives by retailers, particularly Mervyn's and Sears, which are honing in on the licensing business with dedicated real estate. Here, direct from Las Vegas, a glimpse of the latest licensed happenings.
Woolrich has a new home-at Target Stores, that is, and in the home area. (The deal was announced September 4, and product launched at Target September 9.) With the tagline, "Made for indoors, inspired by outdoors," 1,100 Target doors now will carry the Woolrich brand of home d¯r, which includes flannel sheets, down comforters, Berber throws, pillows, bedside rugs, and doormats. A dedicated 27 linear square feet of space and an endcap will house the product. Suggested retails range from $9.99 to $29.99. Moving forward in the home category, Woolrich plans to add furniture, wallcoverings, tabletop, case goods, upholstery, rugs, and lighting to the mix. Projected launch for those products is October 2003, ship to retail in 2004.Haddad Apparel, New York, announced its deal with Dockers for a line of boys' and girls' apparel, sizes 0 to 20. Scheduled to hit retail fall '03, the collection will focus mainly on school uniforms, separates, khakis, shirts, and some accessories, particularly hosiery and footwear. In addition, Haddad will launch a line of boys' and girls' apparel (sizes 0 to 20) in the same timeframe under license for Dickies. Both lines will target current retailers in the Dockers and Dickies lineup, including mid-tier and department stores, and both licensed agreements run through 2005.Turning classic properties and respective images into trendy 'tween and junior tops (read T-shirts) has been the forte of Nzania Concept Studio. Known for its transformation of classic Disney imagery (Stage 28), Nzania recently signed with DIC Entertainment to create 'tween and junior apparel (modern, screen-printed knit tops) for Strawberry Shortcake and Madeline. Launched at MAGIC, the apparel is scheduled for a November 15 delivery to better specialty and department stores. All the Ts feature classic imagery from Strawberry Shortcake and Madeline archives. Sizes range from 7 through juniors for Strawberry Shortcake, and 4 through juniors for Madeline; wholesale prices range from $8.50 to $13. "Our approach to the licensing business is turning classic, cute properties into trendy product for the junior set," explains Jim Duval, creative and sales director of Nzania Concept Studio. He says the company has more up its sleeve (or its Ts) in the way of licensing. Remember HR PufnStuf? Equity Management, San Diego, CA, had quite the presence at MAGIC with the debut of Hummer apparel and the initial sketches for Cadillac Escalade apparel. With the Hummer H2 in full gear at the show (it was there!), Hummer Sportswear is designed with "rugged, outdoors, military, and adventure" in mind, says CEO Joseph Chelednik of New York-based D.J. Sportswear, Hummer Sportswear licensee. To create the sportswear, the company needed to "Hummerize" the product. That said, the collection offers several different details, silhouettes, and features. For example, a Hummer jumpsuit is reflective of an Air Force jumpsuit. Other military-like styles offer reflective technology and water-repellent properties. But that's just the military collection; for the adventurous, there's performance outerwear (mainly made of 100 percent nylon; other pieces offer 70 percent cotton/nylon mixes), complete with ventilation (read: mesh), quick-dry, wicking, and UV ray protection properties. Sleeves, as another example, can be rolled up to desired length. While much of the collection features earthy, natural colorations, the key is in the details, such as the Hummer and H2 embroidery, screen Ts, and "Like Nothing Else" logo. Denim jeans feature nubuck leather at the bottoms to aid in the fraying of jean pant bottoms. Beyond sportswear, Egyptian lamb leather was the choice for bomber-type jackets, one of which is lined with the American flag. Sizes range from boys' 8 to 20 and men's S to 5X. Hummer Sportswear is scheduled to ship December 25. Meanwhile, C-Life, New York, offered a preview of Cadillac Escalade apparel to come. It will target boys ages 8 to 13, who aren't driving the vehicle but aspire to. Among the offerings will be three-piece sets with top, short, and cap, with the Cadillac crest logo among the signatures. In addition, C-Life created a Cadillac Escalade character (yet to be named), who will appear in much of the apparel imagery and styling. Targeted launch is spring 2003.Primos, PA-based Big Daddy has quite a large following. The company has had a good reception from the likes of comedians, actors, and sports personalities and now is actively pursuing licensing for its 7-plus-year-old brand. Recently, the company signed a licensing agreement for leather jackets with Virgowill America Co. Ltd., based in New York. The jackets will retail from $250 to $300. Categories that are in the works or are likely targets for the big men's company include footwear, boxers, loungewear, sleepwear, and accessories, including belts and small leathergoods.Lucky Brand Dungarees had all its licensees under one roof at MAGIC. To date, the company has license agreements in eight categories, including fragrance, kids, leather, accessories (two different licensees), socks, sunglasses, and swimwear. Newest additions to the line were an expanded sunglass assortment (ophthalmic eyewear is in the near future) from B. Robinson; women's fashion jewelry, dog accessories, and men's and women's belts from Liz Claiborne; and men's handbags, small leathergoods, cold weather accessories, beach accessories, and hats/visors from Westbay. Franky & Minx made its debut with Wish Licensing (a three-year deal) for a line of intimate apparel. All finished artwork for the line is provided by Franky & Minx, as is the artwork for hangtags. Silhouettes include bikinis, thongs (low-riders), G-strings, jockey briefs, crop tops, camis, bra tops, and wifebeater Ts. Target retail is directional boutiques to department stores. Sizes range from S to L, and wholesale prices range from $6 to $12 for bottoms and up to $12 for tops. Shadle Enterprises, Atlanta, GA, revealed that a line of barware and coasters featuring HBO's Sex and the City and The Sopranos will hit stores this month. In addition, the company has signed a licensing agreement with Stoli for the same. Dr. Seuss' "The Cat and the Hat" is making its film debut around holiday 2003, but Universal Studios Consumer Products Group is hot on the licensing trail (or tail). At MAGIC, Universal announced some of its apparel/accessories licensees on board for the upcoming screen adaptation of the literary classic. They include: Fossil (limited-edition watches), Fruit of the Loom (underwear), Giant and JEM (boys'/men's T-shirts), Handcraft (hosiery), Jerry Leigh (girls' and junior apparel), MJC (boys'/men's boxers), Brown Shoe Co. (shoes and slippers), Drew Pearson (headwear and cold weather accessories), and Wormser (children's pajamas). Hot Kiss continues to step up its licensing efforts by signing Los Angeles- and New York-based Pacific Connections for a line of watches. Twenty-four watch styles are expected to roll in to the same Hot Kiss channels of distribution by the end of this month. Funky packaging is multifunctional: Trendy juniors can use the watch packaging to store jewelry or other small accessories. Hot Kiss President/Owner Moshe Tsabag and Michael Mankowski, president of SBL and licensing agent for Hot Kiss, say other licensing deals for the brand are underway. Wireless phone accessories were among the newest licensing agreements for Hang Ten of Poway, CA. Phone cases, hands-free headsets, and phone pouches are product highlights. Internationally, the company will launch a line of sun-care products and a fragrance. According to Chris Ross, vice president of licensing, Hang Ten actively is looking for licensees in the areas of bedding, junior sleepwear and swimwear, sunglasses, and watches. Hang Ten also is relaunching its Gold Label brand, a line of vintage apparel reproductions for young men. Fresh from its deal for Hardwood Classics (NBA) and Cooperstown Collection (MLB), GIII Apparel, headed up by football great Carl Banks, nabbed an exclusive deal with Louisville Slugger for men's, women's, and youth kids' apparel and accessories, including knits, outerwear, headwear, and Ts. The line will be tested at Christmas time and is scheduled for spring delivery, according to Kyle Sanborn, vice president, hot market/corporate promotions, GIII. While the men's Hardwood Classics and Cooperstown Collection have found a home (shop-in-shop) at New York's Macy's Herald Square location, word is GIII also has picked up the rights for a women's collection, which will share the space once the line is launched. Off The Show FloorWhile many licensing deals were revealed on the MAGIC show floor, several licensing efforts were spoken of off the show floor. Home Depot, the now 1,444-door retailer, has had some licensed product in the marketplace since late 1999-namely an electronic kids workbench (Toys "R" Us), books (Scholastic), and 1,2,3 books (Meredith)-but the company now is stepping up its licensing efforts. Home Depot's new licensing manager, Denyse Ferguson, tells License! other product categories currently are being explored, including children's apparel; children's tools; adult and children's workwear; children's games, books, and software; home furnishings; watches; and eyewear.
Licensing
Management International has been named licensing agent for premium seafood brand Bumble Bee, according to Jim Rippin, LMI's managing director.
Ecko unltd. and Kids Headquarters have entered into a licensing agreement for boys' apparel, scheduled to debut in stores in fall 2003.
License! learned that retailer Mervyn's has had quite the success with licensed products in its stores, dedicating ample space to the business of licensing. There are no signs of the retailer's enthusiasm for licensing abating-rather, the opposite.
Subscribe and receive the latest news from the industry.
Join 62,000+ members. Yes, it's completely free.
You May Also Like
Loading..