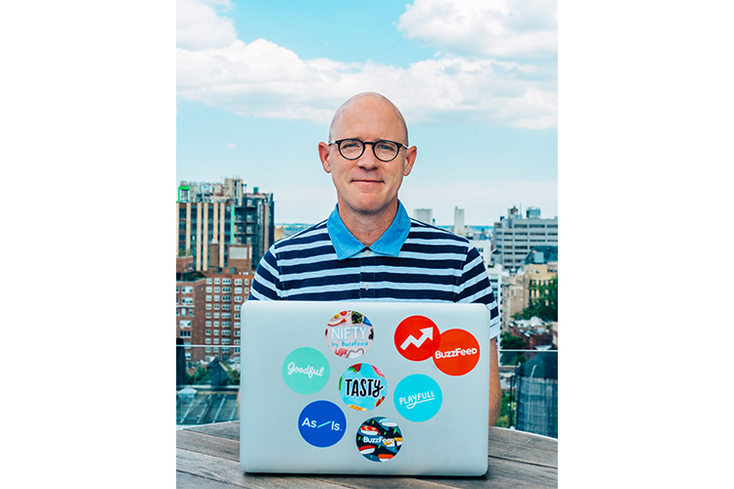 As one of the world's leading tech powered media companies, BuzzFeed hardly needs any introduction. The cross-platform news and entertainment network reaches upwards of 790 million people across the globe, thanks to its original content that generates more than 9 billion views each month. It's not off-brand to say, "OMG."
BuzzFeed has built its business by tailoring its engaging content to meet audiences where they are. Now it's taking that same basic principle and applying it to brand extensions.
BuzzFeed also has a coveted audience–Millennials. According to the company, 50 percent of its quiz takers are from the valuable demographic… and that's just for its lighthearted material.
The company has three major brand verticals: there's BuzzFeed Originals, which houses the quizzes, lists and the pop culture content that the site built its foundation upon; BuzzFeed News, a hard-hitting, investigative news organization that, frankly, rivals any legacy media company out there; and BuzzFeed Media
Brands, which houses its lifestyle brands.
BuzzFeed has always been about "tapping into human connection at scale," says the company, and in October of 2016, it created Product Labs, Inc., led by Ben Kaufman, which was tasked with creating physical product and social commerce experiences. It first launched product into market such as a fully-customizable cookbook and candles that resonated with customers, becoming a revenue driver for the wider organization. That group ultimately evolved to become BuzzFeed Commerce, which oversees licensed merchandise, promotions, retail business development and content licensing for the organization's various brands.
Tapped to helm the next phase of product development for BuzzFeed is Eric Karp, head of licensing, BuzzFeed Commerce.
"Ben's vision for BuzzFeed Commerce (and formerly BuzzFeed Product Labs) was to find that place where content meets commerce," says Karp.
Kaufman is now secretary of commerce at BuzzFeed and oversees five major pillars–licensing; affiliate, which employs a team of editors who are constantly testing and featuring new and relevant products; merch; partner innovations, which creates immersive brand integrations with BuzzFeed Commerce and offers consulting to help brands solve their toughest marketing problems, create new products and reach consumers in interesting ways; and experiential.
Karp, who joined in summer 2017, is tasked with scaling the company's licensed merchandise offering via a wide and diverse range of physical products at retail through the licensing business model.
But you can only assume that, as with everything BuzzFeed does, its products too, whether in manifestation on shelf or through the manufacturing process itself, break the mold.
"Some of the things that are unique to BuzzFeed Commerce–that you'll find in no other licensing group anywhere else–is the fact that we actually design our products, from ideation to shelf. That includes low-touch products like t-shirts and publishing, all the way up to extraordinarily high-touch products like consumer electronics," says Karp.
It's arguable that no one knows their audience better than BuzzFeed, and it's this deep understanding of who its users are and what they truly want that gives the company a leg up over the competition. Simply put, BuzzFeed has a lot of data.
"The group within our organization that is our secret weapon is our data science group," says Karp. "These are the people who analyze the mountains and mountains of data from all of our audience touchpoints so that the folks that are managing the business verticals can respond to the business needs thoughtfully."
And the high volume of content that BuzzFeed generates allows the organization to be quite nimble, applying a "test and learn" philosophy to much of what it produces, ultimately giving BuzzFeed Commerce a very helpful set of metrics to glean insight from.
"Our producers are empowered to speak in their own voice, and at the same time we embrace a test and learn philosophy, meaning we are not afraid to make mistakes or publish things in a format, style or on a topic that we've never done before. And if it happens to resonate with our audience, we double down on it. There are no penalties for creating content that doesn't work, so long as we learn from each other's experiences," says Karp.
That's how BuzzFeed got Tasty, its food network brand that employs a trademark top-down, "hands and pans" video format and sped up style that has transformed the way the public engages with cooking content. Tasty, which is only 3-years-old, brings in more than 2.1 billion monthly views across all platforms and reaches more than 540 million people globally. On Facebook, Tasty has 95 million followers and is the No. 1 content publisher on the platform, as well as the most downloaded recipe app, says BuzzFeed, with a healthy demographic that spans 17-year-olds to 55-plus.
It's also grown to include subbrands like Bien Tasty, Proper Tasty, Tasty Demais and Tasty Vegetarian, each with millions of Facebook fans apiece.
"Tasty was launched in an effort to crack Facebook video back when it was new,
and what came from testing and learnings was this huge brand that democratized food and changed food media," says Karp. "And with our other brands, we're thinking about the same
types of things. It's not just that we say, 'Let's make a brand for X,' there's always a problem-solving element.
"Once we find that there is a signal within our audience, we then get extraordinarily serious and strategic about the roll-out of that content," continues Karp. "And from a business standpoint, we think about how we bring the brand into people's lives in a meaningful way and provide them with purchase opportunities that speak to their love of content and create product that fulfills on those affiliations and connections."
Tasty is the first BuzzFeed brand to manifest into physical product, and it's setting a blueprint, so to speak, for how the company plans to bring merchandise to market.
In October 2017, Tasty signed publisher Penguin Random House as one of its first licensing partnerships to create a cookbook that reached store shelves–and the New York Times Best-Seller list–in less than two months, flipping the traditional 6- to 18-month product cycle on its head.
Then in March, kitchenware hit market with an exclusive line at retailer Walmart. The Tasty-branded cookware collection includes more than 90 products ranging from nonstick cookware to high-quality bakeware, kitchen gadgets, accessories and more from licensee Epoca International. The landmark deal is part of a wider strategic partnership between Walmart and BuzzFeed, which will see the two companies collaborate across creative development of an array of consumer products, experimentation and innovation in e-commerce, media marketing and more, like including links within Tasty videos to buy kitchen tools, groceries and more via Walmart.com or its sister site, Jet.com.
"We have embraced a retail first strategy, meaning we believe that each of our lifestyle verticals has value, an enormous audience and a willingness to purchase goods so long as those
goods are right, it was necessary for us to start with our biggest brand and create a retail partnership and a home that was exclusive enough in one product category so that that account would have an ownership stake in our business and be dedicated to our long-term success," says Karp. "We were very fortunate in that the message we were selling resonated very, very strongly with the folks in Bentonville at Walmart, but also the folks in Hoboken at Jet.com."
In 2019, Karp says the Tasty footprint at Walmart will grow more than 25 percent to 12-linear-feet with new ranges, such as a stainless steel line, and licensees like Cuisinart, who is on board for kitchen electrics.
Tasty is also set to grow globally, having recently engaged a network of licensing agents around the world including Licensing Matters in EMEA, Haven in Australia and New Zealand, La Panadería in Mexico, Lotus Global LatAm for Spanish-speaking Latin America, Lotus Global Brasil for Brazil and Gaia in Japan. More partners in Asia will be announced later this year.
A similar Tasty model is being applied to other BuzzFeed brands, such as Goodful, which centers on philosophies of mindfulness and wellness. With 62.2 million active monthly users, 20 million fans on Facebook and 2.4 million followers on Instagram, Goodful was the fastest brand launch from BuzzFeed to-date and was the next natural step for BuzzFeed Commerce.
"Goodful is the second entertainment vertical that will be launching at retail for BuzzFeed," says Karp. "We're extraordinarily proud of the Goodful program because No. 1, it says that BuzzFeed is not just all about Tasty, but that we have other lifestyle verticals that speak to other affiliations and interests; but the other piece is that it speaks to speed to market. We put this program into play, from the go-ahead moment from the partnerto in-store execution, in about six months, including full product development, manufacturing and shipping.
"We're trying to impress upon our partners that they don't have to continue to embrace their old business models and that there is a new way of doing business that is sensitive to currentness and immediate demand," continues Karp.
Licensees on board for Goodful include Cuisinart for kitchen electrics, Welspun for textiles and Epoca for kitchenware. AeroGarden is also on board for the in-home garden system category with plans to anchor an exclusive product launch at a major yet-to-be announced U.S. retailer. Details are expected to come this fall.
There are other brands, too, that have extensions in the works, such as Nifty, BuzzFeed's DIY home brand that is meant to inspire people to solve common problems and be more creative around the home, and As/Is, a fashion-focused brand that speaks to inclusivity and personal empowerment.
Both Nifty and As/Is are just gaining traction across BuzzFeed's network of platforms and have a "watch this space" component as of now, but Karp is enthusiastic
about their viability and confident that each will find a home for their respective product ranges in no time.
For Nifty, Karp says BuzzFeed is currently partnering with a design team to develop and curate a trend-smart range of home furnishings, craft and outdoor products that
speak to multifunctionality and life hacks; while for As/Is, BuzzFeed is exploring all areas of personal care and fashion (apart from color cosmetics) for brand extensions.
Another big opportunity is for Playfull, the first co-brand born out of a strategic partnership between BuzzFeed and NBCUniversal.
Aimed at Millennial parents, Playfull wants to help inform and enhance parents' lives with relatable content on various themes such as DIY hacks, honest parent conversations, humor and creative parenting tips that connects with audiences and creates a community, similar to the Tasty model.
BuzzFeed says there is ample opportunity to leverage NBC's vast talent network for the Playfull brand that has the potential to reach 49 million unique parents on Facebook and 28 million parents on its site.
As of now, the brand is focused on content creation with a dedicated Facebook page and cross-promotions and segments on NBC series such as the "Today" show, but as it continues to grow and expand, Karp sees an obvious connection to consumer products.
"People have been making lifestyle content for some time now, but BuzzFeed really owns it when it comes to speaking in the voice of the current generation," says Karp. "No one else is delivering a suite of lifestyle content that's identity- and affiliation-based and is distributed across the web, and more specifically across the social web."
Subscribe and receive the latest news from the industry.
Join 62,000+ members. Yes, it's completely free.
You May Also Like
Loading..