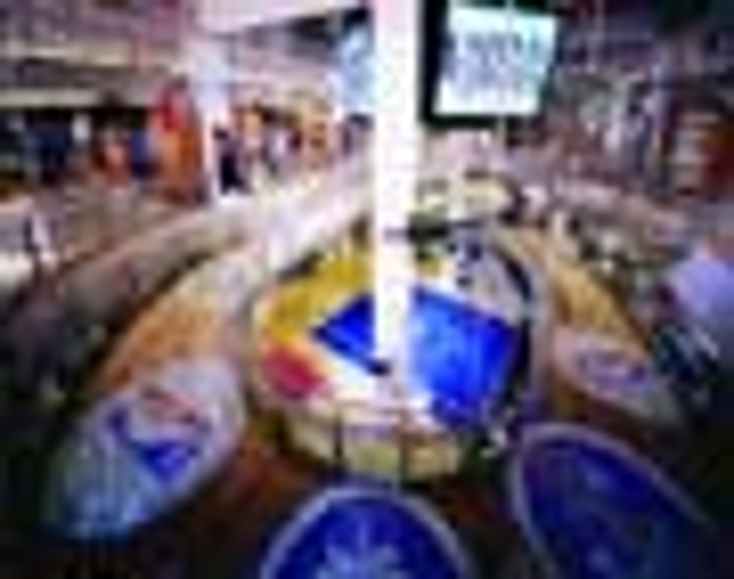 ]>Retailers forecast hot properties, trends, and merchandising strategies for 2003.
2002 was a roller-coaster year for retailers. After numerous ups and downs throughout the year, some $48.5 billion was spent at 81 retail chains in October, representing a 3.1 percent same-store gain when compared with October 2001, according to the Bank of Tokyo-Mitsubishi's monthly tally. Overall performance was boosted by gains at Gap Inc., Kohl's, JCPenney, and Nordstrom. Despite a late Thanksgiving-yielding seven fewer post-holiday shopping days in the month than last year-and lingering effects of the West Coast dock strike, retailers were cautiously optimistic about holiday sales. But most are very enthusiastic about first and second quarter 2003. Here, a variety of retailers-from music, toy, sports, and fashion stores-offer their take on hot properties, trends, merchandising, and issues that will drive sales the first half of 2003.
"Some of our big pushes for first and second quarter are superheroes,
such as the current base business with Superman (DC Comics) and Spider-Man (Marvel), plus hot property features for the three movies based on Marvel superheroes: Daredevil, X-Men 2, and The Hulk. Other pushes: Matrix Reloaded, Matrix Revolutions (Warner Bros.). Anime properties remain strong, especially DBZ (Funimation).We're still seeing growth in popularity of '80s retro merchandise, including properties such as Care Bears (American Greetings) and Strawberry Shortcake (DIC Entertainment). Potential hot products include action figures and PVC sets, novelty items with interactive components, tins, visors, tighter-fitting T-shirts; and '80s accessories (terry wristbands, headbands, lanyards, shoelaces)." -Elaine McLaughlin, director, merchandising,Musicland Group Inc.: 1,300 stores under three names-Sam Goody, Suncoast, and Media Play)"On the licensing front, we're seeing lots of excitement with 1980s properties such as Strawberry Shortcake and Care Bears. We've had early success with My Scene Barbie and expect that to be strong in the spring. Girls' and boys' home d¯r has been very important and will continue to be so into 2003. We see some interest in electronics, particularly Neopets, which launched in December, and which I think will be big for spring.
We will continue to have concept shops going forward. The Barbie Rapunzel shop has been great this fall. We also will continue to do exclusives; they work best for us. Fetch and Oaf were a big plush initiative for fall and will continue to be so for spring. Also, the FAO Triplet Dolls will come with accessories such as a stroller and a swing for three. We might consider licensing such properties out at some point.In terms of promotions, for the first time in a long time, we will have a catalog in the spring. This is part of a new strategy, now that we are together with Zany Brainy and Right Start. We also will do our first direct fulfillment catalog for Zany Brainy and will mail it to customers."-Rick Barba, vice president, merchandising, FAO Schwarz"We are maintaining a conservative approach to inventory for the remainder of the holiday season, reordering according to product sell-through while maintaining adequate inventory into the first quarter of 2003. Hot items on my holiday list and beyond include Manhattan Toy's Groovy Girls doll and accessory collection, and construction toys from manufacturers such as LEGO and K'NEX. When preparing for Valentine's Day (February 14), Learning Express will incorporate gift solutions using existing items within the store. This allows us to romance what we already have [with packaging and decorating such as bows and hearts] and avoid a huge inventory investment."-Lisa Visco, senior buyer, Learning Express
"On the heels of Toys "R" Us' updated imaginariumbaby.com and babiesrus.com Websites, comes a new site-giftsrus.com-which offers personalized gift options including toys, plush stuffed animals, baby and children's furniture, home d¯r, crystal and silver, dolls, apparel (including sweatshirts and T-shirts), and Precious Moments figurines. This Website will be important for Valentine's Day gift solutions. Meanwhile, we are getting ready to launch the Liberty's Kids program in 2003, which will include toys, school supplies, party goods, and apparel."-Toys "R" Us spokesperson"MLB, NFL, and NBA are major brands for Lark Stores; they were a focus for 2002 and will still be a focus going into 2003. It's really driving our business. We are selling "throw-back" or "old-school" jerseys for $250 to $500.In jean bottoms, Enyce (owned by Fila), Akademiks, and Vokal are strong urban streetwear lines. We like their marketing and advertising campaigns. Sand-blasted denim and short-sleeved wovens are very strong, retailing for $50 to $100.
In womenswear, we still like jeans from Guess, Girbaud, and DKNY. These brands have strong brand equity with youth. We also like footwear brands such as Puma, Pony, Diesel, and Timberland. They've been strong, and we believe they will continue to be strong in 2003.I expect a 5 percent to 10 percent same-store sales increase for 2003, and I attribute that to the fact that we are classification managed (i.e., Lark merchandises all its jeans together and all its shirts together)." -Leonard Rothschild, president, Lark Stores (a 10-store chain based in Chicago)"We moved the fixturing for the new Reebok footwear line closer to center court, where customers can shoot plush basketballs. Footwear will be a big push in first and second quarter 2003. We will have a Reebok concept shop and one for Michael Jordan. The introduction of LEGO product also will take place in the first quarter; it will get a section of display.In terms of apparel, Authentics and Hardwood Classics collections, headbands, and wristbands will continue in popularity. Collectibles have been strong, particularly the high-end items such as chairs signed by the Boston Celtics-which go for several thousand dollars-and autographed jerseys and photography. Celebriducks (which started as a Pacers giveaway) may be the next new novelty item, following in the footsteps of bobbleheads. NBA is the first league to sign as a licensee. Product hit stores in the fourth quarter.We have no plans to open additional stores right now. Our Fifth Avenue store is more of a showcase or laboratory. We don't want to compete with other retailers but to showcase merchandise. The Internet almost makes it unnecessary to have additional stores." -Linda Choong, vice president, retail group, NBA (for The NBA Store, Manhattan)"There are two issues that will affect us going into 2003. First is the price some licensees are asking retailers for screen-printed T-shirts. My Ts should have retail price points of $9.99 to $12.99 to appeal to the teen/young adult who has less shopping money this year than last because his or her parent is unable to supply the same amount of shopping money this year than last. Instead, licensees are asking at least $8 (wholesale) a shirt, the kind of shirt that has no buttons, a non cut and sew top. We're not walking away from the T-shirt business, but it seems clear these licensees don't realize they are in competition with a world of apparel. Issue two: Higher royalties (see chart on p. 24 for royalty ranges). Before raising royalties, licensors should examine and define just how the increased royalty rate increases its consumer outreach. That's the information I will want to know."-Specialty store buyer
Subscribe and receive the latest news from the industry.
Join 62,000+ members. Yes, it's completely free.
You May Also Like
Loading..