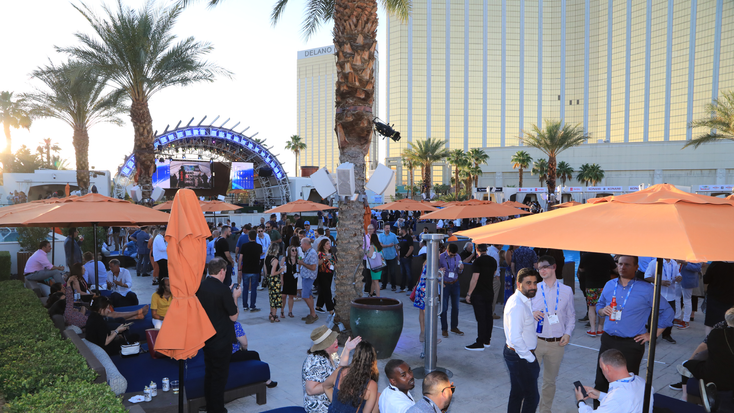 Opening Night Party at Licensing Expo 2022.
Global Licensing Group
At A Glance
Dynamic Keynotes

What You Can Expect at Licensing Expo's Fashion Showroom

Show Floor Activations and Features
Licensing Expo 2023
returns to the Mandalay Bay Convention Center, Las Vegas, June 13-15. The 2023 event will highlight
, spotlighting creativity and innovation in the space and opportunities it heralds for the wider licensing industry. Here, License Global delves into what you can expect to see across the three days this year, on and off the show floor.
Dynamic Keynotes
As Licensing Expo spotlights Fashion licensing, there is an opportunity for visitors to find inspiration in the Fashion Showroom, exhibiting some of the most successful fashion licensing ranges across apparel, footwear and accessories. Licensing Expo's keynote speakers will also share their collective insight in the fashion world.
Sam Edelman, the fashion and footwear designer, will be the focus for the
opening keynote on Tuesday, June, 13
, at 9:30 a.m. at the License Global Theater. Sam Edelman, founder, president, Sam Edelman, will be joined on stage by Robert D'Loren, chief executive officer, chairman, Xcel Brands,
to discuss how their brand built its fashion empire and expanded through licensing across multiple categories.
"I am honored to be speaking at Licensing Expo this year and to have the opportunity to share my experience and insights with the industry," says Edelman. "At Sam Edelman, we have always believed in the power of brand extension through licensing, and I look forward to discussing how we have built our fashion empire and continued to expand our reach through licensing partnerships. Fashion is such an important category for licensed consumer products, and I am excited to be a part of this conversation at Licensing Expo."
The second keynote is "
Minecraft x Crocs: Building a World of High Performing Partnerships
." Federico San Martin, head, consumer products, "Minecraft ," and Matias Infante, vice president, brand partnerships, collaborations and licensing, Crocs, will discuss their journeys in brand development, approach to licensing partnerships and the licensing program they launched together on Wednesday, June 14, at 9:30 a.m. at the License Global Theater.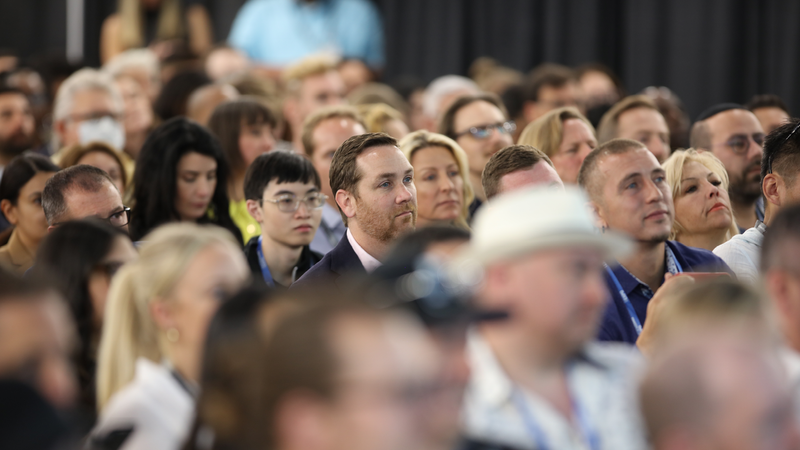 The audience for Licensing Expo 2022's keynote on Day 2.
What You Can Expect at Licensing Expo's Fashion Showroom
An immersive Fashion Showroom conveys the opportunities that lie within the fashion world.
The fashion world is full of art, creativity and innovation. But many people might not know that the world of sewing, fabrics and runways also offers a bounty of licensing opportunities. That is why this year at Licensing Expo, attendees will be able to see what licensing deals in the fashion world look like through Licensing Expo's Fashion Showroom. From cultural nostalgia trends to celebrity partnerships and promotions, visitors will be immersed in a diverse range of innovative fashion collaborations as they walk down the aisle of the Fashion Showroom.
With large presentations on each side of the aisle, eye-catching displays will convey how IPs, companies and brands come together to create a unique product that can break into new markets while still resonating with each brand's respective audiences and consumers.
"The feature will also create awareness and exposure on how these types of partnerships come to life, as fashion is a critical part of representation of identity in daily life," says Ella Haynes, event director, Licensing Expo.
Some of the companies featured in the fashion showroom include Mattel, Talon International, WildBrain CPLG, The Smurfs, The Brand Liaison, Cronus Global, Hasbro, Global Merchandising Services, Products of Change and TreImage and Ja Rule.
Having already laid a foundation in the fashion-licensing world, Mattel will not be holding back on its displays as the company will be showcasing styles from Barbie, Hot Wheels and Monster High and a few sneak peeks of upcoming alums and student programs.
"We are thrilled to be at Licensing Expo 2023 to continue to provide consumers with exciting opportunities to embrace all that these iconic brands stand for," says Josh Silverman, chief franchise officer and global head of consumer products, Mattel. "Building on strong momentum, we can't wait to share more projects for 2023 and 2024 that will use fashion to bring these beloved brands to life."
The Smurfs have also been working on fashion collaborations these past few years (see page 48 for the full story). One of The Smurfs' displays will be a collection with luxury fashion brand, Dsquared2. The apparel lines for men and women, featuring jackets, hoodies, caps and footwear are also environmentally responsible. The other display will be a collection with Butter Goods, an Australian streetwear brand. It was released this past March and is specifically designed for young men. They can be found in a variety of top-tier skating stores and boutiques in the U.S., U.K., Australia, Germany, Scandinavia, Spain, Italy, Korea, Thailand, Japan, Israel and Dubai.
Talon International shares The Smurfs' enthusiasm as it highlights The Character Zip, a new patented design of zipper pull.
 "We are thrilled to shake up the fashion industry with a product that looks like your favorite character has leaped off the screen and transformed into a zipper," says Larry Dyne, chief executive officer, Talon International. "The patented Character Zip can be applied to clothing, bags, shoes and more."
Cronus Global, a brand and licensing agency, will feature bridal designer
Justina McCaffrey's designs on display at the showroom
. At the Fashion Showroom, Cronus Global showcases an opportunity for licensees to tap into the $55 billion global bridal market and expand into other lifestyle categories.
"It presents a unique platform for us to showcase the exquisite craftsmanship of renowned bridal couture designer, Justina McCaffrey, and introduce her stunning aesthetic to the marketplace," says Kristin Calzada, president, Cronus Global.
All of these companies have turned something, such as a simple T-shirt or zipper or an elegant bridal gown, into new and unexpected possibilities. Thus, by exploring their accomplishments, other companies can learn to do the same.
"There is so much opportunity in licensing and fashion," says Anna Lommatzsch, event manager, Licensing Expo. "We hope this experience sparks excitement, creativity and conversation."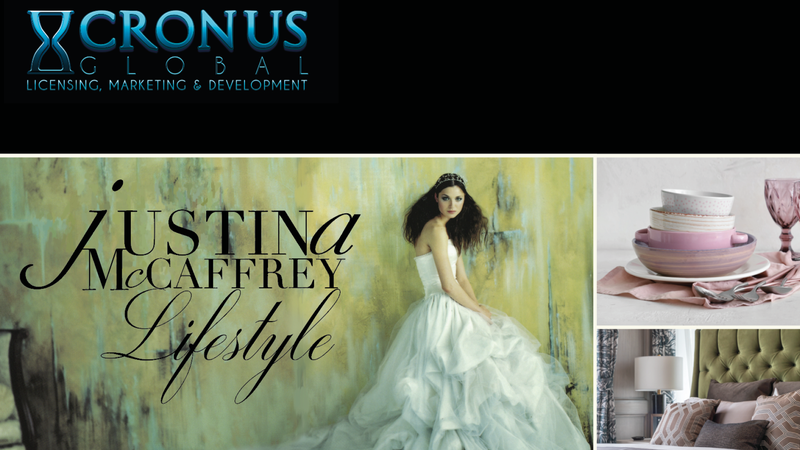 Justina McCaffrey Lifestyle, part of the Licensing Expo Fashion Showroom, Cronus Global.
Expert-Led Roundtable Discussions
For the first time,
Licensing Expo will host Meet the Experts
, a program dedicated to intimate group setting mentorships with Licensing International as a partner. Created based on attendee feedback, the Roundtable sessions offer meaningful experiences in specific areas of interest and increase networking opportunities in an engaged and informal mentoring conversation. The sessions give visitors a curated selection of topics and are designed to facilitate more personal connections with other visitors who share the same interests in a private group setting.
During these sessions, participants will have the opportunity to meet with experts in distinct licensing categories and those specialized in providing guidance on entering new geographical markets. Registrants will receive advice, insights and supportive conversations surrounding the selected topic to collaborate with like-minded participants in a group.
The two Roundtable sessions are on Tuesday, June 13, 1:30 p.m. to 2:30 p.m. (Category Specific) and Wednesday, June 14, 1:30 p.m. to 2:30 p.m. (Entering New Markets). Space for both sessions is limited and pre-registration is required.
"It is important for Licensing Expo to reflect the needs of the market to provide more moments of connection and learning," says Ella Haynes, event director, Licensing Expo. "The relationships built through each session and the lessons that cater to each individual – this type of opportunity for knowledge and networking cannot be accessed anywhere else. With close collaboration with Licensing International, we want to extend an invaluable experience to our attendees that offers dynamic education with world-class specialized leaders in each respective space through a hands-on and exclusive environment."
"Education is our most powerful tool to equip the global brand licensing industry for continued success," says Maura Regan, president, Licensing International. "Knowing how important events like Licensing Expo are to build new connections and develop existing relationships, we are thrilled to launch these roundtable sessions in close collaboration with Global Licensing Group. From fresh talent to seasoned professionals, these sessions will provide significant value due to their focus on deeper education through networking."
Show Floor Activations and Features
A must-attend for new attendees, the Orientation Session and Show Tour kick off Day 1 and Day 2 on the Licensing Expo Main Stage. You will learn tips on how to navigate the show floor and maximize your time at the event. You can then put the theory into practice on a guided tour of the show, including the different exhibit zones, activations and where to grab a coffee or take a well-earned break.
Returning this year is the
, which is back in a revised format designed to reach a broader audience. The competition spotlights industry newcomers – artists, illustrators, designers and creatives with no licensing experience – who sent concepts for review by a panel of judges (comprised of the License Global editorial team), with a winner and three runner-ups announced during Day 1's keynote at Licensing Expo.
"A takeaway from the pandemic we have learned is that streamlining initiatives in a virtual format can provide more opportunity and engagement," says Anna Lommatzsch, event manager, Licensing Expo. "With that in mind, we curated the new format of License This! to reach a broader audience by shifting to virtual participation and removing the specific category breakdown in the hopes of reaching more contestants who are trying to break into the world of licensing. With only one winner selected, the benefits and prizes have been enhanced and will create a lasting impact on furthering someone's journey in this industry."
, a new concept for Licensing Expo's signed exhibitors to provide them a platform to generate buzz and brands about new launches or emerging brands, is also set to launch.
Five companies – Zoonicorn, King Features, Blanca Pictures, Comedy Wildlife Photography Awards and Unicorn Jazz – will have the chance to pitch their brands on-site at Licensing Expo on Tuesday, June 13, from 3:30 p.m. to 4:15 p.m. at the License Global Theater.
"Trend spotting is continuously ranked as one of the top objectives for attendees visiting Licensing Expo, and we wanted to find a creative way to provide our brands and visitors a meaningful experience," says Lommatzsch.
This year, Licensing Expo has a Retail Lounge on the show floor. In this intimate space, retail badge holders can host meetings, take calls, check emails, get event information or take a break from the show's activities.
"I'm looking forward to welcoming retailers to the new Retail Lounge this year," says Laura Freedman-Dagg, head, retail, Global Licensing Group. "We've created the space in response to feedback from attendees and it'll be available for retail badge holders and their guests only.
We know that meeting space is in demand and hope that this additional area proves useful."
Licensing Expo's Day of Purpose
With June being LGBT+ Pride Month,
Day 3 of the event will see a dedicated spotlight on driving purpose
in a meaningful and authentic way with conversations about diversity, inclusion and sustainability. Licensing Expo will welcome university or college students with relevant degrees onto the show floor to enhance their licensing knowledge and inspire the future generation of licensing professionals.
Partnering with It Gets Better, Licensing Expo's Pride Café will celebrate Pride Month and support LGBT+ youth through donations. Visitors and exhibitors can access educational materials and scannable QR codes to donate. It Gets Better staff will also be on hand to answer any questions.
Licensing Expo also partnered with Crayola and its "Colors of Kindness" campaign to supply children from the Ronald McDonald House Charities of Greater Las Vegas with art supplies, including coloring books and crayons. Working with the Mascot Company, Licensing Expo has invited characters to return on Day 3's Day of Purpose to do a meet and greet with the children.
Products of Change, the global educational hub driving sustainable movement across the consumer product markets and educational content throughout the week, with two sessions spotlighting sustainability on Thursday, June 15. One is a case study with Hasbro on at 10 a.m. in the License Global Theater, the other is a Roundtable with Fabacus, Octane 5, Dependable Solutions and Flowhaven at 1 p.m. at booth C142.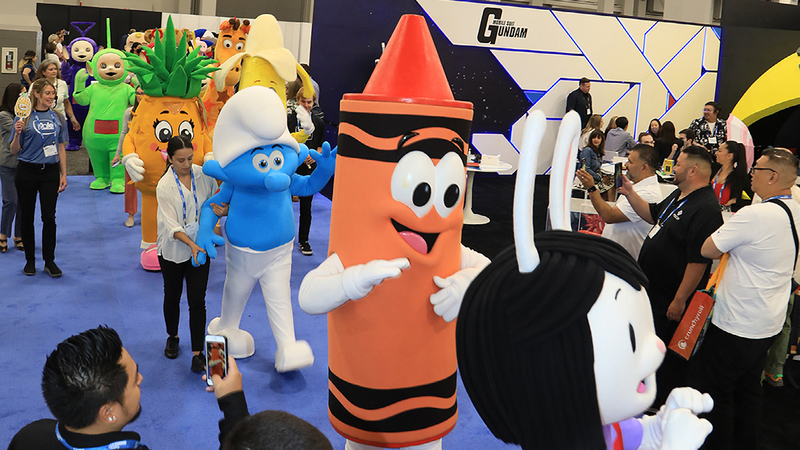 Show Staples are Anything but Ordinary
 "It was a no-brainer to bring the Opening Night Party back this year after seeing what a huge success it was last year," says Haynes.
Other Licensing Expo standouts include:
■ Magic Wheelchair Reveal: In partnership with Magic Wheelchair, a non-profit organization that works to provide fantasy costumes for youth wheelchair users and Dangling Carrot Creative, this year's Magic Wheelchair Reveal will take place on Wednesday, June 14, from 10:15 a.m. to 10:30 a.m. at booth J170.
■ Cafés and Bars: The Toy Café will showcase product displays and examples of toy licensing from several brands including Pudgy Penguins, B. Duck, MGA Entertainment, ECOY, El Reino Infantil, Elf on the Shelf, Zoonicorn and Jazwares. The Sports Bar will highlight products that could inspire your next product range, featuring displays from the National Football League Players Association, NASCAR, National Hot Rod Association and FC Porto.
■ Football Pavilion: Visitors can meet and connect with European professional sports clubs in the Football Pavilion (booth B188), including FC Porto, FC Bayern Munich and Kings League.
■ Character Parade: The much-loved character parade will travel through the main expo hall's bright lights and colorful booths. Parades will take place on Tuesday, June 13, from 11 a.m. to 11:30 a.m. and on Wednesday, June 14, from 11 a.m. to 11:30 a.m.
Subscribe and receive the latest news from the industry.
Join 62,000+ members. Yes, it's completely free.
You May Also Like
Loading..