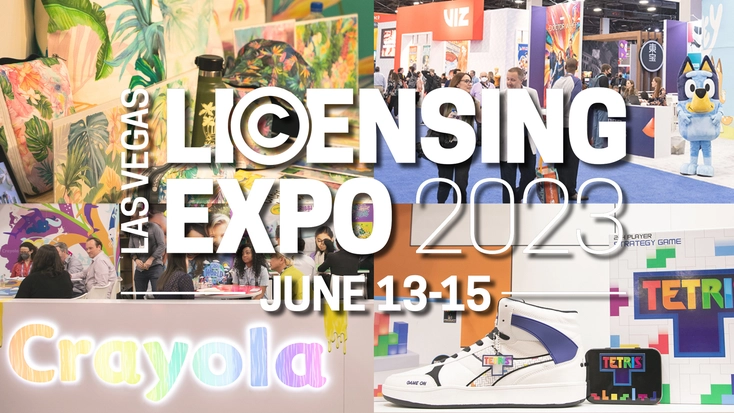 Licensing Expo
has shared its intentional initiatives across the three-day show selected specifically to engage guests through interaction and purpose, while serving the global community at the 2023 expo, to take place
in Las Vegas.  
"It is critical that as we converge together in Las Vegas for Licensing Expo, we take the time to collectively recognize that our brands can make a difference in other's daily lives,"
, event director, Global Licensing Group, Informa Markets.  "Within the Global Licensing Group, we are always striving to find ways to engage and generate action that will add value for our audience and find purpose in serving others." 
The Ronald McDonald House 
Licensing Expo, Crayola and the Ronald McDonald House are partnering in a "Spread Kindness" campaign for the Day of Purpose. On Thursday from 1-2 p.m. in the South Seas Ballrooms, children from the Ronald McDonald House Charities (RMHC) of Greater Las Vegas will get creative with Crayola "Colors of Kindness"
coloring activities. The Crayola crayons and coloring books have special-edition words of kindness, encouraging everyone to create with love. Additionally, the kids will have a special meet and greet with CARRIE, JJ and MIKEY from Laser provided through the Mascot Company.  
It Gets Better Project 
June marks the celebration of LGBTQ+ Pride Month. In support, Licensing Expo will host a Pride Café on the show floor alongside nonprofit the It Gets Better Project, to support LGBTQ+ youth through donations, with the aim to uplift, empower and connect LGBTQ+ young people around the globe. The Café will host an on-site representative, educational materials and scannable QR codes for visitors and exhibitors to donate. Guests are also able to donate ahead of the event through the
It Gets Better dedicated Licensing Expo portal
.   
Justina McCaffrey 
Canadian bridalwear designer, Justina McCaffrey and Operation Prom National Network (OPNN), are partnering to raise awareness of the needs of at-risk youth as teens and families struggle to afford the experience of the important milestone of prom. The initiative combines a giveaway of a custom-made Justina McCaffrey bridal gown or suit, valued at $20,000, facilitated by McCaffrey's licensing agency Cronus Global, with support from Global Licensing Group. Licensing Expo attendees will have the opportunity to access the drawing homepage in the Fashion Showroom Café and at the Cronus Global booth E196. Operation Prom National Network, founded in 2005 by former event planner, Noel D'Allacco, has grown to 17 locations nationwide and now serves as a resource for students, parents and schools to find organizations and community groups that can provide free formal wear to teens in need. OPNN is open to all and will not turn away any student from events or services regardless of race, religion, gender or sexual orientation.  
Magic Wheelchair 
This year Licensing Expo, in collaboration with Dangling Carrot Creative and Magic Wheelchair, a nonprofit organization dedicated to providing custom youth wheelchairs to families at no cost, will surprise a special guest with a customized reimagined wheelchair.  
Throughout the three-day event,
Licensing Expo also introduces
the "
" program, which aims to encourage individuals to physical commitments of activity such as a dedicated run, walk or cycle across small distances with charitable donations. In partnership with licensing industry charity partner,
, all proceeds directly benefit annually selected international beneficiaries across social, well-being, community and economic programs. At the event, guests will be able to submit daily step counts into the leader board and donate on-site.  
Lastly, with sustainability as a core pillar of impact with Informa Markets Global Licensing Group, Licensing Expo will partner with international publication,
, to host Industry Framework discussions, an agenda-setting resource to help licensors, licensees, agents, manufacturers, service providers and retailers create a clear-cut pathway to sustainable development with a step-by-step process and skill set to implement incremental and impactful change across our businesses and the products we make. Two years in the making, the Industry Framework is a co-collaborative project that utilizes cross-sector expertise to develop a practical set of future-fit guidelines, for the industry, by the industry. 
place on June 13-15 at Mandalay Bay Convention Center, Las Vegas.
Read more about:
Subscribe and receive the latest news from the industry.
Join 62,000+ members. Yes, it's completely free.
You May Also Like
Loading..