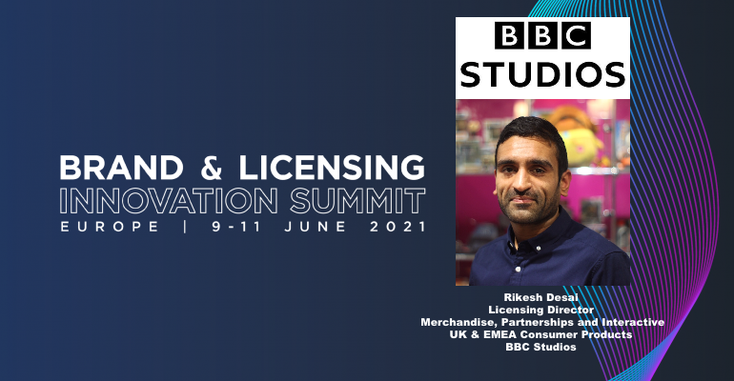 With the Brand & Licensing Innovation Summit approaching in June,
License Global
is chatting with speakers about the event, the licensing industry, life after lockdown and more.
We spoke with Rikesh Desai, licensing director, merchandise, partnerships and interactive, U.K. and EMEA consumer products, BBC Studios about content consumption, how it fits into licensing, his upcoming session at B&LIS and other topics.
License Global
: BBC Studios has a dedication to sustainability; what are your key achievements and what are you looking forward to rolling out in the future?
Rikesh Desai:
Across the BBC Group, our ambition is to hit 'Net Zero' by 2030.
At BBC Studios we achieved carbon neutrality back to 2018 late last year and have now established a set of targets to reduce our carbon footprint. For example, our UK offices use renewable energy, we're cutting non-filming travel by 50%, we are aiming for 100% Albert certification for all UK Productions and to align to industry best practice for our
consumer products businesses.
The focus this year will be to achieve albert certification across our International production businesses, and for our licensed BBC branded events and consumer products we will work with our partners and industry members to progressively reduce carbon emissions and drive standards that are scalable.
LG:
How is content consumption changing, and how is that impacting consumer goods?
RD:
The content consumption landscape has changed so much over the past few years, probably more than some would have wanted or expected. However, with this disruption comes innovation. I don't believe we will see an end to linear broadcast, but as viewing habits continue to undergo significant changes, content creators will need to adapt to best compete in an increasingly online driven market.
With the way audiences now consume content, brand owners will need to change how they target fans in terms of format and type of content they create. Outside of children's, a lot of content is now consumed by a wider age demographic, gone are the days of shows that only target teens, young families or an older generation. This will drive the need to create brand extensions and consumer products that meet the fans' underlying needs by developing opportunities to build deeper trust and more interaction.
LG:
What trends are you seeing for the future of content and the properties that make it?
RD:
With the world fully embracing all things digital more so than ever, I can see an acceleration in companies developing direct-to-consumer online solutions that focus on the digitization and commercialization of fan and consumer interaction that they would have otherwise had in a physical environment.
To truly embrace this transition, brands must continue to craft and hone their tone of voice. There is a real need to deliver trust that extends to products and experiences that can resonate with audiences by supporting and speaking to their own values.
Socially driven issues such as sustainability will remain at the forefront of consumers' minds and they will look for properties demonstrating transparency and commitment to these issues. Brands that can leverage these values to build trust with consumers will be rewarded with loyalty and increased sales.
LG
: Why is B&LIS an important event for the licensing industry this year?
RD:
We must acknowledge that now is the time our industry needs to commit to real positive change. B&LIS is the perfect catalyst to develop and implement these solutions.
These events are great for bringing together industry members to discuss, debate and collaborate on the future of brand licensing. This year it's especially important given everything we have collectively experienced over the past year, but in this we would have each forged our own paths forwards and the B&LIS will provide a great platform to learn from each other.
LG
: What topic(s) will you be addressing during B&LIS?
RD:
Why it is important as an industry to adopt a more bold and conscious approach to the way we operate our businesses in relation to sustainability.
Specifically, how we can all have a positive impact by collectively developing a set of guidelines for the global brand and licensing industry to enable sustainable transformation through the commitments we make contractually with each other in our ecosystem.
This is where initiatives such as Product of Change Group come in, helping to provide the knowledge, know-how and connections that individuals and businesses require to motivate them to take action, and thus lead the way to wider change.
Read more about:
Subscribe and receive the latest news from the industry.
Join 62,000+ members. Yes, it's completely free.
You May Also Like
Loading..