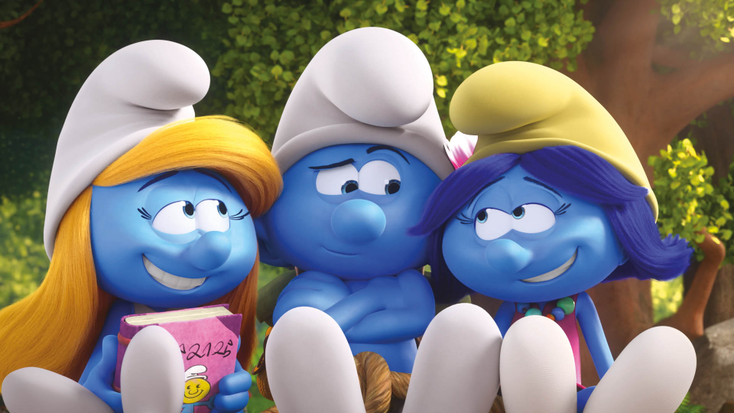 Characters from the Smurfs
the Smurfs
Most people around the world have heard the story of a tiny village deeply tucked away in a forest in Europe. More commonly known as the Smurf Village, it is unlike any other village. It is filled with mushroom-shaped houses and run by strange blue creatures called Smurfs, who are three apples high and do daily activities in white trousers and white floppy hats (or red).
Created by Belgium cartoonist, Peyo, in October 1958, the Smurfs originally appeared in the comic, "Johan and Peewit" (originally published in French as "Johan et Pirlouit"). But the small blue creatures received so much attention that the Belgian magazine, Spirou, decided to print the Smurfs as an independent comic – the first being "The Purple Smurfs," also known as "Les Schtroumpfs Noirs." Since then, success has continued for the characters in merchandising,
, TV and film,
and
, and it is now time to cheer for the Smurfs' 65th anniversary.
To kick off the celebration, thousands
of people gathered in Landerneau, France, this past March to paint their bodies blue,
and decorate their windows with Smurf figurines, posters and stickers. However, the anniversary festivities will not end in the streets of Landerneau. In fact, they will continue throughout the year as the Smurfs recently launched clothing collaborations and started new adventures into Web3 in April and have plans to release a tv series and comic books later this year.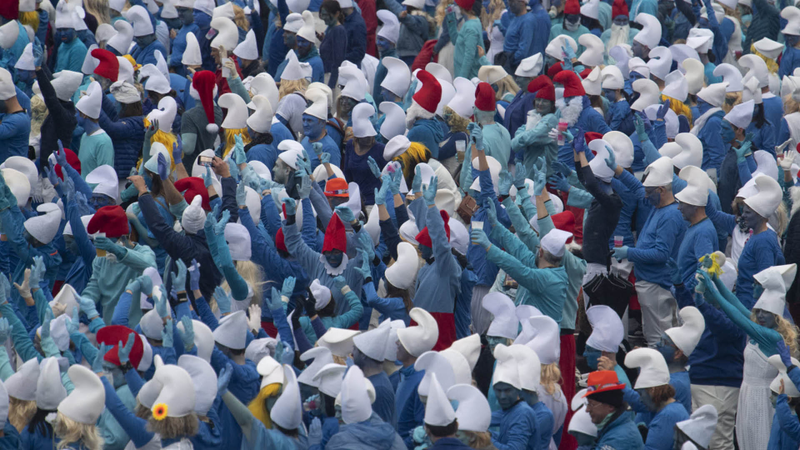 Thousands of people dressed up as Smurfs in Landerneau, France
By combining the innovation of blockchain technology with values of community and sustainability,
released their first PFP collection, also known as The Smurfs' Society — the official Smurfs NFT project. And though the Smurfs may only be three apples high, the blue creatures made sure to make a grand announcement for the collection by dropping it at NFT Paris 2023 – the biggest annual NFT conference worldwide. To add some extra razzle and dazzle to the announcement, world-renowned artist, André Saraiva, also painted a giant three-meter-tall (nearly 10 feet) Smurf statue from recycled plastic at the event.
The collection consists of 250 unique 3D characters with 50 individual variants with all proceeds being donated to charities funding environmental action (i.e., NFTs for good). Some of the NFT characters people may find include Emperor Smurf, Conspirator Smurf, Guitar Player and Hacker Smurf. Each NFT comes with exclusive utilities and benefits, with unique perks attached to individual Smurf characters (e.g., game tickets for Soccer Smurf and wine bottles for Sommelier Smurf). All Smurfs NFT holders will also get access to satellite projects currently in the works, such as an upcoming NFT game and access to a decentralized autonomous organization (DAO) that curates and finances sustainable projects to protect the planet.
"I think the project is really one of a kind because we injected a gamification experience into it," says Guillaume Baudoul, licensing manager for hardlines and digital categories, IMPS. "You don't just buy NFTs and resell them. The project brings a new online experience as users can build a community, have fun and game." Fans can also anticipate finding something in The Sandbox Metaverse that has never yet been seen before as the Smurfs have events on the platform this summer and fall.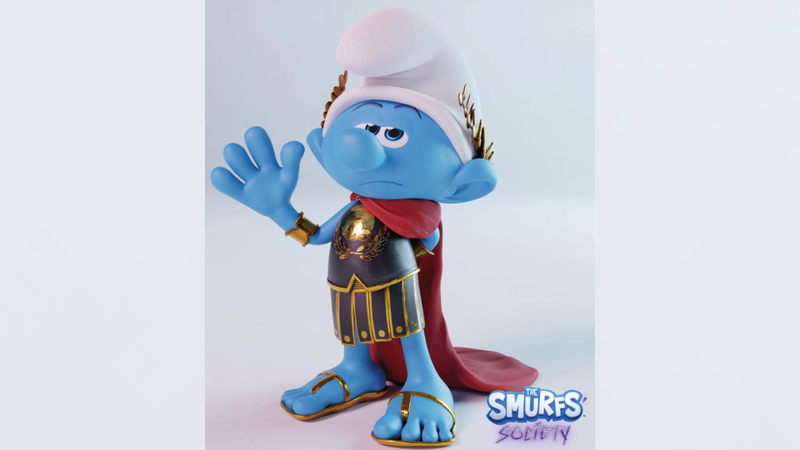 To add to the excitement, an exclusive 65th anniversary new augmented reality (AR) comic book from Papercutz will be published. Available on Free Comic Book Day (May 6), readers can enjoy a dynamic reading experience with pages that activate a virtual environment. This new comic book includes three original stories ("A Kiss for Smurfette," "The Smurf from Outer Space" and "Smurfs and the Robot X-XIII") by Peyo that are being published in English for the first time. In addition to the AR comic book, Smurf-fanatics can expect the next comic book about the Smurfs Girl Village in the spring and the eighth Smurfs Tales book, "The Smurfs Tales: The Smurfs and the Sorcerer's Love," in the fall. To make this Smurfy year an even Smurfier one,
– is set to be released on Netflix.  It is going to be launched on the streaming platform in the U.S. in May and globally later this year. 
If that isn't enough, fans can find clothing collaborations at ButterGoods (the Australian streetwear brand), Aape and Dsquared2, so love for the characters can be conveyed through wearable Smurfy swag.
From clothing collaborations and a tv series to AR and an NFT collection, it seems the Smurfy fun will almost be perpetual this year. And just like the perpetual fun, the Smurfs always stay true to who they are by celebrating joy, optimism and the environment. And to spread these values, the Smurfs are celebrating their anniversary through classic and modern platforms to continue capturing the hearts of new generations and consistently enchanting the hearts of old ones.
And the Smurfs will continue to do so as the Smurfy fun never truly ends. In fact, in February 2025,
an animated musical film featuring
Rihanna will be released in theaters. It is currently being developed by Paramount Pictures, Nickelodeon Animation and Cinesite. "We are thrilled to be reteaming with such a stellar team of animators at Cinesite," says Mark Bakshi, executive vice president, Paramount Pictures Animation. "Throughout development we've been impressed by the creativity and quality shown; together our teams will deliver a Smurf-tastic film that families will enjoy for years to come."
Subscribe and receive the latest news from the industry.
Join 62,000+ members. Yes, it's completely free.
You May Also Like
Loading..