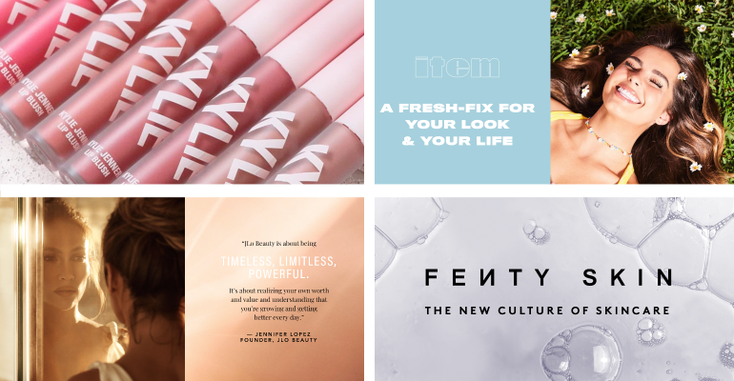 In addition to celebrity beauty brand is the celebrity fragrance category, which includes celebrities like Britney Spears, Katy Perry and Jessica Simpson. Some branded fragrances from the likes of 
, Kim Kardashian and Jennifer Lopez have branched out into beauty brands with Haus Laboratories, 
 and 
, respectively. The celebrity perfume line is strong, with 
 recently introducing a branded fragrance. 
The glamour of celebrity and the beauty needs of the consumer go together, resulting in a powerful marketing tool. In 2019, 
 would be more likely to buy a product if their favorite online celebrity recommended it. Knowing the power of celebrity, makeup brands chose them to be the face of
a product launch. Not only do celebrities wield influence over their audience, but potential influence over the beauty market.  
Grande and Aniston follow in the footsteps of celebrities like actrss and singer  
, social media influencer and actress 
, Kylie Jenner with 
 and Rihanna, who has launched 
 and 
Some celebrities choose to collaborate with established brands to launch licensed collections - think 
, 
.  
With loyal fan bases, the capitalization of the celebrity makeup market is a step for entertainment industry who are known for their physical appearance. Both the celebrity and the brand they front benefit from this parasocial relationship. But what will happen if celebrity begins to fade, and what does this mean for the beauty industry? 
"As of now, independent and celebrity-backed beauty brands are still in their early growth stages and will continue to give the traditional brands fierce competition over the coming years," 
Alanna Dible, senior audit manager, and Mark Grant, audit senior, Mazars USA, told WWD
. "However, especially for celebrity brands, it is uncertain whether the sales will wane once the celebrity's glossy appeal fades. A new generation of celebrities may enter the industry with a beauty offering of their own. We may see each brand have a shelf life, with larger celebrities outlasting the rest." 
For example, celebrities like Marilyn Monroe have become icons in the beauty space which have allowed licensed products with her likeness to be produced for decades. Monroe's signature look has become a classic beauty staple, allowing her to continue to sell years after her passing. 
As beauty trends continue to ebb and flow, licensed cosmetics continue to be produced and purchased. The adoration fans have for the celebrities who represent the makeup company may benefit the visibility of both celebrity and brand.  
Long-lasting celebrity beauty brands will be those linked to those who can stay in the spotlight – and those who can continue to inspire the aesthetic of their fans. 
Subscribe and receive the latest news from the industry.
Join 62,000+ members. Yes, it's completely free.
You May Also Like
Loading..