Brand & Licensing Innovation Summit: Day 2 Recap
Brand & Licensing Innovation Summit: Day 2 Recap
What's in the future for licensing? Panelists at B&LIS had some thoughts.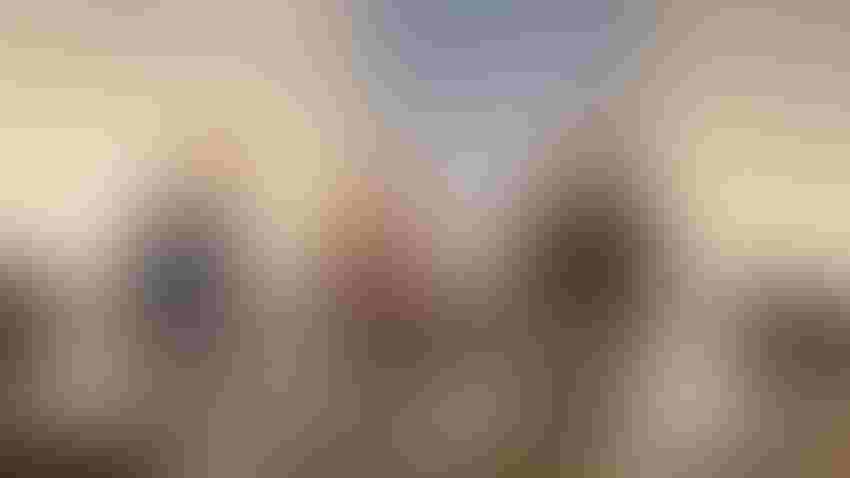 (From L to R): Cory Moss, Anna Knight and Dalila Shannon.
Patricia DeLuca
Day Two of the Brand & Licensing Innovation Summit (B&LIS) at Convene in New York City focused on how licensing can forecast upcoming licensing trends and its future.  
B&LIS sponsors include BoredJobs, The Brand Liaison, TheSoul Publishing, MarqVision, Trevco and Spaceport.  
In "Economic Overview: What Challenges are Forecast for 2023," Maura Regan, president, Licensing International, interviewed Simeon Siegel, CFA, managing director, BMO Capital Markets, about what to expect if there is an economic impact in the next two years. 
"Retail and licensing are in the business of telling stories," says Siegel. 
Both talked about how the economy could affect the licensing sector, the supply chain, stockpiles of goods, rising inflation and which brands' rapid success are cautionary tales and planning for what Regan called "the next normal." 
"It's important to see the future, not to see the past," says Siegel.   
The panelists at "Think Tank: Can the Licensing Process be Rebuilt?" led by moderator Amanda Cioletti, vice president, content and strategy, Global Licensing Group, Informa Markets, discussed ways to alleviate pain points in the licensing process.
For Michelle McLaughlin, chief executive officer, Brand Activation Consulting, the legal process is essential for a licensing rollout, but can be detrimental to the overall global market business.
"The contracts don't always catch up with the brand," says McLaughlin. 
Sam Hafif, chief executive officer, Concept One Accessories, noted how domestic brand expansions into international territories can be seen as growth but have disadvantages.   
"American companies are extending … we're dealing with third parties, extended companies' departments that may not know best practices and operational differences," says Hafif.   
As trends ebb and flow, Maya Assis, vice president, licensing, Komar, says there needs to be a better understanding between licensor and licensee of how trends may affect a licensing agreement. 
"It's a matter of meeting each other halfway," says Assis. 
Winnie Jaing, vice president, licensing strategy and partnerships, Hot Topic, brought up how the influx of content available to the public has shortened the longevity of a brand's licensing program. 
"They're buying [product] after seeing the content," says Jaing. "The reactionary window has gone from 12 weeks to four weeks." 
B&LIS hosted a speed networking session, where attendees met and shared ideas about the future of licensing in four 10-minute meetings. 
"Diversity & Inclusion: Walking the Talk," moderated by Anna Knight, senior vice president, Global Licensing Group, Informa Markets, centered around company diversity and inclusion programs and its external and internal change across consumer products. 
Cory Moss, chief executive officer, CLC, spoke about his company's work with historically Black colleges and universities (HBCUs) to represent them in licensing amid cultural shifts and its collaboration with Urban Outfitters on Summer Class, a mentoring and internship program for HBCU students where they learned about retail and pitched ideas for the apparel line.   
"There is a lot of responsibility in that opportunity," says Moss. "[Urban Outfitters] didn't want to put HBCU logos on a product; they wanted to do more." 
Dalila Shannon, divisional merchandise manager and head, diversity and inclusion, Urban Outfitters, shared how, with D&I, the retailer created its merchandise in an authentic way and how they helped develop Summer Class with CLC. 
"It became clear to me to make direct, intentional connections with the students," says Shannon. "The partnership felt like a natural fit, and we wanted to make a lasting impact." 
Gen Z and Alpha are the focus of many licensing plans In the session, "Marketing 2.0: How to Reach Gen Z and Alpha Brands," the group, moderated by Todd Kaufman, strategy and partnerships, Beanstalk, agreed that authenticity is key to any licensing program for these demographics, from branded apparel drops to the metaverse.
Veronica Hart, executive vice president, global franchise planning and consumer products marketing, Paramount, shared how the company is creating consumer products that meet the needs of Gen Z and Alpha.
"It's not just looking at the IP how are we building products for the demographic, but the right consumer products at the right time," says Hart. 
Caryn Sterling, JoJo Siwa's manager, brand development and strategy, executive producer, Sterling Worldwide Entertainment, shared how she translated Siwa's core beliefs into her consumer program.
"JoJo is a human brand that delivers on positivity," says Sterling. "Inauthenticity is not an option."
Philippe Guinaudeau, chief executive officer, BrandTrends (who recently hosted a webinar with License Global) recognized that Gen Z and Alpha are more globally aware than past generations, which can present a challenge to brands. 
"Brands have to change and reform to talk directly to the kids," says Guinaudeau. "The brand communicating with them has to be honest with them." 
David Lee, senior director, global licensing and culture, Kellogg Company, recalibrated marketing plans for brands like Froot Loops for Gen Z and Alpha. 
"Gone are the days when brands just say something and people flock to them," says Lee.   
Debra Joester, president, chief executive officer, Joester Loria Group, revealed how the McDonald's consumer product line reaches Gen Z and Alpha through the brand's anniversaries. 
"Everything we do, like limited-edition drops, we do it with the right retailer and brand, and it sells out," says Joester. 
Joester returned to the B&LIS stage as the moderator of "Future Gazing: The Next Big Category," where the panel talked about how their companies are pivoting content in the face of fast-changing consumer behaviors and preferences. 
April Heeren, general manager, outbound licensing, Crayola, says the brand will continue to produce how-to videos for kids and their parents where they can create projects using the brand's line of materials and toys, while Menal McGrath, vice president, global licensing, Moose Toys, predicted "snackable content," like short videos could be the next big thing for kids' licensing.  
Claire Gilchrist, vice president, the Americas and Pacific, Hasbro Licensed Consumer Products, called sustainability and D&I in brands a "business imperative." Hasbro Pulse and Hasbro Classics are initiatives for Hasbro to connect with "kidults."  
Denise Gomez, director, licensing, the Americas, Boat Rocker Media, says the media company has already implemented inclusivity in its shows like "The Next Step." 
"It's important to keep the lens authentic, because the fans expect it," says Gomez. 
Kristen McLean, executive director, industry analyst, The NPD Group, shared her insight on the state of the evolving licensing market using our latest data across books, toys, media and video games in "Market Forces Impacting U.S. Entertainment Licensing." McLean also explained streaming content's impact on licensing strategies, shared perspectives on sources and influences, types of content consumption and audience engagement and market forces IP holders must watch.     
Starting next week, ticketholders of B&LIS (in-person or online) can stream the agenda here. For a recap of B&LIS Day One, read more here.  
Subscribe and receive the latest news from the industry Article
Join 62,000+ members. Yes, it's completely free.
You May Also Like
---