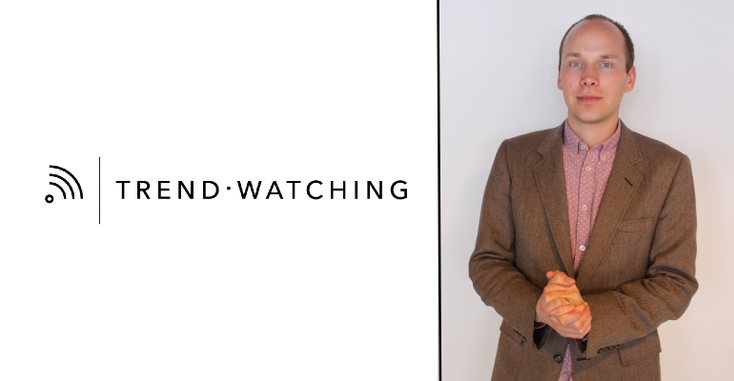 Retail and licensing are ever-evolving industries. From new consumer tastes to the latest business technologies, even the most successful professionals in the field can have trouble navigating the constantly fluctuating tides. However, the true standouts in the industry are able to spot the trends ahead of everyone else to build new strategies that maximize future movements.
Maxwell Luthy, director, trends and insights, TrendWatching, is one industry observer who has leveraged his company's unique methodology to help businesses around the world traverse changing consumer tastes. From Disney to Vans, some of the biggest names in retail and licensing have worked with TrendWatching to get ahead of the curve.
Luthy will be discussing TrendWatching's methodology and key trends on the horizon at this year's 
License Global
 caught up with him to learn more about his upcoming presentation, some of the unexpected trends he sees coming down the pike and what he would do if he
 could go back in time.
Festival of Licensing
is a month-long large-scale digital gathering that unites the global licensing industry to connect, learn, strike deals and do business on an international stage. The event takes place Oct. 6-29. 
Register for free now!
License Global
: What are you hoping people will get out of your talk at the Licensing Leadership Summit and Festival of Licensing? 
Luthy:
 My main goal for every audience is simple: give them a new way of seeing the world! In all seriousness, I will share a powerful approach for making sense of change. It's a methodology that's been used by everyone from Mattel, to Vans, to Disney. Everyone from lawyers to long-distance truckers are overwhelmed and threatened by the pace of change today. Yet in the world of licensing and retail, in 2020, as it always has done, a winning strategy comes back to understanding the fundamental human needs of your customers. Those needs are remarkably consistent, and the trends that I will share will each be anchored in a core human need.
What has been the biggest change you've seen in the licensing and retail business over the last five years?   
It's so hard to choose one, but I certainly think the boom of digital as a channel, including the explosion of social commerce, and the success of DTC entrants in so many categories has been really exciting. With lower barriers to entry and so many tools at hand for small players, it has forced large incumbent and established professionals in licensing and retail to reinvent their strategies to keep up. There is so much creativity out there, it's truly inspiring. 
Another massive change in the last few years has been the tipping point we've reached with sustainability. In the ensuing decade, every single attendee at this summit will be impacted by consumers asking themselves: should I really be buying more stuff? What is the true cost of producing this? Is there a less harmful alternative? 
What is the biggest trend or industry disruption that you see on the horizon that not enough people are taking about?
I think the rise of digital as a space for experiences and even digital products is really exciting. Far too many professionals see the worlds of gaming and esports as a new channel or new vertical, as opposed to an entirely new realm for businesses and brands in every category to exist. I will be diving into the Virtual Experience Economy in my session, and the need for "brand avatars." The level of interactivity and the scale of reach a brand can have with customers is so exciting. Epic's work to build a metaverse within "Fortnite" and creative partnerships with brands is one of the more powerful examples of it today, but there is so much left to unfold.
How do you see the wellness space evolving over the next few years?
I think one of the big shifts we've seen is away from "wellness as a status symbol" and toward wellness truly treating real issues impacting consumers' quality of life. Essentially, wellness as a form of preventative care. Anxiety, stress and burnout are growing problems impacting an array of demographics, not just Gen Y/Z. So, the rise of CBD in the last 24 months isn't a flash in the pan fad around a newly regulated ingredient, it's simply evidence of this epic shift toward treating burnout. Wellness will be heavily directed at relief from the pressures of modern life and 24/7 work.
What do you think the future holds for brick-and-mortar retail?
We believe brick-and-mortar will continue to split into two categories, where stores are either optimized for in-and-out efficiency, or they are crafted for education, congregation, experiences and even self-actualization. There will be some locations that manage to meet both needs under one roof, a strategy Starbucks, Target and others experiment with. But those will be the two objectives, seize time and attention, or save time and attention so that shoppers can spend their most precious resource elsewhere.
Subscribe and receive the latest news from the industry.
Join 62,000+ members. Yes, it's completely free.
You May Also Like
Loading..