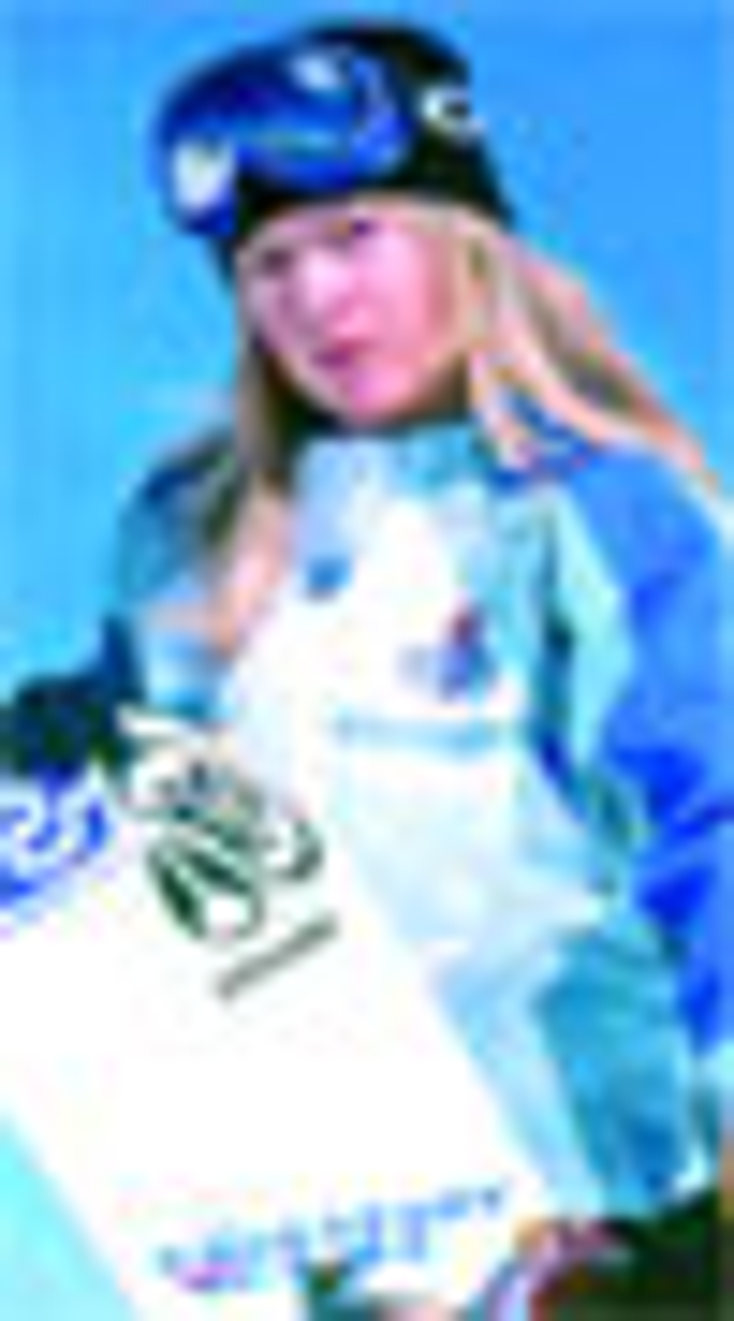 ]>Hot Topic
With the consumer as its life's blood, Hot Topic, Inc., has catapulted from its original door opened in 1989 to 502 Hot Topic stores and 52 Torrid stores (a young, newly created arm that caters to plus sizes, 15- to 29-year-old female demographic) at the end of 2003. Ask any Hot Topic executive-from President and CEO Betsy McLaughlin to Vice President/GMM Cindy Levitt to Divisional Vice President, Music and Licensing Karen Kiefaber to a slew of buyers interviewed for this article-and they all contend that the No. 1 inspiration for merchandise comes from the consumer-from the store employee and manager to the average shopper. Yet that listening, a Hot Topic signature, has key executives and buyers turning on a dime.Overwhelmed with enthusiasm to be chosen as License!'s Retailer of the Year 2003, a lineup of Hot Topic key players in licensing (music and otherwise) from a variety of different merchandise buying areas came forward to voice their belief in the company, in licensing, and in their customers. The end result is an inside look at a retailer on the move . . . constantly. How they communicate with shoppers…how they keep up with trends (attendance at music concerts is a Hot Topic employee must)…how they look at licensing and work with both licensors and licensees…and how they plan to maintain growth…all questions answered (of course, within corporate limits). Simple Ideas . . . Big FocusHot Topic Founder Orv Madden happened upon quite the idea, and it seems he ultimately found the right niche. Recognizing that no other retailer was taking advantage of the direct relationship between music videos, alternative artists, and teenage fashions, the first Hot Topic door opened in 1989. Based in a mall and with music at its core, Hot Topic aimed to reach male and female consumers ages 12 to 22-a pop culture age demographic pulse that still runs through its veins today. Levitt (who, by the way, has been with Hot Topic since its first door opened) says the average age of a Hot Topic shopper is 16. With a focus on staying ahead of the music trend curve, Hot Topic offered music-licensed and music-related apparel, accessories, and gift items from a variety of bands before the bands even experienced widespread popularity. As Levitt recalls, Hot Topic was rooted in men's and women's fashion and accessory trends (such as skulls and crosses, and certainly black); it then hung rock T-shirts (Depeche Mode, for example) and within six month's time, customers were asking for more. "By 1990, Hot Topic was in cities that didn't have cool underground merchandise," Levitt says. Today, Hot Topic features everything from apparel to accessories, gifts, and novelties, as well as intimates and body piercing jewelry.
Still
music related. Still the core age demographic. Still consumer influenced. Still a mall-based retail operation. Still turning on a dime. Now, that's something of which Madden can be proud. Madden sold his stake in Hot Topic in 1996.
Now with 502 Hot Topic stores in 49 U.S. states and Puerto Rico (total doors as of press time) and approximately 4,500 employees, Hot Topic is a public company traded on the NASDAQ National Market as HOTT. Its store count, sales, and earnings have grown significantly over the last several years. For example, in fiscal year 2002, Hot Topic opened 74 new stores and added 21 new Torrid stores. Additionally, in fiscal 2003, 70 Hot Topic and 25 Torrid stores were planned. According to McLaughlin, the retailer has no plans to move outside the mall. "Hot Topic does not do any formal advertising. Malls have built-in traffic, and we know our customers are shopping at malls," McLaughlin explains. She adds that the overall plan is for 800 stores in the U.S.; no time frame was given for that expected store number growth.
In fiscal year 2002, the company overall experienced sales of $443 million (a 32 percent increase) and earnings of $34.6 million (a 21 percent increase). For fiscal November 2003 (four weeks ended November 29, 2003), net sales increased 30 percent to $45.3 million from net sales of $34.9 million for fiscal November 2002. Comparable store sales for November increased 7.3 percent over last year. Caught in between visiting stores for a quick interview, McLaughlin says Hot Topic is in its eighth year of positive comps. As a result of this performance, the company was increasing guidance to a mid-single-digit percent increase in comparable store sales for fourth quarter 2003.
Consumer Connection
Based in City of Industry, CA, Hot Topic may still be 50 percent music related, but over the years, the retail chain has changed accordingly. Entertainment- and character-based licensing has played a major role in that change…but more on that later.
Those changes are sparked significantly by the role consumers play in Hot Topic's merchandise direction. "We don't push anything on our customers," affirms McLaughlin. "An idea is identified, then validated, then quickly turned around."
How exactly does Hot Topic speak with its avid consumer? Technology, baby! And buyers, VPs, DMMs, GMMs depend on the consumer. As a matter of fact, in separate interviews-McLaughlin, Levitt, Kiefaber, Scott Morton (men's T-shirt buyer), Melodi Ramquist (gifts and novelties buyer), and Shannon Murphy (women's novelty and licensed accessories buyer)-each responded to the question, "where do you find inspiration?," with the same ingrained answer, "the consumer."
Levitt explains that customers have access to Hot Topic buyers via the company's Website (www.hottopic.com), which also serves as a click-and-mortar. Stores-from employees to store managers to district managers-have access to all Hot Topic buyers. "Employees are our customers too," identifies Levitt. On a weekly basis, communication reports between stores and buyers are filed and then buyers respond to these reports monthly.
More importantly as it pertains to the consumer and Hot Topic's merchandise mix, Levitt explains there exists certain criteria when buying and executing new products at Hot Topic. It must be music or entertainment related. As for retro, the properties must have originated in the '80s and '90s time frames. Why? "Those are the time frames our customers relate to, whether music or TV related," says Levitt. "That's why we're looking at the '90s now because we must appeal to a new generation. At the same time we must maintain our customer who's getting a bit older but still enjoys shopping Hot Topic." But, she warns, Hot Topic does not want to cater to a 'tween customer necessarily as "they ['tweens] must aspire to shop where their older sisters or brothers shop. If we cater to a 'tween customer, we may lose an older demographic."
Because they are so "on" with their consumer base, Hot Topic executives know they can't price out of this consumer's budget. Most, if not all, items in the store are priced under $20.
So, are you thinking Hot Topic executives are sitting by their desks, waiting for e-mail and weekly reports to turn on the next trend? Not a chance.
Turning on a Dime
With input from consumers and their own intel, Hot Topic executives and buyers turn product around quickly…either via established vendor relationships (Hot Topic has 30- to 60-day lead times) or licensing agreements (OK, we'll get to that).
Hot Topic executives and buyers are in tune. According to Levitt, around the retailer's City of Industry corporate headquarters can be found TV monitors with, appropriately, MTV on all the time. Executives at all levels are required to attend concerts, movies, etc. (better yet, they are reimbursed). Levitt tells License! that when The Matrix Reloaded hit movie theatres, she purchased 150 tickets. "For us, Hot Topic is a corporate culture. We must live the lifestyle," says Levitt.
"It's what makes Hot Topic so unique. We must offer an avalanche of newness, because that's what our customers want from us," says Scott Morton, who has been with the company for six years and in his current position (buyer, men's T-shirts) for two years.
"We've featured and continue to feature young bands that are in the process of searching for management or a label," adds Kiefaber, who has been with Hot Topic for 11 years, always in accessories but has moved up the ladder from buyer to DMM to DVP. "Because we keep with the pulse of the market, which can be minute to minute, we write orders very close to time and then we must turn on a dime." She continues, "Music is our life, it's the common thread between us and our consumer."
Hot Topic executives visit stores consistently. (Following this interview, Levitt's first stop was Alaska, then a slew of other cities. Morton, Murphy, and Ramquist also were headed to stores, and Kiefaber had just returned from her tour, saying, "Kids are passionate about music and love to talk about it.") Beyond store visits, attending concerts and new movie releases, and watching MTV all day long, Hot Topic executives head out to a host of trade shows including Industry 212, Comic-Con, World Shoe Show, MAGIC Marketplace, Halloween Show, Licensing Int'l. Show, and ASD/AMD. There are a variety of other shows Hot Topic executives visit to scope out new items or see partners they've worked with or continue to work with, but Levitt says, "I don't want to give away all our trade secrets."
Licensing Moves
While music licensing remains a big business for Hot Topic ("everything about the music" remains the company's tagline), executives took a leap (in part, thanks to customer requests) into other licensing arenas. Their success in licensing over the last five years, strongest in 2002 and 2003, earned the chain the LIMA Retailer of the Year Award this past June. Further confirmation that members of the licensing industry (a $172.8 billion industry, according to License! research) are partnering with Hot Topic and vice versa to deliver the right licenses and the right products with a Hot Topic twist.
It all began in 1997 with South Park. "That was our first big entry into licensing," recalls Levitt. Then suddenly, came consumer requests for properties such as Care Bears and Strawberry Shortcake. Ahead of its time, Hot Topic moved those properties in 1997 before the current retro trend. "Those properties inspired consumers to ask for Rainbow Brite and My Little Pony," she says. And before SpongeBob SquarePants even claimed its famed position on air and in licensing, Hot Topic was the retailer to test plush and T-shirts in fall 2000. "It blew out," says Levitt. From there, Nickelodeon and Hot Topic squared a nine-month exclusive deal, and while that exclusive has since ended, SpongeBob still has a presence in store. "Nickelodeon has worked well with us over the last three years," she says.
There are many reasons why this specialty mall-based chain has maintained its status as a pop culture trendsetter and trend deliverer and destination for the 12- to 22-year-old set. But while customers can cast their votes on a fave TV show or a hot character, Hot Topic executives then must turn around product that is "unique" to the channel. A sea of sameness is not the retailer's mentality. That often translates to exclusives-whether a three- to nine-month exclusive launch with a licensor or exclusive skus. And that's not all. Executives work with licensors to deliver the right product in its design and presentation. And because the retailer's lead times can be tight, Hot Topic executives may recommend to the licensor (of course, if the licensor is interested) a vendor (licensee) that the retailer currently does business with. Not a direct-to-retail relationship but somewhat similar.
That philosophy has fostered good relationships with a wealth of leading licensors. "We thank our partners, who have been incredibly flexible. The growth in licensing is a credit to them and the culture and talent of our buying team," says McLaughlin, who has been with Hot Topic for more than 10 years, rising from vice president of operations to president and now CEO.
Some of Hot Topic's recent successes and some underway in the world of character and entertainment include Sesame Street with a focus on juniors and males, a four-month exclusive that offered products ranging from junior Ts in a "distressed retro way" to panties, handbags/messenger bags, stickers, hoodies, and featured characters Elmo, Cookie Monster, and The Count, among others. Disney's The Nightmare Before Christmas was not exclusive to the retailer, but exclusive items exist in the mix for the property's 10-year anniversary. According to Levitt, other exclusive deals include Happy Tree Friends (Signatures Network) from October 2003 'til this month; Cabbage Patch Kids (4Kids Entertainment) for six months; Cartoon Network's Family Guy (only chain carrying merchandise until April) and other properties in the Adult Swim block. Hot Topic also has become the destination for West Coast Choppers (which apparently grew from Discovery's Monster Garage series).
As for upcoming movie releases, Levitt says that "new releases can be tough" for Hot Topic. For example, leading up to the release of Spider-Man the movie in 2002, Hot Topic in turn featured retro Spider-Man.
In terms of property trends from 2003 and moving into 2004, buyers wouldn't reveal all secrets, but they did suggest the following: For Morton in men's T-shirts, it's motorsports; West Coast Choppers and Orange County Choppers items; video games including Nintendo and older video games; and The Simpsons. Murphy cites junior Ts and hoodies, pins, patches, stickers, and posters that feature Sesame Street, The Nightmare Before Christmas, Care Bears, Hello Kitty, and The Muppets. For Ramquist, who's been with Hot Topic for nine-plus years, plush and toys are a strong category. Ramquist mentions fragrance as a category to watch, as Hot Topic launched fragrances for Care Bears, Care Bear Cousins, and The Nightmare Before Christmas. As for other novelty items and body piercing jewelry, Ramquist cites SpongeBob, Care Bears, Rainbow Brite, Strawberry Shortcake, Sesame Street, and Nickelodeon's Invader Zim. All buyers hope they didn't leave any property off the list, as they've had many positive experiences in '03.
Asked if there's anything vendors can do to improve business, Levitt stresses, "Exclusivity is the key. As licensing becomes more and more important, an item cannot be made available to different tiers. Teenage customers are savvy and they want different, not something they can find in multiple tiers."
While Hot Topic may nab exclusivity, licensors get major attention and play in Hot Topic's 502 doors. Although Hot Topic does not do any formal advertising, licensor partners receive a spot on hottopic.com's home page, a room on the Website, storefront signage, e-mail blasts to 600,000 users, and a "boutique-like" merchandise statement in-store.
Hot Topic dresses its stores floor to ceiling . . . no space left unused. Walls are a priority for the retailer, says Levitt, and other merchandising tactics include gondolas, "boutique-like" effects, endcaps, or entire fixtures.
Licensing is not as prominent for the Torrid stores, but those buyers are included in licensing meetings, Levitt says.
Of course, License! asked what Hot Topic has set its sights on for 2004. Considering the retailer has new product in-store almost daily, is on to the next trend at breakneck speed, and prefers exclusivity with current and potential partners, that question met with silence. Now that's one smart retailer.
Subscribe and receive the latest news from the industry.
Join 62,000+ members. Yes, it's completely free.
You May Also Like
Loading..