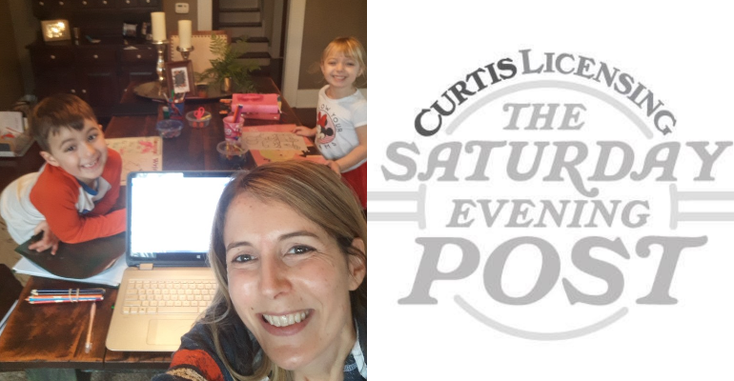 People all over the world are learning how to work from home for the first time. Needless to say, it can be tough. Your coworkers aren't around. You don't have the desk you've grown accustomed to, and it's entirely possible to get distracted by everything around you.
Nicole Beer, merchandise licensing director, Curtis Licensing, is a seasoned veteran at working from home and has found a ton of different ways to stay productive. For her, COVID-19 brings minimal changes at work.
"I've been with Curtis Licensing for 12 years now," says Beer. "Six years ago, I began working remotely because I moved my family three hours away from our headquarters, and it no longer became possible to commute every day. Instead, I worked the same full-time work week and traveled to Indianapolis once every two weeks, but even that has stopped right now due to COVID."
Throughout all the years Beer has worked from home, she's picked up multiple tips and tricks to stay productive. Below are some best-practices she says
work for her.
"Have real conversations (not just via email) with your staff, your licensees, etc. I know we rely on email so much these days, and that is great, but it still doesn't replace a good old conversation. We are all in this together, and sometimes sharing that via phone/video chat is just good for the soul. It is very easy to slip into the hole of isolation and loneliness (even for the most social extrovert)."  
"In the beginning, I wore yoga pants and didn't do my hair or makeup. I was highly unproductive. Now, I get up, shower and get ready just like I'm going to the office. I wear more relaxed clothes than I would wear to the office, but still – real pants – with a real waistband. It might sound crazy but it makes a huge difference!"
"Now, more than ever, with children at home, I have to give myself grace and flexibility. That might mean you get an email from me at a crazy hour in the morning, but that's because my lunch hour is a little more demanding acting as the school lunch lady." 
"I treat my entire house like my office. So, same rules apply during my office hours."
"As the mom, it drove me NUTS in the beginning to look over my computer screen and see mess everywhere. Given the ages of my children, I can't always barricade myself in an office. Make peace with the fact that other houses look like this, and you will get to it eventually. Or, just leave it, because tomorrow it will happen again."
"This situation has been hard on everyone. When the sun is out shining, I sign off of my computer and go outside for a bit. It is one of the perks from working from home that the hours are more flexible. I know that I can hop back on later and finish out my day when my husband is making dinner or getting the kids ready for bed." 
Subscribe and receive the latest news from the industry.
Join 62,000+ members. Yes, it's completely free.
You May Also Like
Loading..