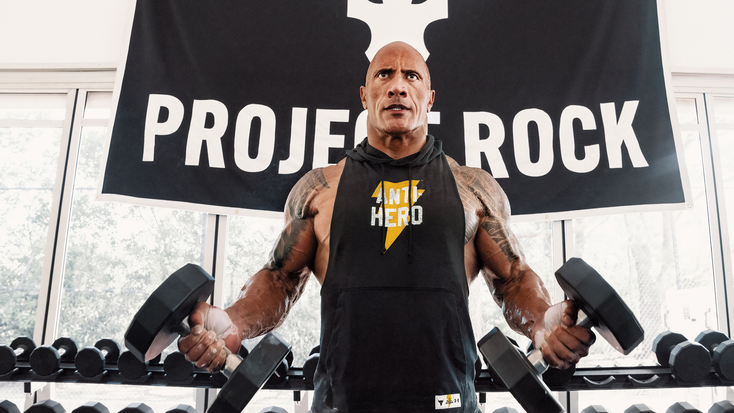 Dwayne "The Rock" Johnson wearing Project Rock's collection.
DC Entertainment
Warner Bros. Consumer Products
(WBCP) and
will release an all-new variety of original products inspired by Warner Bros. Pictures' upcoming action adventure film "Black Adam." This is the first time Black Adam has appeared in a film and the first time a comprehensive collection of merchandise featuring the antihero will be available. Toy, apparel, home goods and food partners have collaborated with Warner Bros. Consumer Products and DC to bring "Black Adam"-themed merchandise to mass market and specialty retailers leading up the film's release. 
Project Rock's "Black Adam" Training collection of performance wear created by Dwayne Johnson and Under Armour. The collection features apparel, accessories and the Black Adam PR 5.
Other new "Black Adam" fashion licensees include Bioworld, Fifth Sun, Issac Morris, LTD, Trevco and IML for men, women and children available at Target and Amazon. Walmart will carry its own exclusive line of T-shirts from

and more. Available now, Hot Topic also brings fans a range of "Black Adam" graphic T-shirts.

Warner Bros.' own

will also carry merchandise from partners including McFarlane, Loungefly and Brandup.
will feature a cosplay mini backpack featuring an electrified lightning bolt, with a matching ziparound wallet. 

Speciality jewelry maker RockLove will debut its "Black Adam" necklace in the shape of a lightning bolt.

will bestow fans with earrings, charm bracelets, pins, necklaces, scrunchies and keychains featuring ancient Egyptian symbols and lighting bolts. 
Buckle-Down wallets and belts are available on Amazon.
has unveiled a collection including "Black Adam" 4-inch and 12-inch action figures and a Hawk Cruiser Patrol. The new Spin Master "Black Adam" collection is available at Target, Walmart and Amazon.

The collectible manufacturer McFarlane has a line up of collectibles – Black Adam, Dr. Fate, Hawkman, Cyclone and more 7-inch scale figures are all available now. Atom Smasher and Sabbac mega figures are also available now. 

"Black Adam" movie statues are arriving in-stores from DC Direct. 
The

collection celebrating "Black Adam" introduces new Pop! figures of Black Adam, Cyclone, Dr. Fate, Atom Smasher, Sabbac and Hawkman. Funko is also unleashing new glow-in-the-dark Pop! collectibles of Black Adam on Throne and Hawkman in Cruiser. 

Just in time for Halloween, Rubies has "Black Adam" costumes for kids and men.

will launch hybrid trading cards (complete with digital NFT twins).
ZOA Energy and Warner Bros. Consumer Products are teaming up to bring consumers ZOA in specially designed "Black Adam" cans. ZOA Energy is also giving fans early access to behind-the-scenes footage from the upcoming film. After fans purchase these limited-edition "Black Adam" cans, they can scan the can's QR code to get a peek behind the curtain and go on set with Black Adam. 
In honor of the new film, General Mills and "Black Adam" are taking over snack aisles in Canada. 

The "Black Adam" large reusable tote bag by Legacy Licensing is being released, helping reduce plastic waste. 
"Black Adam" Wall Posters from Trends International. 

For on-the-go fans a "Black Adam" 20 oz. Ceramic Camper Mug by Silver Buffalo, while Tervis has a stainless steel tumbler.
will offer a "Black Adam" collectible ornament for the holidays. 

Trevco will roll out "Black Adam" blankets and beach towel.

Buckle-Down has unleashed a new dog toy featuring the Black Adam character.
DC will offer a wide range of books and comics for the "Black Adam" fan, available on Amazon and specialty comic retailers.
In Australia and New Zealand, consumer electronics retailer Zing Pop Culture and Australian theme park Warner Bros. Movie World will welcome DC's antihero with ranges that span adult and children's apparel, headwear, drinkware and accessories.

In Brazil, WBCP and DC will offer new collections from Jandaia, Riachuelo/Fanlab, Iron Studios, Sunny, MacFarlane and Belfix will bring Black Adam's spirit to life with its notebook and apparel. A special collection will also launch in the region's official DC Comics store featuring T-shirts, collectable cards, sweatshirts, mugs, pillows, mousepad and notebook case.

Mexico will be covered in the fashion and home categories with a new apparel launch from Aurimoda which includes tees and sweatshirts for kids and men, an accessories line of caps from Dadivit and a new collection of mugs from Regalos Siglo XXI.

Across Central America, Ecuador and Chile, Carl's Jr. will be launching local "Black Adam" programs that will support the movie in all of their Quick Service Restaurant locations across these territories. Additionally, key apparel partners such as By Desko in Argentina and Textiles Arval in Peru will also be releasing an exciting apparel collection. Finally, local fans in Colombia will also be able to purchase "Black Adam" costumes from Cacivaches. 
In EMEA, signed partners include Rubies for dress-up for both adults and children, Pyramid International for posters and gifting and Abysse for homeware.

In India, there'll be a multi-partner launch with TheSouledStore.com and Bewakoof.com that will launch a range of "Black Adam" tees and accessories. Octave Clothing and

Merchandising also have a range of fashion apparel across retail chains and online. Suditi Apparel will have an athleisure range, Epicstuff.com will launch collectibles and a home product collection and Zebronics India will launch a line of "Black Adam" audio accessories and wearables.

Partners in countries around Southeast Asia are also joining in on the celebration with new product launches in fashion, home and accessories categories. In Malaysia, Lotus's Hypermarket and Brands Outlet recently launched a "Black Adam" inspired apparel collection, Aurora Italia will also be launching a "Black Adam" 0.5g Gold Bar.

In the Philippines, there'll be branded home and office accessories from Our Licensed Collective, alongside teen and young adult apparel from Reinfore and Goldwing. In Indonesia, Matahari Department Store has released a special range of "Black Adam" tees, and Lotus Archi will be launching a limited edition "Black Adam" Gold Mint Bar with special packaging. Finally, EZ-Link in Singapore will soon launch a "Black Adam" version of its contactless prepaid transit card.
Read more about:
Subscribe and receive the latest news from the industry.
Join 62,000+ members. Yes, it's completely free.
You May Also Like
Loading..