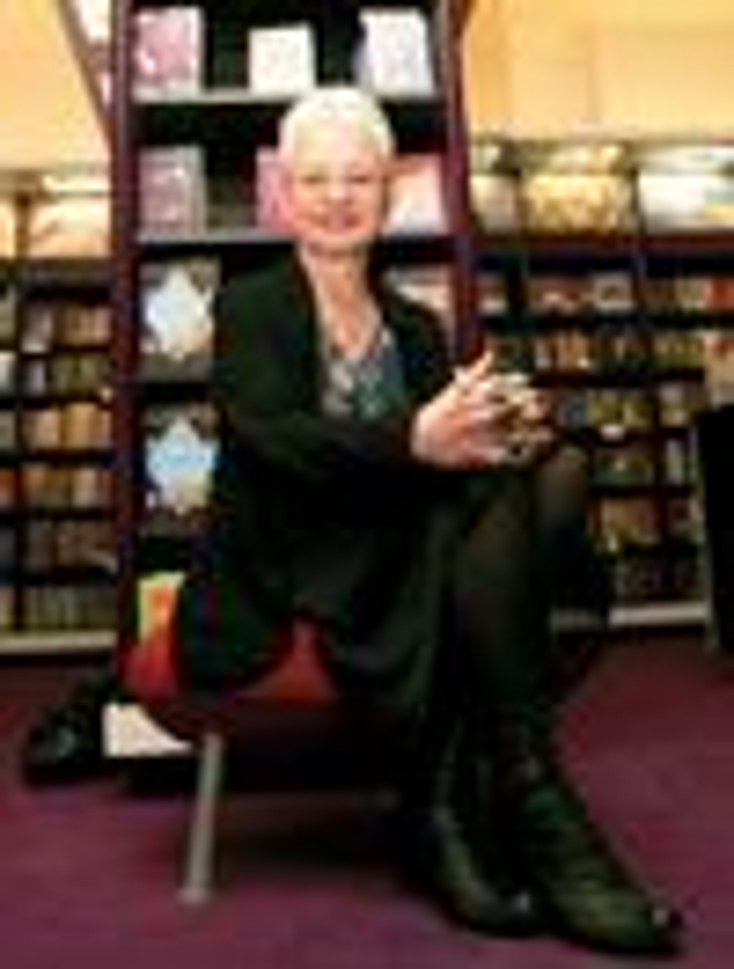 ]>Granny Spice
Jacqueline Wilson writes novels for eight to 12 year olds. Her subject matter is the gritty stuff of real life yet she is the most borrowed author from UK libraries and has sold enough books to fill St Paul's Cathedral. Together with Nick Sharratt, who illustrates the books, she has engaged this tricky age group and cultivated a groovy and utterly approachable style that defines the very strong connection she has with her audience. After a successful project with Sainsbury's last year, Jacqueline Wilson's work is the subject of a burgeoning licensing campaign by Copyrights Europe. We talked to Jacqueline, Nick and Nicholas Durbridge (Copyrights' managing director) about appealing to tweens and the excitement of creating new products. Jacqueline is 60 this year and her jewellery is legendary.
We meet in the sun-drenched cafe of a bookstore and, before we can begin, Jacqueline and Nick sign books for three awe-struck little girls. Jacqueline talks to each one before writing
a few words and Nick draws each of them a little picture. The girls smile and nod, shyly.Jacqueline Wilson talks to the Queen, is consulted by the Government, and has been photographed with an ex-US President, but children are her most important audience; it's not uncommon for her signings to last eight hours. Jacqueline is a superstar for young readers. Through books like Girls in Love, Tracy Beaker and Lola Rose, she has found a voice that is contemporary and timeless, sympathetic without being patronising. She can address tough issues with compassion and humour. And, in person, she twinkles like the most perfect good witch. In the tradition of all great writer-illustrator partnerships, Jacqueline's work is now inextricably linked to that of the illustrator, Nick Sharratt. Nick's illustrations provide the visual language and distinctive look that will also enable the author's work to be extended into consumer products. 'I have daughters,' one licensee told me. 'So we didn't even need the sales presentation. I know this will work.' Neatly, the agent that will handle the campaign is Copyrights, best known for its work with other literary-based properties such as Paddington and Beatrix Potter.
Jacqueline, how did you come to write for girls of this age group? Girls? I don't think of it as for girls! I just find it easier to put myself in their place. It's true that 90% of the people in signing queues are girls. But that might be because girls are more organised!
14 years ago I moved to a new publisher and I wanted to write a book about a girl in a children's home. I wanted to relieve the density of text you get in a normal book and write it the way a child would, with pictures and titles. So that's why Tracy Beaker starts as a diary book and has pictures by Nick.
Why do your stories deal with such serious issues?
Unlike the stories I read when I was young! In Enid Blyton there were no worries, parents never split up, there were no financial difficulties. I wanted gritty realism. But even in the blackest stories there is lightness and humour. I always end on a positive note. I do know that children need reassurance. Someone might let them down but another adult will always be there to help them out.
Where does your voice of a nine year old come from?
I have very strong memories of being young. Some things are different for children today. But feelings are very much the same and this is what I concentrate on.
I write in the first person because it's easier to get the right tone. I can really become the character. Writing as another person can make you observe or describe in a more judgemental way. The writing also has to be unselfconscious. This is why I start by writing the whole story by hand. Then I go back and work on it in a more considered way. Would a nine-year-old use this vocabulary? Would they really be thinking about those things? If you start off self-consciously you lose the emotion.
Where do the ideas come from?
It helps that I am around little girls a lot and that I like children! I spend a lot of time over my book signings because every child is worthwhile. I keep up a constant dialogue. I talk to them and get to know the shops they go to and the TV they watch. But no child has ever given me an actual idea for a story.
Nick, explain how the two of you work on a new book.
It starts with the cover. I get the script of the first draft and make notes where I think it would be good to have illustrations.
He pulls out a first version of a cover for a book called Love Lessons, which Jacqueline hasn't seen yet. She loves it. He explains:
For example, in this novel, the main character is very artistic and there is a bit of a love story, so I've tried to show that through the arrangement of art materials on the cover. It's targeted at an older group, so it's more pared-down and less busy.
Can you remember the first time you read one of Jacqueline's books?
Yes! I loved how they were written by a character. It gave me the chance to go back to being aged nine or ten and the sense of fun I had. I have a clear memory for my primary school years.
Where does your distinctive style come from?
It is very much my style. Then Jacqueline's writing is so good, I just express what's in the text. She is very clever to be able to make the characters up to date but without them being dated. Also, lots of the books are in sections, such as an Alphabet or colours of the rainbow, which gives you a visual structure to start with.The only thing Jacqueline is very particular about is the hair!
Did you ever consider your work as product design not illustration?
I used to design some products and packaging. I've also been working with Copyrights Group on the style guide. This is quite instructive. You look afresh at things you have previously taken for granted. It has been fascinating to create rules about something that is so instinctive to me.
Jacqueline, how do you feel about having licensed products?
Very excited. Since the books have been very successful we have wanted to do something like this. We are aware that we didn't have the time or know how so we asked Copyrights to help us.
I get such a kick when kids write to me on the Sainsbury's stationery. It looks fun, it's not like school. I always tell them, get a lovely pen and paper, make it special.
In signings late last year I did use a Portico pen and when girls asked me where I got the pen, I did cheekily ask if their mums shopped in Sainsbury's! It was perhaps a bit naughty of me.
What was it like working with Sainsbury's and Portico?
It's been a pleasure because they really know what they're doing. The idea of the first novel kit wasn't mine. It was actually Tim Bugbird's at Sainsbury's. And I am deeply grateful for it. It's such a lovely idea.
Why is this the right time for licensed products?
I think it's right because the world of children's books has changed. Children want to be authors now, but they have a very simple idea of what it involves. They think they write a book then become rich and famous just like that! They don't realise the struggle. But I think it's nice that children want to be creative. Having an attractive pen and paper to work with gives them a sense of enjoyment and gets them writing.
Do you have any concerns about licensing?
Well, it's a very exciting time for us and I'm very happy about how everything is going. There might be a whole emporium of Best Friends products this year! I suppose I might worry about it getting out of hand like Mickey Mouse in Disney's Fantasia, with all the mops and buckets getting out of control! But this is not about cash. It truly isn't about making money. It's about doing delightful things that children will like. The products are extensions of the books. And you never know, products using Nick's work may appeal to people who haven't read the books and might inspire them to read them.
Do you have any insight into how popular the products will be across Europe?
The books have been translated into 30 languages and are popular in France, Italy, Spain and Scandinavia. Is there a difference? There doesn't seem to be. Children across Europe and also in Korea or China all love it and can identify with the themes of the stories. It was very nice to have a congratulatory letter from French Minister of Culture.
(Nick reveals that he also had one, addressed to Madame Sharratt!)
Translators usually use Nick's illustrations in their versions, so the look is consistent. Seeing my books with different illustrations is like seeing your child in some-one else's clothes.
there any products you might have doubts about licensing?
Well, the products must be suitable. I mean they must be pretty and modern but also wholesome. I know that girls are conscious about the way they look and how they are seen but I am anxious not to encourage them to squeeze into little sexy tops and things like that. I don't think children need any encouragement to grow up faster than they need to.
Some topics in my books are not appropriate for licensing. Vicky Angel, for example, is very dark and I was thinking we could do little tombstones and skull key rings. I'm joking!
Do you think of yourself as a brand?
No not really. There are two sorts of me. I am aware that I have always looked slightly unconventional, and that this can be useful.
Is now a good time to be a nine-year-old?
Nine is fine. I think it gets harder later, especially for girls. There seem to be so many choices. They have to be successful at school, have exciting plans, stay slim and unspotty, be cool and have confidence. So many teenagers I meet have an amazing confidence. When I was that age I couldn't say 'boo!' to a goose.
Children today are always so busy with activities or doing something useful. When I was young you spent a long time lolling about on your bed, daydreaming. Now you are doing stuff. There isn't so much time for imagining.
Do you think children read more than we think they do?
I'm amazed at how much they do read. At book signings they always seem keen and interested.
Do you like the idea of doing approvals?
Yes! There are things coming through now. When it gets to clothing it will be an interesting one, striking the balance. I am a huge control freak and care desperately about it.
Nicholas, what challenges will Copryrights face in running a multi-book programme like Jacqueline's?
We are trying to concentrate on Jacqueline as an author and the way Nick's style expresses the books. I think this property stands apart because there is a very real relationship between Jacqueline Wilson and her readers. We'll start with Best Friends as a theme and develop different style guides for the different characters or groups of characters.
Are you setting your sights on Europe?
We are prioritising the UK at the moment but there is definitely overseas potential. There is a gap in the market at the moment. With the exception of books and soft toys, licensing business is mostly ephemeral. So we will focus on the themes in the novels and refresh the product line every six months.
What other areas are you looking to license?
We're looking at things like crafts and games, confectionery, bedding, cakes and clothing. We're even thinking of jewellery to tie in with Jacqueline's famous love of rings.
Subscribe and receive the latest news from the industry.
Join 62,000+ members. Yes, it's completely free.
You May Also Like
Loading..