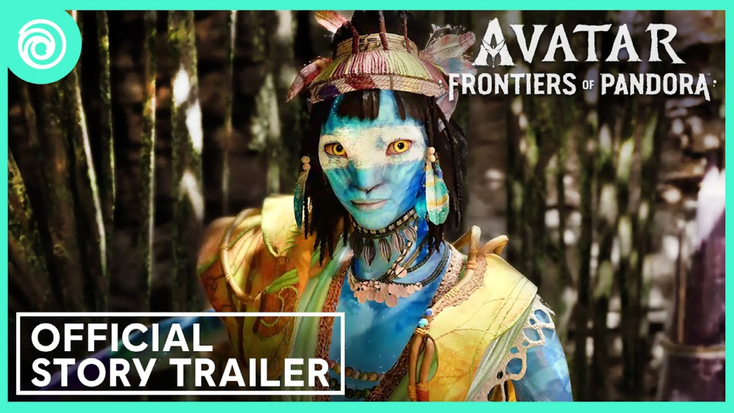 Promotional image for "Avatar: Frontiers of Pandora."
Ubisoft
In the game, players will meet clans as they explore the Western Frontier of Pandora to reconnect with the lost heritage of the fictional people. The main character is a Na'vi who was abducted as an infant by the RDA and trained in The Ambassador Program (TAP) to serve human interests on Pandora. When the RDA evacuated Pandora during the Battle of the Hallelujah Mountains (as seen in the first Avatar movie), the character is put into emergency cryosleep, waking up 15 years later to set out on a journey to discover the world that was kept from them, meeting other Na'vi clans and learning about Na'vi culture. Then, the RDA threatens Pandora's ecosystems, and players push back. 
"Avatar: Frontiers of Pandora" is available in multiple editions: The Gold Edition includes the game and Season Pass (including
an extra quest and more); the Ultimate Edition includes the game, Season Pass, Ultimate Pack and digital art book. The Collector's Edition is also available exclusively at select retailers. It includes the Ultimate Edition of the game and physical items, including a 35-centimeter-tall statue, an artbook, a premium SteelBook, a field notebook, a set of three lithographs and an AMP suit blueprint. Upon preordering, players will receive a "Child of Two Worlds" pre-order bonus with a character cosmetic set and a weapon skin. Players can also play the Ultimate Edition of the game on Day One when they subscribe to Ubisoft+ on PC and Xbox via Ubisoft Connect.  
As
, the sequel to the highest-grossing movie in box office history launched in 2022, bringing a raft of consumer products and collaborations. Now that multiple other Avatar films are confirmed, Disney and Lightstorm Entertainment are using this opportunity to expand the lore of the IP to indulge fans and create comprehensive consumer products. 
From location-based experiences, like exhibitions to theme park attractions and take-home products, like toys, clothing and video games, Disney is ensuring that the successful IP continues to grow. 
"Our focus will be centered around products that celebrate the characters and, most notably, the world of Pandora," says Stephanie Young, former president, consumer products, games and publishing, The Walt Disney Company. "With the amazing breadth and depth of creatures and flora, we've tapped into the immersive world of Avatar and its many environments. Given the story and themes, we're excited to introduce products that capture environmental elements, such as flight and water in innovative ways." 
This Ubisoft game seems to be the latest innovative way the blockbuster hit is being expanded, with additional consumer products on the horizon. 
"Lightstorm Entertainment has had a long-standing relationship with The Walt Disney Company that includes a broad franchise ecosystem and allows us to sustain consumer engagement across a myriad of touchpoints," says Kathy Franklin, former president, franchise development, Lightstorm Entertainment. "From consumer products and books to games, experiences and park offerings, there is always something for fans – both existing and new – to enjoy." 
IP growth is just as much about partnerships as it is about world-building. As the Avatar franchise expands, License Global will continue to deep-dive into its latest deals and developments. 
Read more about:
Subscribe and receive the latest news from the industry.
Join 62,000+ members. Yes, it's completely free.
You May Also Like
Loading..