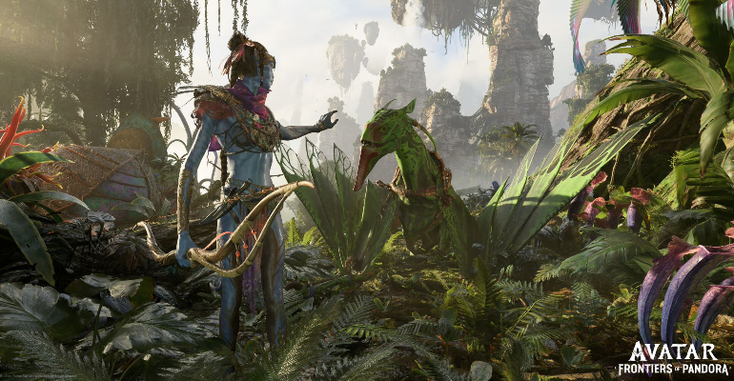 Walt Disney Company/Lightstorm Entertainment
The sequel to the highest-grossing movie in box office history is due to launch in 2022, bringing a raft of consumer products and collaborations. Stephanie Young, president, consumer products, games and publishing, The Walt Disney Company, and Kathy Franklin, president, franchise development, Lightstorm Entertainment, shine a light on everything from location-based entertainment to video games.  
License Global: Avatar is such a storied franchise. Can you talk about what it means to The Walt Disney Company?  
Kathy Franklin: Lightstorm Entertainment has had a long-standing relationship with The Walt Disney Company that includes a broad franchise ecosystem and allows us to sustain consumer engagement across a myriad of touchpoints. From consumer products and books to games, experiences and park offerings, there is always something for fans – both existing and new – to enjoy.   
"Pandora – The World of Avatar" at Disney's Animal Kingdom located in Walt Disney World Resort exemplifies the depth
of the relationship between our companies. Beginning in 2012, Walt Disney Imagineering and Lightstorm Entertainment collaborated to create an authentic, realistic Pandora through the talents of a team of designers, artists, sculptors, structural engineers, robotic technicians and a host of other professionals. Since its opening in 2017, the land has become a must-see element of a Walt Disney World vacation. Much as we did in the Avatar Flight of Passage attraction, which has Walt Disney World's top score for guest satisfaction, we always strive to provide guests with products and experiences that are extremely compelling and immersive.  
Innovation and collaboration are also key to "Avatar: The Exhibition," a global touring experience from Disney's Location-Based Experiences team, Lightstorm Entertainment and our licensee, Cityneon. This compelling and engaging exhibition allows guests to experience Pandora here on Earth – interacting with dynamic creatures, bioluminescent environments and the culture of the Na'vi. "Avatar: The Exhibition" is currently touring in Asia, with future stops planned around the globe.  
LG: There is a new film coming this year, and there will be lots of excitement – how will you build on the world you established in the first "Avatar" film?   
KF: "Avatar" holds a special place for millions of fans worldwide. With its introduction of the beautiful – and dangerous – world of Pandora and the compelling characters and creatures who populate it, along with its paradigm-defying visual effects, the first "Avatar" film connected strongly with global audiences. We see the next chapter, driven by the Avatar sequels beginning with "Avatar 2" in December, as an epic evolution of the franchise. The next film will take us to entirely new areas of Pandora that are brought to life through the storytelling power of James Cameron. We will continue to follow the journey of Neytiri and Jake Sully as they deepen their bonds with family while facing new challenges that threaten the people and the world they love. Collaborations with our licensees will help us expand the reach and impact of the film around the globe. Both die-hard fans and those new to Avatar will find products and experiences that bring the franchise, as well as its ethos of our connection to our world and each other, to life. 
LG: It's a little less than a year out. How is the current product mix coming together?   
Stephanie Young: From a merchandise perspective, we've seen extensive collaboration between Lightstorm Entertainment and various licensees, with cross-category products including highly detailed figures and collectibles, apparel, accessories, footwear, home décor and more. There will also be an extensive new collection of products for parks and direct-to-consumer retail across apparel, toys and home products that will lean into the unique color palette, environmental elements and creatures from "Avatar 2."   
From a publishing standpoint, DK Publishing recently announced "The World of Avatar: A Visual Exploration." The new title explores every facet of the Avatar franchise, from the film to the comic books, the parks and more. Fans are already incredibly excited about the exclusive "Avatar 2" sneak peeks! Fans should keep an eye out for more Avatar books from DK coming later this year and over the course of the next four films. Additionally, Dark Horse Comics is on board to spearhead the "Avatar" comics program, with a lineup of storytelling tie-ins from past to present.    
From a game perspective, Lightstorm Entertainment has invested deeply in relationships with world-class game developers over several years to create original gaming experiences that will allow fans to immerse themselves more deeply in the world of Avatar.   
Lightstorm Entertainment, Disney and Massive, a Ubisoft Studio, are working to create an immersive first-person, action-adventure game, "Avatar: Frontiers of Pandora." Exclusively for the next generation of consoles and PC, this original story will allow fans to play as a Na'vi and embark on a journey across the Western Frontier, a never-before-seen part of Pandora, and explore a living and reactive open world.    
We have also just announced a new, mobile multiplayer online role-playing shooter, "Avatar: Reckoning," coming to iOS and Android this year from Archosaur Games and Level Infinite. This mobile game allows players to create a customizable character and play solo or with friends as they meet new Na'vi clans, battle human troops from the RDA and encounter spectacular alien creatures.   
LG: What are some of the focus areas for the new Avatar line?   
SY: Our focus will be centered around products that celebrate the characters and, most notably, the world of Pandora. With the amazing breadth and depth of creatures and flora, we've tapped into the immersive world of Avatar and its many environments. Given the story and themes, we're excited to introduce products that capture environmental elements such as flight and water in innovative ways. To further support, we're also planning global retail activations across multiple touchpoints so we can engage consumers where they are shopping today – both physically and digitally.  
LG: Can you talk about some of the major licensee collaborations you currently have in the works?  
SY: We're pleased to have McFarlane Toys on board to develop a line that captures the film's innovation and realistic details of the characters in highly articulated action-figure form, as well as introduce feature items with lifelike motion. This collector-oriented product line brings a fresh approach and attention to detail that perfectly aligns with the franchise's long-term vision.   
The LEGO Group will also have a full suite of building sets to recreate and display major movie moments across both the first "Avatar" film and "Avatar 2."   
Additionally, the storytelling and artistry of the film will be showcased across a wide range of categories, including fashion, accessories, footwear, home, outdoor play and more, with licensees such as adidas, Disguise, Duvetica, Citizen, Trends International, Hallmark, Ferrero and Zing, to name a few. We have licensees developing everything from costumes to consumables and look forward to sharing more information closer to the "Avatar 2" theatrical release. 
Read more about:
Subscribe and receive the latest news from the industry.
Join 62,000+ members. Yes, it's completely free.
You May Also Like
Loading..