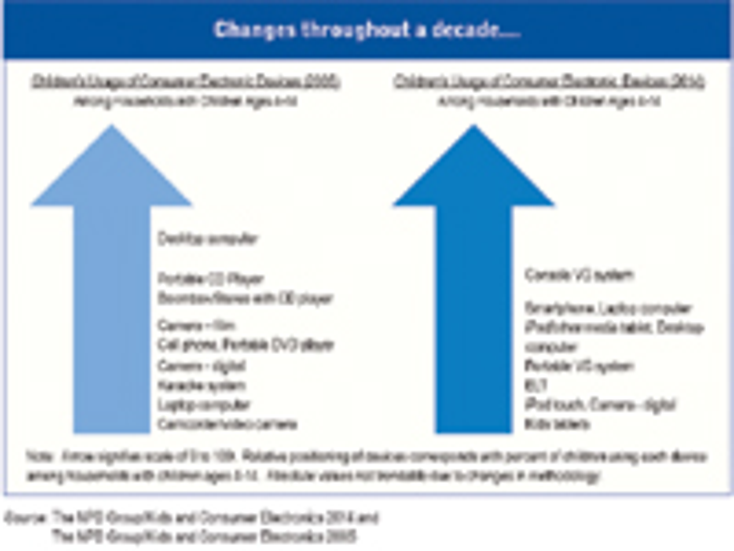 Looking back over the years provides insight into current technology trends for children.
If you've ever asked yourself "Where did the time go?" a decade of NPD's Kids and Consumer Electronics reports provide an interesting retrospective into kids' relationship with technology. NPD conducted the first study in 2005, and while it seems like just yesterday, consider that the 14-year-olds reflected in that study are now finishing college or starting careers and on the road to beginning their own families.
The most popular consumer electronic devices used by kids in 2005 included portable CD players, boomboxes/stereos, film cameras and portable gaming systems. Today, the most popular devices include console video game systems, smartphones, tablets and portable gaming systems.
While the trip down memory lane is fun, and, at times, humorous, there is clearly a cycle: from learning and awareness to choice and now, immersion. The authors of the 2005 report correctly pointed out how families needed
to learn more about the new devices. By 2009 to 2010, it was about choosing devices for particular uses. Today, we see a complete immersion of children with technology in terms of devices, apps and multi-tasking.
There's no doubt that same cycle will come with future technologies, perhaps with wearables or 3D printing.
That leads to three emerging themes; four, if you count the obvious:
Obvious–

Since the days when only tweens "connected," usage of devices and applications continues to get younger. There is more multi-tasking, education dominates parent's purchase motivation for the youngest kids and older kids become increasingly feature savvy (while their parents worry about cost).

Innovation–

Without a next wave of device technology innovation we can expect some consolidation or slowing in the kids' consumer electronic category. With the exception of tablets and phones, many categories appear to have reached maximum penetration. Many devices are being replaced on a three-year cycle, and the functionality of the devices has, for the moment, reached a plateau.

Platform–

A decade ago, kids' consumer electronics was primarily a linear experience. The CD player blasted "Kidz Bop," DVD players showed

Madagascar

and "Guitar Hero" was the new video game. The mean number of devices owned actually has dipped as multi-media and multi-function replace yesterday's linear experience and smart devices become even more capable.

Participation–

In 2011, only 7 percent reported owning a tablet, and it was rare that kids were permitted to use them (only 3 percent). Equally rare was the practice of downloading child-specific content. In 2014, one-third of kids are using tablets and 84 percent are downloading child-oriented content. And we continue to see an ever-increasing intensity of participation.
Read more about:
Subscribe and receive the latest news from the industry.
Join 62,000+ members. Yes, it's completely free.
You May Also Like
Loading..