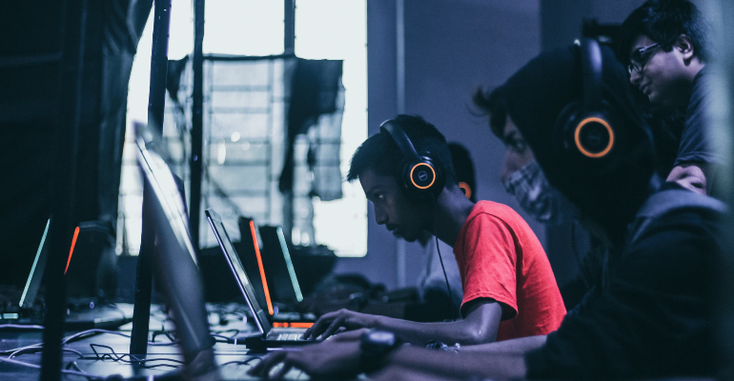 Consumers and sports fans are finding the silver lining during "March Sadness."
Last week, the NFL announced that after 16 years, it was once again teaming up with 2K Games to launch NFL-licensed video games.
The gaming news couldn't have come at a better time for sports fans, who are calling this month "March Sadness." This week was supposed to mark the tip-off of the 2020 NCAA men's basketball tournament – AKA March Madness – which was rightfully cancelled last week due to the dangers of contracting the COVID-19 virus, a global pandemic.
The NCAA's announcement followed a wave of other cancellations. On March 11, sports fans were dismayed to learn the NBA season had been suspended indefinitely. The next day, the National Hockey League announced its decision to halt its 2019-20 season, while Major League Soccer announced it would suspend its season for 30 days. And on March 16, Major League Baseball announced it would delay its 2020 season until at least mid-May. A string of esports events
have also been canceled.
Adding to the ominous news, star athletes announced they had
for COVID-19, including NBA stars Kevin Durant (Brooklyn Nets), Ruby Gobert (Utah Jazz) and Donovan Mitchell (Utah Jazz), as well as European football star Daniele Rugani (Juventus) and PGA Tour golfer Victor Lange, among many others.
Under quarantine and itching for some friendly competition, sports fans and pro athletes turned to streaming – namely, the wildly popular Amazon platform, Twitch.
For the first time ever, on March 13, the Dallas Mavericks faced off against the Phoenix Suns – virtually – via an "NBA 2K" matchup streamed on Twitch. Gamer Antonio "UniversalPhenom" Saldivar represented the Suns, while Lawrence "Buddy" Norman represented the Mavs. (Dallas took the W, with a final 150-136 score.) The stream gained more than
, prompting The Phoenix Suns to announce the team will continue to play the rest of the season on Twitch and seek ways to monetize the platform.
"We entered new territory and are looking at monetization, broader engagement and partner integration," Dean Stoyer, chief marketing and communications officer, The Phoenix Suns, told
Front Office Sports
. "Those are the next steps."
Also this month, the Women's National Soccer League announced a three-year deal to stream 24 of its games on Twitch. The platform currently streams National Women's Hockey League games and NBA G League games, as well as Premier League matches in the U.K.
While Twitch declined to release viewership numbers, research firm
a massive increase in Twitch app downloads, with Greece, Italy, Spain and the U.S. showing week-over-week increases of 50 percent, 41 percent, 26 percent and 14 percent, respectively.
Even pro athletes – including NBA stars Luka Doncic, Alex Caruso, Josh Hart, Ja Morant and Trae Young – enthusiastically jumped on the streaming bandwagon.
"Follow me on Twitch! Going to get back to streaming this weekend!" Hart tweeted.
"Who can help me set up streams? What do I need?" Doncic asked fans on Twitter.
Los Angeles Lakers star Alex Caruso tweeted, "Gonna stream 'FIFA,' 'Fortnite,' 'COD' and more on Twitch starting today and over the next few weeks! See y'all in a bit. #Day2."
With megawatt athlete endorsements like these, Amazon's Twitch, and other streaming platforms like YouTube, will likely surge even further in popularity in the weeks to come as consumers across the globe turn to online content, gaming, streaming and social media in an effort to stay connected while under quarantine. Social distancing and the need to stay indoors has birthed a gaming surge that will see more sports organizations, pro athletes and leagues seek viable revenue opportunities, monetization streams – and partnerships – in the emerging world of streaming.
Read more about:
Subscribe and receive the latest news from the industry.
Join 62,000+ members. Yes, it's completely free.
You May Also Like
Loading..