As Brand Licensing Europe (Oct. 10-12) approaches, here's a snapshot of the current economic situation in some of the influential European markets: Germany, the U.K., France, Italy and Spain.
Europe has experienced political and economic instability in recent years, the likes of which has not been witnessed since World War II. The financial crisis of 2008 exposed unsustainable fiscal policies around the globe, and it was not long after that that a new crisis began to emerge–one that would shake the foundations of the European Union. In 2009, it came to light that Greece's debt amounted to 113 percent of its GDP. In the three years that followed, the reach of the European sovereign debt crisis widened to include Portugal, Italy, Ireland and Spain.
At the state level, this turbulence endures, and is further compounded by a range of political and macro-economic factors. From the U.K.'s decision to sever ties with the European Union and a real risk of Italy following suit, to a ferocious federal election in France, a political stalemate in Spain and a marked increase in terror attacks across the continent, the European bloc continues to face tremendous challenges.
On top of the political
turmoil, the humanitarian crises in Syria, Afghanistan and Iraq have led to an influx of migrants seeking refuge inside the European Economic Area, and economists are still wrestling with what impact this will have in the coming months and years.
Yet despite this fragile environment, Europe is currently outperforming economic expectations and, in fact, is headlining global economic growth figures in 2017.
GDP data indicates that the European economy expanded 0.6 percent year-on-year in Q1, the best result in two years. Q2 data suggests the trajectory is set to continue into the second half of the year, with the composite Purchasing Managers' Index (an indicator of the economic health of the manufacturing sector) pointing toward the best quarter in more than six years.
Purchasing Power
Private consumption remains surprisingly resilient across the European economic area as a whole, bolstered by improving labor markets, low interest borrowing and a loosening of fiscal policy.
In 2016, private consumption expanded at its fastest pace since the financial crisis. While rising inflation is expected to temper purchasing power this year, private consumption across the continent remains relatively healthy.
Unemployment figures are also lending themselves to a positive economic outlook. Unemployment across the EU is expected to fall to 8 percent this year and 7.7 percent in 2018, which would be the lowest level since late 2008.
Germany

Supported by robust employment levels, strong private consumption, a healthy construction sector and steady exports, Germany is expected to maintain its momentum throughout 2017.
Despite largely positive data, there is a downside in the form of policy uncertainty. In September, Germans will take to the polls to elect a new government. Chancellor Angela Merkel's open arms policy on refugees proved hugely unpopular and opened the doors to the rise of far-right politics. This, combined with Brexit and Donald Trump's ascension to president of the U.S., put populism front and center in Germany.
However, in the wake of Emmanuel Macron's decisive presidential victory in France, Merkel's conservative coalition–the Christian Democratic Union and the Christian Social Union–is leading in the polls by a significant margin, and the markets don't seem overly concerned about the prospect of a far-right government.
United Kingdom

While some of the pessimistic, short-term predictions have been silenced with a surprisingly resilient economy, there are many signals that may be cause for concern.
The value of the sterling plummeted to a 31-year low in the hours following the referendum and has not recovered since. A year later and the pound is down roughly 10 percent against the dollar.
U.K. retailers are heavily dependent on imported goods, and an unwillingness to absorb these increasing import costs against a backdrop of stagnating wages has led to a sharp increase in inflation. The inflation rate ballooned to 2.9 percent in May, the highest spike in four years, and well above the Bank of England's target of 2 percent.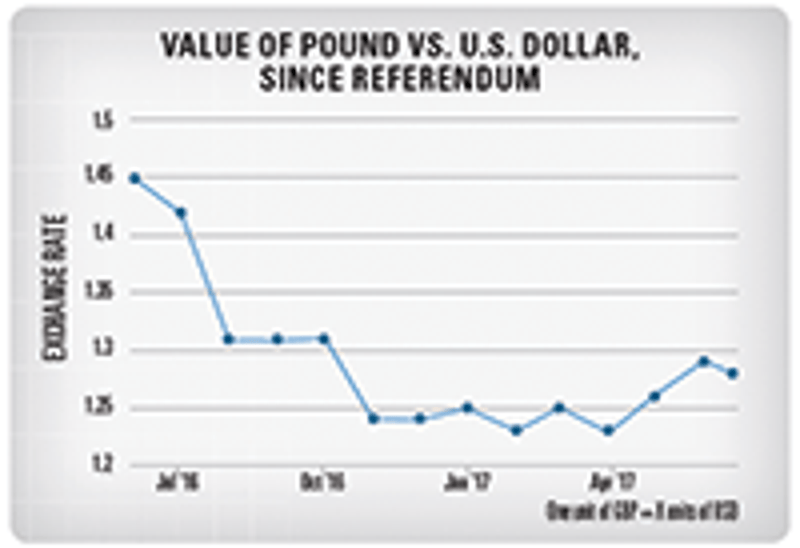 The European Commission expects business investment in the U.K. to stagnate as uncertainty continues to plague the economic landscape. However, the depreciation of the sterling will continue to fuel the export market, and the EC believes that the labor market will remain largely resilient this year.
Data just released shows that Britain's annual inflation rate actually slowed to 2.6 percent in June; still above the Bank of England's target, but a small ray of hope nonetheless, given expectations.
France

A series of geopolitical and macro-economic events have affected France's economy since the financial crisis.
In the months leading up to the recent federal election, consumer confidence was severely weakened. However, Macron's victory, combined with a landslide majority in Parliament, seems to have had a stabilizing effect on the markets, and pundits are hopeful that this confidence will trickle down to private consumption.
Economic activity is forecast to continue a gentle upward trajectory this year, with an uptick in exports fueling growth. Unemployment is expected to continue a gradual decline, and it is anticipated that the country's deficit will fall from 3.4 percent of GDP in 2016 to 3 percent in 2017. As with most major European economies, rising inflation will likely have a dampening effect on private consumption growth.
Italy

The Five Star Movement, a populist party trying to force a referendum on membership in the EU, is polling well. There have been hints that the Five Star Movement might be willing to form an alliance with the fiercely anti-Euro Northern League, which makes the possibility of a Eurosceptic government a distinct possibility.
GDP is projected to grow by 1 percent in 2017 and 0.8 percent in 2018. This growth will be driven by rising global demand and the recent depreciation of the Euro. Business investment is strengthening, but public investment remains woefully low.
Private consumption remains robust but is projected to slow this year, due to weak job creation and growing inflation rates.
Spain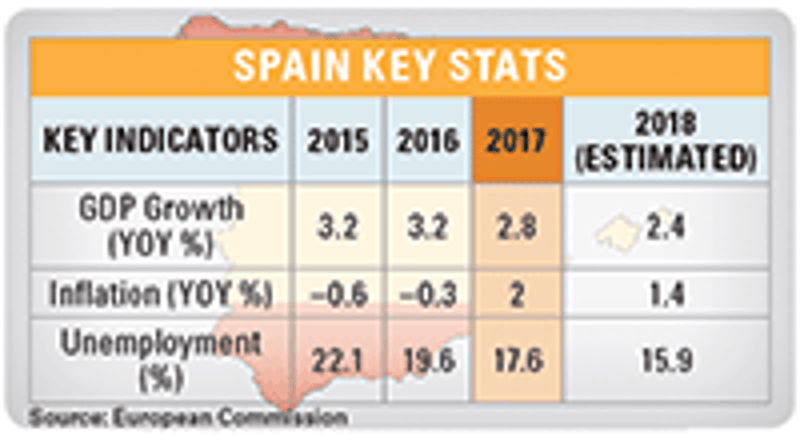 Despite the political turmoil, economic activity continues to exceed expectations. Spain closed out 2016 with a 3.2 percent year-on-year growth in GDP, well ahead of the European average.
Unemployment is set to continue declining at a slow but stable pace. Growth will likely ease in 2017 as private consumption is put under similar pressures seen across the European Economic Area.
Economic Recovery in the Future?
In the face of uncertain times, the overall outlook for the European Economic Area is surprisingly upbeat, but there are still hot spots of political and macroeconomic instability. In the Netherlands, a government has yet to be formed following recent elections; the U.K.'s Brexit negotiations continue to drive market uncertainty; and Italy's upcoming election is causing concern among other leading economies.
But for the most part, political uncertainty is subsiding across the European region. French President Macron has a decisive mandate to push through comprehensive economic reforms. In addition, Chancellor Merkel's coalition is the front-runner in polls for Germany's upcoming election. With support for populism subsiding across the bloc, investment and consumer confidence is slowly returning to the market.
Be sure to register now to attend Brand Licensing Europe, taking place Oct. 10-12 at Olympia in London, to get ahead of the curve in the consumer products market.
Read more about:
Subscribe and receive the latest news from the industry.
Join 62,000+ members. Yes, it's completely free.
You May Also Like
Loading..