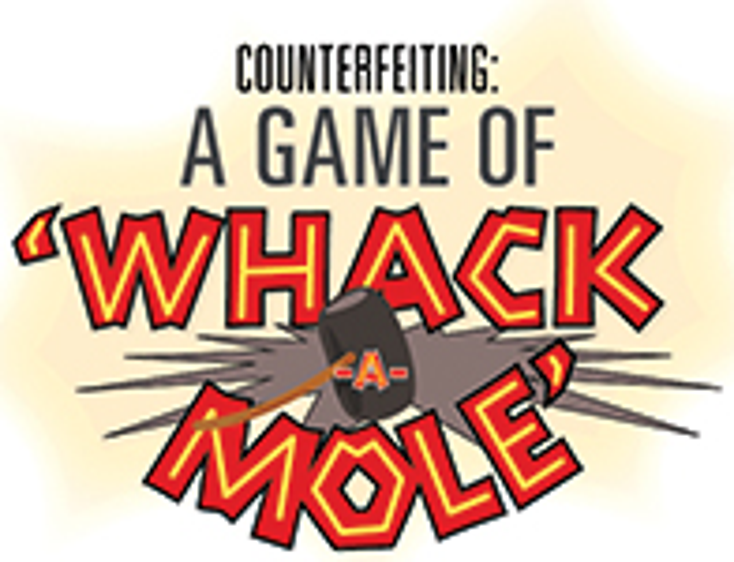 Protecting a core brand is of the utmost importance–after all, it is the livelihood of any licensor. But how do companies tackle an issue that seems to grow larger and larger as the world becomes increasingly interconnected?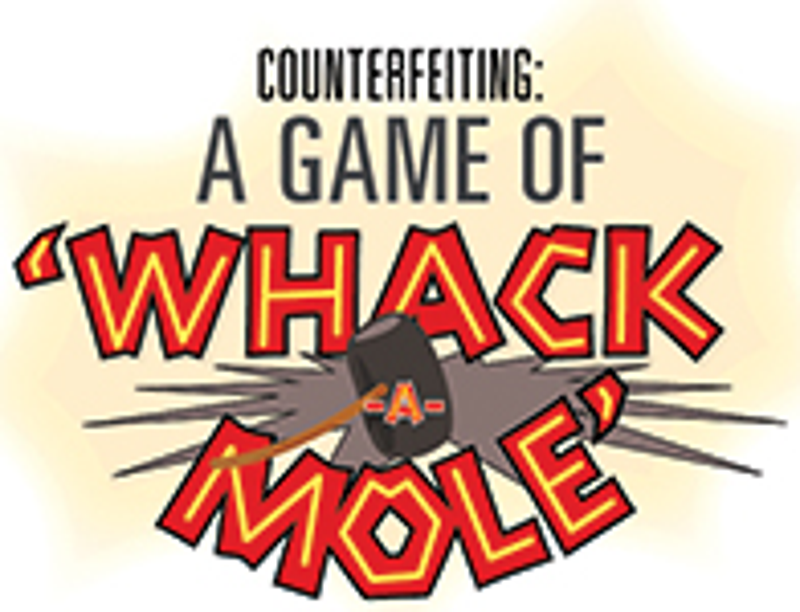 According to U.S. Homeland Security, each year, more than 11 million shipping containers arrive in U.S. seaports, with another 10 million goods containers arriving by truck, 3 million by rail and an additional quarter billion more cargo, postal and express consignment packages arriving by air.
Of these shipments, U.S. Customs and Border Protection seized 550 shipments containing labels or tags bearing counterfeit trademarks intended to create non-genuine products, which, says CBP, would be worth an estimated additional $33.3 million.
In a report commissioned by the International Trademark Association and the International Chamber of Commerce, it is projected that the global economic value of counterfeiting and piracy could reach $2.3 trillion by
2022, with the global value of the counterfeit market at $1.7 trillion as of 2015. (Source: VOA.)
With this in mind, it is no surprise that licensors are increasingly taking a proactive stance in combatting the problem of counterfeiting.
"One of the biggest competitors to every successful licensed brand is typically not another licensed brand, but a counterfeiter," says Bill Patterson, vice president, corporate marketing, OpSec Security, a security solutions firm that fights counterfeits for brands, transaction cards and government documents and currency. "A brand owner really makes nothing... If someone is buying a counterfeit product, there is still a demand for that intellectual property, they are just not buying the product from a legitimate manufacturer."
The risks to licensors is certainly monetary, and loss of revenue is of course a concern, however the issue is complex, with multiple factors and motivations to consider. And just as the matter is complex, the global network of counterfeiters is equally as mind boggling, with many describing the grey market industry as one so large and so vast, with an ever-changing playing field.
"A lot of our clients have referred to the process of tackling counterfeiters as whack-a-mole," says Jamie Goldberg, senior director, business development, CounterFind, a turnkey technology that uses image recognition to recognize, report and remove all ads marketing counterfeit merchandise on social commerce. "When one counterfeit seller pops up, it gets shut down, and then another pops up. They just can't control it."
"The question we get every day from brand owners is, 'This is such a massive problem. How do I tackle this?' There is somewhat of a paralysis by analysis when they realize how big a problem it is to have to deal with when they are in a situation that forces them to deal with it. Paralysis by analysis has the ability to kill a brand," says Patterson.
Categories of business most vulnerable to non-genuine merchandise vary from vertical to vertical, but across the board many agree that apparel has the lowest barrier to entry for those intent on manufacturing and selling counterfeit products.
"Apparel is probably the top category for counterfeits," says Patterson. "Apparel is somewhat easy to manufacture on a small or large scale. Apparel is also very easy and light to ship across borders."
Additionally, with the advent and increasing employment of print on-demand services, counterfeiters are finding it easier and easier to set up a small-time operation with big-time impact.
"The future is e-commerce. We have seen such a huge increase of counterfeiting online because counterfeiters can hide behind their computer," says Goldberg. "What they do is pull any transparent logo from the Internet and, with print-on-demand, they can go ahead and print any brand or trademark. Then, as soon as someone clicks 'buy' on Facebook or Instagram, they take these logos and print it on a t-shirt. Selling online has become a huge problem because these people are not held accountable."
Rikesh Desai, director, licensing and gaming, BBC Worldwide, agrees, and says social media and community space merchants are more and more where counterfeits are popping up, using platforms like Twitter, Facebook and Pinterest to promote pirate goods in real-time via hashtags during fan's active periods (such as a new airing of the TV series "Doctor Who," for example). Desai says that BBC is finding the problem in both a business-to-business and business-to-consumer capacity, as well.
Regionally, all markets around the globe are vulnerable, with activity appearing more predominantly in the U.S., Europe and Asia.
"Western Europe, the U.S. and more so now, China, are massive markets for counterfeit merchandise from a geographical standpoint, and that is because Western Europe, the U.S. and the growing middle class of China are areas of high consumer demand coupled with middle class workers with discretionary income," says Patterson. "And that is really important to consider because when we talk about licensing, we talk about those with discretionary income who buy items that they don't necessarily need, but they want. With that growing middle class, these markets are becoming more of a market for counterfeit goods."
What is being counterfeited and what brands are most susceptible to piracy, however, ebbs and flows with individual market trends. One day it may be superhero merchandise, while the next it is preschool properties. A consistently vulnerable area, however, is sports brands.
"What people want to buy follows the trends in the media," says Patterson. "What doesn't change is sports. You're always going to be a Manchester U fan, a major league baseball fan, an NBA fan. Sports is very much a part of the counterfeiting world, and because so much of it appears on apparel, it has a lower barrier of entry for counterfeiters. These are established brands that have been around for decades, so there is a guarantee that it will be popular. Sports brands do not have to worry about ebbs and flows of trends."
Desai agrees that the long-term popularity of certain BBC brands, such as the 54-year-old "Doctor Who" franchise does make it a more likely target for counterfeiters. But the deep fandom of the brand and how that is interpreted through merchandise such as small-scale costumes and goods is something that needs to be seriously considered as well.
"A major risk for IP or brand owners is how to balance the mass producers of counterfeit product versus the niche fan that is creating homespun product," says Desai. "You want to ensure that you do not dampen those fans and mute them–they are the heart of our brands, but we do need to combat those that are out there looking to commercialize or exploit our brands."
BBC tackles that particularly thorny situation on a case-by-case basis, evaluating each seller individually and establishing a set of guidelines that allows the company to distinguish between those that are truly fans and those intent on profiteering on unlicensed product.
Another major complication and risk factor for illegal merchandise is quality, and the markets that non-tested product is intended for use within, such as children's products.
"The big risk for BBC is for a consumer to buy product that is of poor quality," says Desai. "The area of kids' products is one that we have really clamped down on. We are starting to see some of our brands from the children's space gain traction in certain regions and have pockets of counterfeit product pop up, essentially ripping off official product that we have from tested licensees that hasn't been examined for materials, whether or not it complies with safety regulations or any other elements that would typically be vetted, checked and triple checked from a quality perspective by our best-in-class partners."
So, then, what does a licensor do to battle this problem?
"When it comes to counterfeit product, we're very early in tackling that," says Desai. "Historically, it has been a very manual exercise within our organization that has been handled through legal or is flagged by our licensing partners who have come across misuse of our IP or brands, and then we manage that on a case-by-case basis. It has gotten to the point, however, that the problem is too big for our internal team and we need to seek out a more efficient solution to tackle the growth in the space–it's a problem for a number of IP owners globally."
BBC Worldwide has engaged Incopro, an online protection company, to help the licensor combat the piracy issue. Incopro scans online marketplaces, websites and social media for counterfeit goods.
The exercise, and more importantly the investment, is essential to licensors such as BBC–its brand integrity is on the line and constantly being threatened.
Companies such as Incopro, OpSec and CounterFind work hand-in-hand with the licensor to cut off the counterfeiter and strike down the whack-a-mole at the root, first engaging the seller directly through legal channels and then taking more dramatic measures such as shutting down the seller's communication with its social platform, its payment system or, even in some cases, its web host.
And as daunting as the problem seems, Patterson urges that it is important to begin the process.
"Even if you start small, start somewhere," he says. "A licensor needs to increase that barrier of entry for a counterfeiter. Make it hard for counterfeiters to move their goods–if they can't move it quickly and cheaply, they will move on to something else."
Read more about:
Subscribe and receive the latest news from the industry.
Join 62,000+ members. Yes, it's completely free.
You May Also Like
Loading..