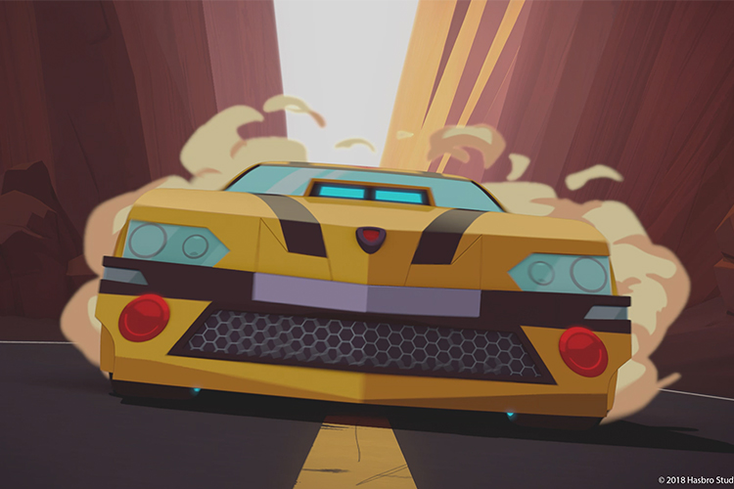 This holiday season the universe will enter a new dimension when Bumblebee, the first spin-off of the Transformers film franchise, lands in theaters. The new film from director Travis Knight takes place in 1987 and centers on the eponymous yellow and black Volkswagen bug (depicted as a Chevrolet vehicle in previous films).
"It's remarkable to think over 34 years [Transformers has] become a 360-lifestyle brand, encompassing everything from feature films to comics and television, toys, consumer products and video games," says Tom Warner, senior vice president, Transformers franchise, Hasbro. "What's great about the universe we've built around Transformers is that we've told a lot of great stories, but there are a lot more stories to tell and its ever expanding.
"We decided on Bumblebee because we wanted to go in a bit of a different direction. We wanted a character-focused film versus an ensemble. He is loved by kids, multiple generations, girls and women. Everyone loves Bumblebee," continues
Warner.
Hasbro is capitalizing on the film's surroundings with a slate of '80s-themed launches including a TV series, a vinyl album and a graphic novel, which the company hopes will "lead a wave of Millennial nostalgia."
"What's great is that we've built up characters that people have fallen in love with and want more storytelling," says Warner. "We want to be true to those characters and true to the stories that are being told today, but push them into new areas including gifts and new ways to experience our characters and the Transformers world."
Hasbro is off to a running start with two new television programs, "Transformers Cyberverse (Chapter 1)" and "Transformers: Prime Wars Trilogy." The first is an animated series from Hasbro Studios and Boulder Media that follows Bumblebee as he attempts to recover his memories on Earth. "Transformers: Prime Wars Trilogy" picks up on the "Transformers: Combiner Wars" story line and offers a more detailed look at the franchise's characters and history.
Though the shows are not set in the 1980s, "Cyberverse" emphasizes the idea of keeping memories alive, while "Prime Wars," which debuted on Verizon's streaming service VerizonGo90, was conceived as a way to reach older, devoted fans who have grown up with the franchise.
"One thing we wanted to do was go after our fans and give them entertainment that was specifically targeted at them—something that had a little more edge and was geared toward an older fan. We knew the best place to reach them was with digital because they are very tech savvy fans," says Warner.
The first two chapters of "Transformers Prime Wars" has achieved more than 2 million views, according to Warner.
"It definitely has universal appeal. There are nuances within the consumer base but overall the idea of Autobots and the overall concept is absolutely universal," says Simon Waters, senior vice president, global brand licensing and publishing, Hasbro.
Hasbro also spun back in time with Enjoy the Ride Records and Sony Music/Legacy Recordings for the vinyl record "Hasbro Studios Presents '80's TV Classics: Music from the Transformers," the first official release of the score from the original 1984 animated series in any format.
According to Forbes, vinyl sales have grown more than 50 percent since 2014 with Millennial-oriented retailers such as Hot Topic and Urban Outfitters among the top vinyl retailers.
On the publishing front, IDW Publishing is set to release "Transformers: Bumblebee–Win If You Dare," an all '80s graphic novel, in the fall.
"Even those fans who grew up with in the '80s understand the history and lore involved. Sometimes they want to go back to the car and the original storytelling. We've done that with our partner IDW," says Waters.
Hasbro's 360-degree approach to the new film is one that reflects the company's continuous evolution from a toy company to a global entertainment and play business. 
"Our first piece is to step outside of the traditional heartland business and think about opportunities way beyond the toy aisle," says Waters. "Our blueprint is a dramatic expansion and that includes stories, new movies, consumer products—it's about navigating the consumer product landscape as a whole and, as all entertainment companies face dynamic challenges, it means not relying entirely on one sector."
Through that holistic approach, Hasbro is expanding the reach of its iconic franchises and attracting new audiences.
The new film comes to life with the help of actress Hailee Steinfeld and action star John Cena. At a time when audiences are looking for more female representation on screen, Waters remarks that "the choice to cast Hailee in the leading role may open the traditionally male brand up to female fans."
"We felt [Hailee] was right for the picture and we are looking to expand our audience and be as inclusive as possible with the franchise," adds Warner. "This is a step worth noting for a brand that has traditionally been displayed in the boys' aisle of toy stores."
The Transformers franchise has also given Hasbro an opportunity to expand in China, where the country's car culture and affinity for action films has piqued the large consumer population's interest.
This year, the company partnered with Dan Mintz's DMG Entertainment to launch an immersive interactive digital simulation experience center in Shanghai, which features character interactions and opportunities to explore the Transformers universe through AR and VR.
"When we look at location-based experiences, we're looking at augmented reality or virtual reality as being a very important part of our overall franchise strategy because that's an opportunity for consumers to interact with giant robots. We wouldn't have been able to do that 10 or five years ago, but we're keeping up with technology and immersed in trends so fans can really have an experience with our brand," says Waters.
Hasbro plans to build more centers in major Chinese cities over the next five years and has plans for more tech-forward experiences around the globe.
"We integrated a lot more of our digital experience across our entire line, including our game line," continues Waters. "You're going to see a lot more of us finding ways to marry the digital and the physical world. We work with our design and development teams to try to find new technologies to incorporate in our products. We work with licensees who will bring innovation to the franchise." 
Hasbro, who collaborated with sportswear label Diadora and retailer Bait for a line of high-end sneakers and luxury brand Moschino for branded apparel, also sees future opportunity in fashion and design-oriented consumers.
"It was a real honor to do a fashion collaboration with Moschino," says Waters. "We reached our existing audience but also tapped into a new one. The beauty of Transformers is that we can we can sell a $1 pencil case and sell a $1,500 t-shirt at the same time on the same day. That shows the flexibility of the brand across all channels and across all price points."
With an eye on the past and sights set on a licensing-heavy future, Hasbro will reveal more exciting partnerships.
"We've been able to offer something new and different on a regular basis to our customers, which has translated into them wanting to buy product," says Waters.
Read more about:
Subscribe and receive the latest news from the industry.
Join 62,000+ members. Yes, it's completely free.
You May Also Like
Loading..