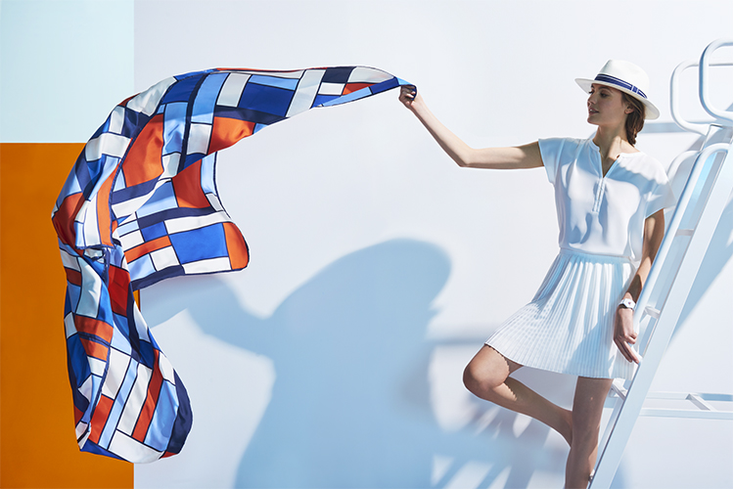 According to a 2018 survey from the International Licensing Industry Merchandisers' Association (LIMA), the sports licensing sector brought in $26.5 billion in global retail sales of licensed merchandise in 2017, up 4.9 percent from 2016. The U.S. led the pack, accounting for 76 percent ($20.1 billion) of all global retail sales of licensed sports products in 2017, followed by Germany with 5.5 percent ($1.5 billion) and the U.K. with 4.1 percent ($1.1 billion).
The data is clear: sports licensing revenues are rising year-after-year. And this is the perfect time for big brands to seize the opportunity.
The International Olympic Committee, Roland-Garros (The French Open) and the International Basketball Federation (FIBA) are three Europe-based organizations looking to exploit the upward tick in sports merchandise sales by making a major push into licensing.
The International Olympic Committee
Few brands are more iconic and more globally beloved than the International Olympic Committee. Founded
in 1894 and spanning a myriad of sports, the Olympic Games are globally recognized and enjoyed across all regions of the world.
Most of us know the instantly-recognizable, five-ring Olympic symbol and have watched athletes proudly carrying the Olympic torch during the Opening Ceremony. It's hard to believe that with such strong brand recognition around the world, the global licensing strategy for the IOC is just now beginning to take flight.
Historically, Olympic's licensing was location-focused and mainly managed via the organizing committees in the host countries. Today, the IOC has three core licensing programs that are designed to scale the organization's consumer products offering globally, according to Elisabeth Allaman, vice president of commercial integration, the IOC.
"The idea is to really bring the Olympic Games outside of the host territory and to engage with the fans of the games around the world," says Allaman.
The Olympic Games Collection, the most straightforward of the three core licensing programs, will be developed by the specific organizing committee in each host country. (Tokyo 2020 is the next edition of the Summer Games.)
"They will really develop their own look and their own program," says Allaman. "They will search for their licensees, mainly domestic. They will organize different stores, whether physical offline or online."
According to Allaman, this line of consumer products will be mid-range in price and will include souvenirs, t-shirts, pins, mugs and other products sold during game time, sometimes via retail operations at the venue.
The Olympic Heritage Collection will focus on the IOC's rich history and will include high-end products aimed at fans and consumers who have a deep knowledge and appreciation of Olympic history.
"We looked at what we had already as an available asset, and we realized that we have so much history, so [many] stories to tell about the past games," says Allaman. "We also realized that we had something which was absolutely fantastic, but unexploited. And this is how we created this new brand."
Another range, The Olympic Collection, will be a fun and dynamic line of innovative products geared mainly to youth. "It's more for young people–really high-quality products that are more in connection with sports equipment and toys for kids," says Allaman. "It's about the colors. It's about the values. It's about practicing sports. It's about an active lifestyle."
In June, the IOC announced a major licensing partnership with Lacoste–the first exclusive Olympic Heritage lifestyle apparel collection, which includes men's clothing and reflects the graphic legacy of the Olympic Games. The success of this partnership, according to Allaman, sets the stage for future co-branding opportunities to further expand the IOC's global licensing strategy.
The IOC also plans to expand via the launch of its Olympic Store in China later this year. And after it secures more partnerships and increases its roster of consumer product offerings, the IOC plans to launch a robust online Olympic global store that is set to launch in late 2019/early 2020.
Allaman will share more invaluable details about the IOC's global licensing strategy as an official keynote speaker at Brand Licensing Europe 2018 at London's Olympia. Her session, "The Olympic Global Licensing Strategy–The IOC's New Approach to Licensing," takes place Wednesday, Oct. 10, at 12:00 p.m.
Roland-Garros, a major sports brand and globally recognized tennis tournament known commonly as The French Open, is another Europe-based organization intently focused on expanding its global licensing operations.
The tournament, broadcast in more than 190 countries, is incredibly popular internationally among tennis enthusiasts and already boasts an extensive licensing program.
"We have an international development strategy in which the international licensing strategy is integrated," says Yannick Guitot, licensing and distribution manager, French Tennis Federation. "We are building our international presence with our 360-degree international platform called Rendez Vous à Roland-Garros, which develops Roland-Garros-branded tennis clubs (two in China and one in Brazil) and camps, and organizes amateur and pro series."
Roland-Garros has maintained deep, lengthy relationships with key partners, which include Lacoste for apparel (40 years), Peugeot (27 years) and Carré Blanc for home and bed linens (13 years). Other partners include J.M. Weston for footwear, Babolat for tennis products and Nuxe for sunscreen.
"What we are most proud of is the loyalty we have established with our partners for all these years," says Guitot.
Of all its licensed products, the best-seller is the towel, created in partnership with Carré Blanc, that players use on the tennis courts during the Roland-Garros tournament, says Guitot.
"Products are sold in a lot of countries through the global distribution of our licensees and our web store," says Guitot. "We have a DTR deal in Japan with Edifice stores for an exclusive apparel line. We are also developing our licensing agent portfolio in order to work with local licensees. We just appointed Creative Softgoods Design in Latin and Central America to manage our licensing rights. We have strong expectations in Brazil, [where] our brand is strong, as tennis played on clay is very popular there."
Easily the most exciting partnership for Roland-Garros is its new deal with Bigben Interactive for a new Roland-Garros edition of the video game "Tennis World Tour," which has a global e-gaming league component. The new video game, set to be released in 2019, will give fans an exclusive first look at the new roof of the Philippe Chatrier center court within the historic The Stade Roland-Garros arena, which was built in 1928. The actual arena roof will be unveiled in 2020.
Roland-Garros is currently in discussions with potential new licensing agents in other regions, which is part of its strategy to expand in Q4 and in 2019. The organization also plans to expand its licensing program via potential new deals that will tap into new product categories, which the company hopes to announce in the coming months.
Roland-Garros will be exhibiting at Brand Licensing Europe (National Hall, stand L52), taking place Oct. 9-11 at London's Olympia.
International Basketball Federation (FIBA)
Founded in 1932, FIBA is the world governing body for basketball that brings together 213 national basketball federations and oversees competitions including the FIBA Basketball World Cup, the Olympic Basketball Tournament and 3x3 basketball.
To coincide with The FIBA Basketball World Cup 2019 in China (FBWC 2019), FIBA plans a host of partnerships in the host country of China, which will include an extensive line of products in apparel, accessories, headwear, souvenirs, fan items, toys and games, plush, stationery, homeware, bags/luggage, books and precious metals. FIBA has appointed PPW, a Hong Kong-based company, as its global master licensee.
On the global front, FIBA is also poised to make its first major play in global licensing with FBWC 2019. FIBA, along with PPW, are actively looking for partners to bring its first-ever global licensing program to life and will bring its portfolio to this month's BLE event.
"From an international perspective, FIBA is looking forward to attending BLE to begin discussions with prospective licensing partners, and towards the end of the year, opportunities in the Americas and Asia, outside of China," says Paula Campos, senior brand and licensing manager, FIBA Marketing. "The FBWC 2019 will mark a key milestone in FIBA's history, marking the first-ever global licensing program. While the aim of the international program is to focus on certain territories with key product categories and retail, the stronger markets will be Europe and Asia next year."
FIBA has its sights set on inking deals with like-minded partners who share the organization's values. "We value product quality, ethical business practices, professionalism and expertise in the market," says Campos. Find FIBA at BLE (National Hall, stand N85) this month. To see the article as it appeared in print click here.
Read more about:
Subscribe and receive the latest news from the industry.
Join 62,000+ members. Yes, it's completely free.
You May Also Like
Loading..