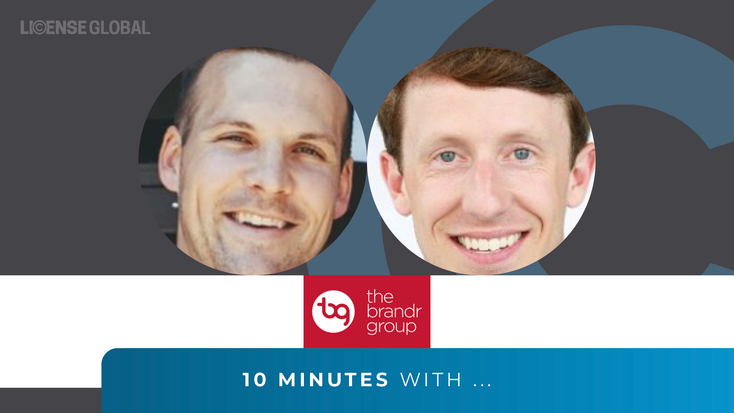 Riley Haynes, Ryan Moss
Brandr Group
License Global: What can you tell us about the Brandr Group and its involvement in licensing?
Ryan Moss, Riley Haynes:
is a full-service name, image and likeness (NIL) agency that specializes in maximizing the commercial value of collegiate athletes and their NIL. We hold the largest set of group rights in college athletics, functioning as a liaison between athletes, universities and brands (but only working for the student-athletes), while specifically advocating for the fair market value and rights of student athletes. We assist in the establishment of group rights, which collectively allow for student-athletes to partner with companies while featuring their university's marks and logos.
Group rights provide a strong differentiated value, as research has shown consumers place considerably more value on athletes who are associated with the logo and marks of their team. We are committed to "NIL Done Right" – curating fair market deals and responsible representation for student athletes. Led by a team of passionate sports enthusiasts, including former college
and professional athletes, we know exactly how to connect with this audience and deliver results.
We started in the NIL space by representing group rights for the
(and went on to do so for the NBPA and MLBPA as well). Group rights began as a way to protect NFL league sponsors from ambush marketing, with the Players Association holding the rights for use of six or more players by any one brand. It has evolved from a defensive mechanism to a powerful economic force. Our research has shown that over 70% of apparel sold in the professional space combines team IP and player NIL. Similarly, as the collegiate segment continues to mature, we expect a sizable percentage to be reflective of co-branded player products.
What is the college "NIL" rule, when did it come into force and what does it mean for college athletes, especially in relation to their ability to license?
The NCAA's "NIL" rule, implemented on June 30, 2021, allows collegiate athletes to profit from their name, image and likeness. This rule significantly expands an athlete's ability to license their NIL for commercial purposes, including brand endorsements, social media promotions and branded merchandise, while still participating in collegiate sports. This previously untapped market is now accessible to athletes and TBG aids in the fair and transparent negotiation of these deals. Additionally, in October 2022, the NCAA provided "guidance" to the marketplace for how the processes should work.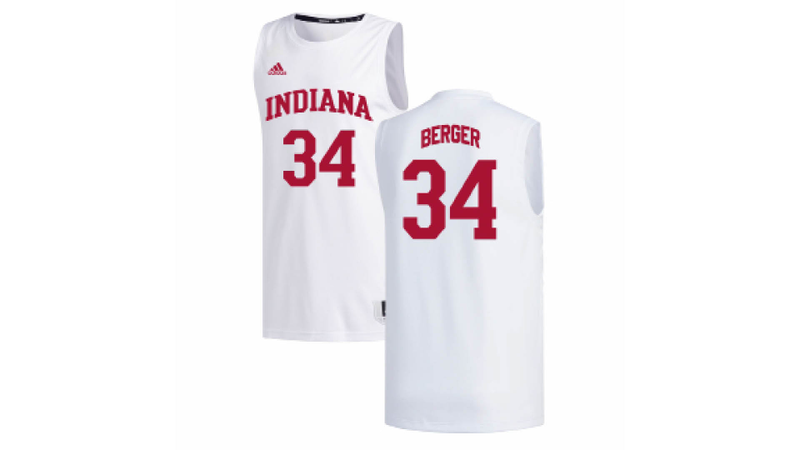 Indiana University Women's Basketball Jersey
What is the size and scale of the U.S. college sports scene and does its following extend beyond the U.S.?
College sports in the U.S. is an industry worth billions of dollars, with a fanbase spanning millions who passionately support their preferred teams and athletes. The allure extends globally with international students and fans alike engaging in these sporting events. From "March Madness" to college football bowl games, the appeal of college sports has consistently transcended U.S. borders. According to Carnegie Mellon Tepper School of Business professor, Tim Derdenger, the NIL market has already reached at least $100 million, with the potential to grow to $1 billion in five years.
Why are student-athlete NIL and university IP such powerful assets to a brand and what is a brand typically looking for when partnering with athletes or universities?
Research shows the combination of student-athlete NIL and university IP creates a unique, valuable brand asset that brings together personal athlete branding and university affiliation. Brands are often seeking to harness the popularity and trust associated with these athletes and universities, thereby reaching a highly engaged and loyal consumer base. The collaboration often provides authenticity, relatability and increased reach for the brand.
The NCAA directives are clear that it is impermissible for universities or their third-party agencies to negotiate on behalf of or compensate student athletes. That's why more than 80 of America's top universities work in collaboration with TBG to solely represent student-athletes in group rights opportunities.
TBG works as an extension of each school's brand strategy, along with the school's multimedia rights and licensing agencies, operating through a sole lens of bringing both licensing and endorsement opportunities to student athletes at fair market value. TBG is working every day to expand this unprecedented opportunity for all stakeholders and help mature this new area of the collegiate ecosystem.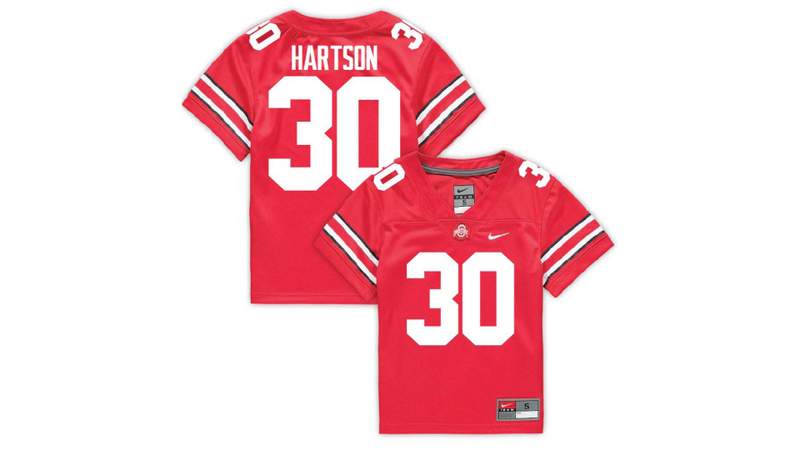 Ohio State University Football Jersey
What are the benefits of group rights, from both the perspective of the athletes and the brand?
Group rights amplify the value of athletes. Brands have access to dozens, hundreds or even thousands of athletes at once, often including their university's logo and marks rather than having to negotiate individually with each student athlete. From the athletes' perspective, it enables them to gain broader exposure and potentially more revenue. And, of critical importance, athletes have TBG negotiating on their behalf for group rights opportunities while maintaining their own negotiation power for individual deals.
The Brandr Group team includes certified
and
agents, former collegiate athletes and people who are genuinely passionate about ensuring the best interests of our student-athletes always comes first. So, we take a consultative and accessible approach for our student-athletes as we prepare them for licensing and sponsorship opportunities.
At The Brandr Group, we're completely transparent – we strictly follow NCAA guidelines, ensuring we receive no compensation from universities or multimedia rights partners. With our university collaborations, we aim to open doors and create incremental opportunities for student-athletes in every sport. We strive to help both male and female athletes from all backgrounds and sports, not simply the starting quarterback or all-conference point guard.
Can you give a couple of examples of the types of licensed consumer product deals that you have worked on with college athletes since the rule came into place?
Since the NIL rule came into effect, The Brandr Group has helped facilitate numerous exciting and innovative deals for student athletes. One such
partnership was between Wrangler and the University of Texas
. The deal capitalized on 12 athletes' popularity and the university's brand to promote a special line of Wrangler's products, resulting in a 200% increase in social media engagement. Based on the campaign's success, Wrangler is planning to scale the program at more schools for fall '23.
TBG now has more than 70 licensees activating in the group licensing space across apparel, hard goods, trading cards, collectibles and digital. Our NIL products are featured in programs across all channels of retail distribution, ranging from local campus retailers to big box sporting goods and prominent internet websites and mass retailers, which demonstrates the consumer demand on this new and exciting area of the collegiate licensing business.
Working with official athletics retailers and bookstores to set up their new player jersey ecosystem, featuring each athlete's name and number has been a fruitful exercise. TBG collaborates with each university to build a meaningful marketing and merchandising campaign because we have partners who have the capability to offer every athlete on each campus who opts into our program a SKU (or multiple SKUs) for fans to purchase. This has been an innovative, disruptive force in the collegiate marketplace.
In a slightly different vein, via TBG's new content licensing partnership with Catapult, athletes are able to be compensated for their appearance in game footage in a commercial. As part of a series of footage-based Pfizer/SEC spots, student athletes from multiple universities were compensated, with TBG clearing their likeness for Catapult. As footage is a valuable way for athletes to monetize their NIL assets, TBG is focused on our Catapult partnership to expand video content licensing revenue with our University and Conference partners.                            
These cases exemplify the range of innovative opportunities available through group NIL rights. We are already seeing applications from traditional consumer product marketing to sponsorships and endorsements by our student athletes.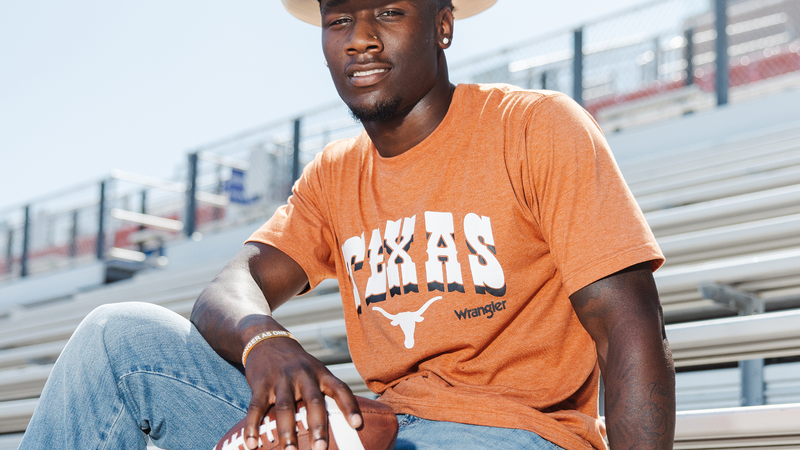 University of Texas, Wrangler apparel
What wider trends are you noticing in the sports licensing space at the moment?
We're seeing some significant trends in sports licensing, particularly in relation to group licensing for student-athletes,
as noted in a recent Forbes article
. With the advent of the NIL rule, there has been a marked increase in group licensing deals, where multiple athletes come together for collective endorsement opportunities. Brands have found value in the amplified impact and the heightened fan engagement that comes with group rights.
I might note here the power of social media influencers and that student athletes have a multiple impact of others. Insights show that collegiate athletes have outperformed engagement rate benchmarks by up to two times on Instagram, five times on TikTok and 12 times on Twitter.
Another trend is that NIL licensing opportunities are not limited to the major "revenue" sports, like football and basketball. Instead, new deals are spreading across all sports and divisions for men and women. It opens up a vast array of marketing possibilities, while simultaneously allowing a larger group of athletes to benefit from their NIL. Women's sports, including softball, are outperforming historical norms to create new opportunities.
Finally, we're observing a growing integration of digital strategies in these licensing deals. Social media campaigns, online endorsements and even the creation of digital assets are becoming more prevalent, adapting to the ways consumers and fans engage with sports in the digital age.
Read more about:
Subscribe and receive the latest news from the industry.
Join 62,000+ members. Yes, it's completely free.
You May Also Like
Loading..