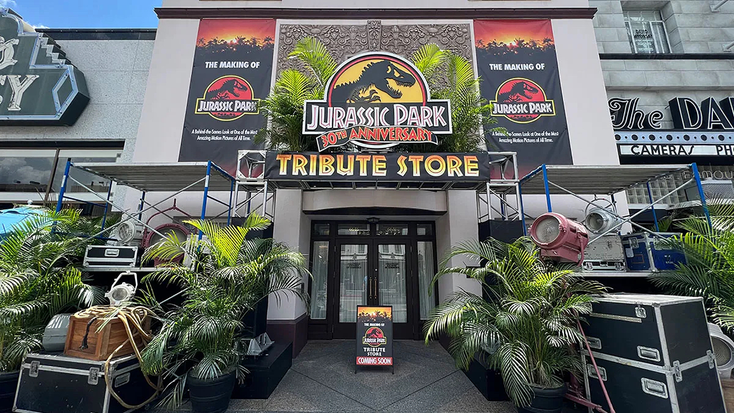 Jurassic Park 30th anniversary tribute store
Universal Products & Experiences
At A Glance
Dinosaurs, a popular play pattern with children

Diving into nostalgia with a licensed consumer product program

Theme parks creating anniversary-inspired merchandise
License Global caught up with Melissa Rodriguez, vice president, franchise strategy, Universal Products & Experiences, to learn how the
franchise has continued to entertain millions for 30 years and how it connects with its old and new fans.
"There is nothing like that moment in the film where Dr. Grant and Dr. Sattler from '
' see dinosaurs for the ­first time – that awe, wonder and thrill is the essence of the Jurassic World franchise," says Rodriguez. "Whether you're watching the first time or the 300th time, you will never forget that feeling of seeing dinosaurs in real life. We've taken that experience and created a 365-day franchise that touches generations of fans at aisles of retail, in digital and video game experiences, in live events and in our theme parks."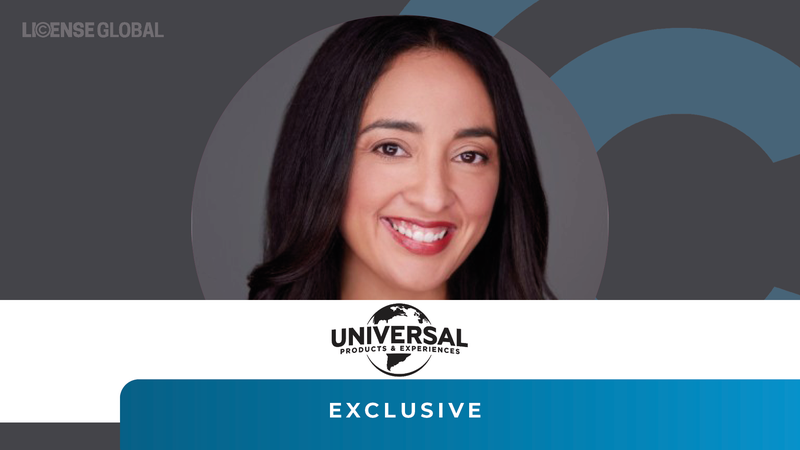 Melissa Rodriguez,
Universal Products & Experiences
The film franchise, which started with 1993's "Jurassic Park," has resulted in six feature films, two short films and a television series. Franchise fans can get their dose of dinosaurs through theme park rides, location-based experiences and licensed merchandise.
"Dinosaurs have always been a popular play pattern with children, and when you add in the fandom from the first Jurassic Park ­film – those fans are now parents and grandparents – you have generations of fans that recognize the official mark of 'Jurassic Park' in our iconic logo," says Rodriguez. "And with that brand equity, we have products and experiences that fans of all ages can enjoy. Last year, Jurassic World was the No. 1 action figure property and the No. 2 entertainment property in toys. Beyond consumer products, we have fun animated content – through our DreamWorks Animation and Netflix series, 'Jurassic World: Camp Cretaceous,' and our LEGO animated specials – as well as always on digital content through YouTube and YouTube Kids, and on Instagram and TikTok."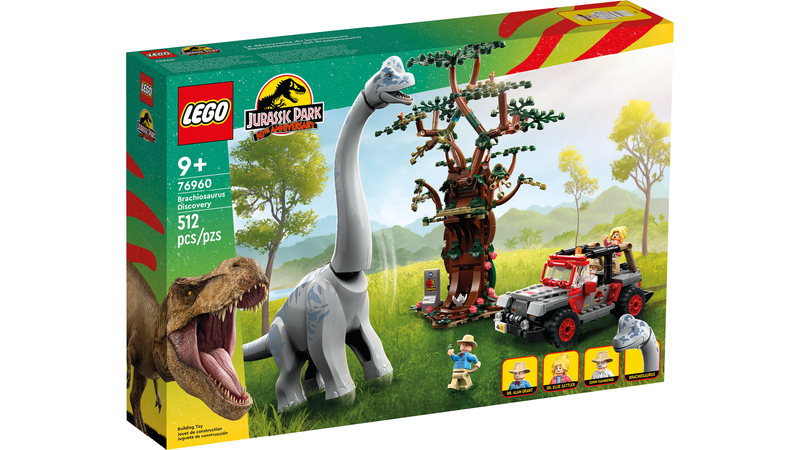 LEGO "Jurassic Park" 30th anniversary set
Diving into Nostalgia
With younger and older fans alike, Universal Products & Experiences used the 30th anniversary of the brand as an opportunity to ­find new ways to dive into nostalgia when creating its licensed consumer product program. Older fans get merchandise with memories attached to them, while innovative approaches to new merch (with a touch of OG "Jurassic Park" flair, of course) entice new franchise fans. "For the 30th anniversary, we've used the nostalgia trend to drive innovation in products and creative execution in packaging and retail design, as well as re-releases of popular items from 1993," says Rodriguez. "Older fans can connect to the re-release of the 'Jurassic Park' Classic Collection of video games, while kids and adults can enjoy building
and everyone needs the newest T. rex from Mattel created with a 1993 retro toy design. Beyond this anniversary, kids and families can experience Jurassic World in real life – through our theme parks around the world, as well as live touring events like 'Jurassic World: The Exhibition' (now in Sydney, Germany and Toronto), 'Jurassic World Live Tour' by
(currently touring North America) and 'Jurassic World' by Brickman (currently in Melbourne)."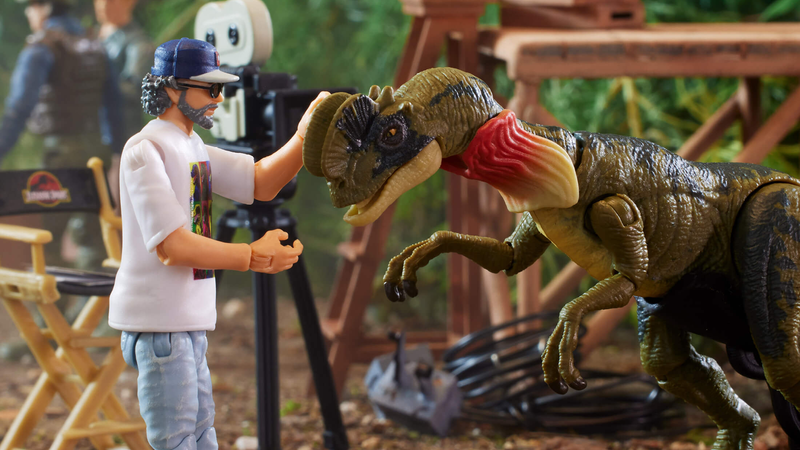 Figure of Steven Spielberg on the set of "Jurassic Park"
Extensive Licensee Roster
Universal Products & Experiences worked with a variety of licensees to celebrate the 30th anniversary: Mattel, LEGO, Hasbro, Feld Entertainment, Paragon FX, Hallmark, Tamagotchi, profusion Cosmetics, Goodr, Loungefly and Cakeworthy, to name a few. The company also created in-house merchandise for its theme parks via its UNIVRS and Tribute stores. Each brand partnership aims to bring the Jurassic World franchise to life, either with interactive play, fandom pride or replication of what's found in the films.
"There is truly something for everyone – as fans have come to expect from the Jurassic World brand," says Rodriguez. "Mattel and LEGO have brought back some 1993-inspired items and scenes from the original ­film, Hasbro created another 'Jurassic Park' x Transformers ­figure mash-up and collectors are loving some of the winks we created in items such as the Barbasol replica can from Paragon FX, a 'Jurassic Park' Tamagotchi, the 'Jurassic Park' Jeep ornament from Hallmark and Mattel's San Diego Comic-Con exclusive figure of Steven Spielberg on set while making 'Jurassic Park.' There's new sunglasses from Goodr and a makeup collection from Profusion Cosmetics – both featuring the iconic colorways of the 'Jurassic Park' Ford Explorer vehicles, as well as 1993-inspired bags and accessories from Loungefly and apparel from Dumbgood and Cakeworthy. Our theme parks have also created new anniversary-inspired merchandise and food and beverage, which can be experienced domestically at the UNIVRS and Tribute stores in Universal Studios Florida and Hollywood."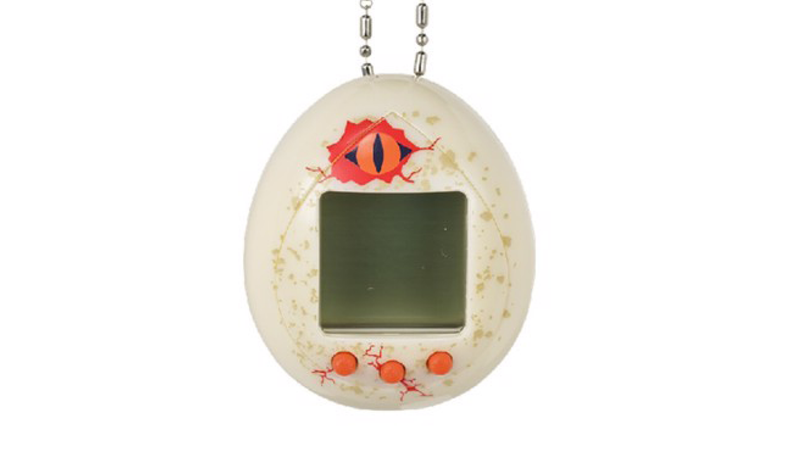 "Jurassic World" Tamagotchi
Even though the Jurassic World franchise is 30 years old, the brand continues to skyrocket in popularity. By connecting with its original fans and innovating new approaches for its new fans, the brand continues to ­find different ways to make its mark on popular culture. For its 30th anniversary and beyond, Universal Products & Experiences is bringing everything it can to its fans: toys, apparel, experiences and more.
"Jurassic World isn't slowing down," says Rodriguez. "We're 30 years young! Fans can expect more from the franchise later this year, through 2024 and beyond, from a theatrical re-release of 'Jurassic Park' later this summer, to new video game announcements, to more content and digital experiences, and more toy and collectible dinosaurs and playful apparel and accessories for fans of all ages." The Jurassic World franchise continues to stomp its way into the hearts of consumers everywhere. Fans will hear this IP roar no matter what their age.
Read more about:
Subscribe and receive the latest news from the industry.
Join 62,000+ members. Yes, it's completely free.
You May Also Like
Loading..