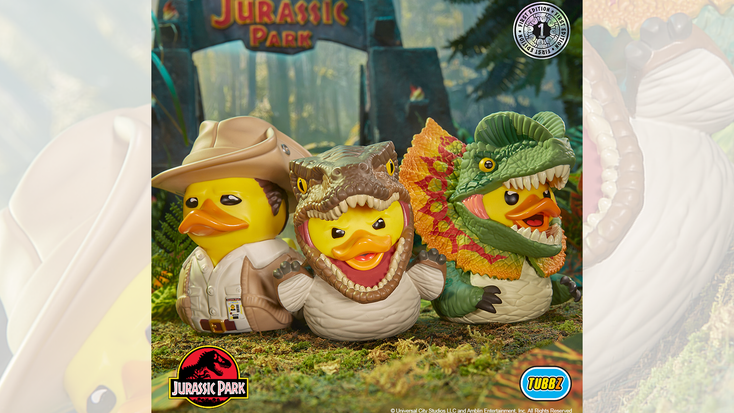 30th Anniversary 'Jurassic Park' merch
Universal, Amblin Entertainment
Universal and
are honoring 30 years of "
." This #JurassicJune includes new broadcast, digital and game content, exclusive merchandise across various categories, a re-release of the film, retail promotions, anniversary celebration events, fan conventions and more.
"The legacy of 'Jurassic Park' is felt across the world," says Melissa Rodriguez, vice president, franchise strategy,
Universal Products & Experiences
. "The film has stayed entrenched in the hearts and minds of viewers since its initial release 30 years ago, while also delighting new fans every year. We're looking forward to celebrating the footprint this film has left on fans globally through special events, unique merchandise, games and more."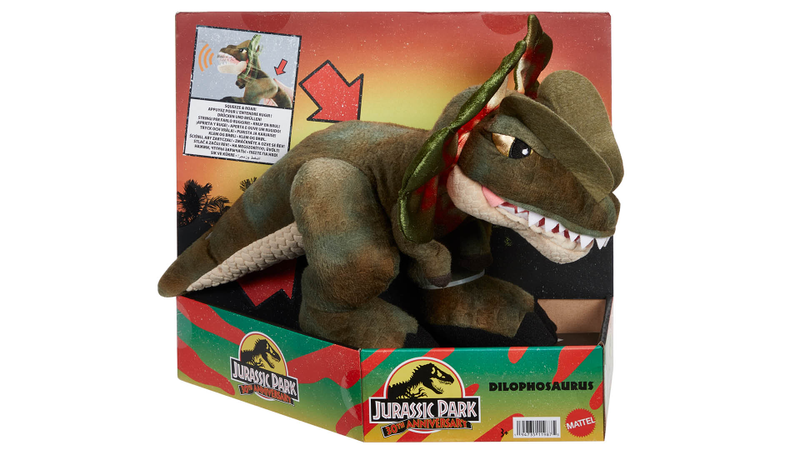 30th Anniversary 'Jurassic Park' Dilophosaurus toy, Mattel
"Jurassic Park," "Jurassic Park: The Lost World," "Jurassic Park III" and "Jurassic World" will be available to stream on Peacock beginning June 1.

Theatrical re-releases planned for later this year in markets around the world.

Universal Pictures Home Entertainment will release limited commemorative editions of the film on 4K starting in June (details forthcoming). "Jurassic Park" and all subsequent franchise installments are now available on digital and disc.

"Jurassic World" YouTube and "Jurassic World" YouTube Kids channels will have new content monthly for fans of all ages.

Activations celebrating the classic film will be taking place all year long.

Across Europe, fans have been asked to get involved with celebrating the 30th anniversary on social, including voting for their favorite original "Jurassic Park" dinosaur. The winning dinosaurs from each country will be brought to life across multiple cities later this summer.

The Natural History Museum of London is celebrating the anniversary with a pop-up store open now through this September. In addition to new merchandise, the museum's Cranborne Boutique has been redecorated, including the iconic gates from the film and the opportunity to take a selfie with a dinosaur.

The Jurassic World By Brickman Exhibition moves to New Zealand in June, then to Brisbane in December, and a second exhibition will launch in Sweden in April.

Also in Australia, a "Jurassic Park"-inspired High Tea celebration will take place at Cordis Auckland through the end of April.

Audiences of the Shanghai International Film Festival can watch all six films – for the first time in China – taking place June 9-18.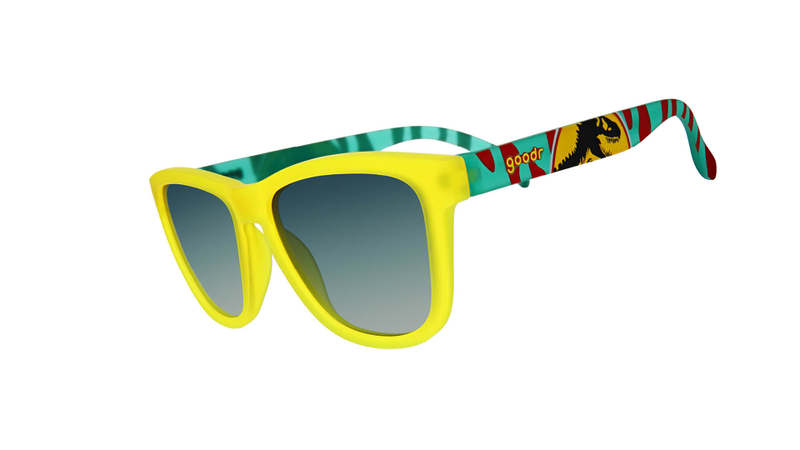 30th Anniversary 'Jurassic Park' Isla Nublar 1993 Tour Glasses, Goodr
More details coming soon, but be on the lookout for "Jurassic Park" gates and dinosaurs coming to fan conventions
– including some of the world's biggest Cons, including:
Supernova Comic Con in Australia, which happened April 22-23

Comic-Con International in San Diego, July 19-23

London Comic Con Winter, Nov. 11-12

Comic-Con Experience (CCXP) in Brazil, Nov. 30-Dec. 3
Additional events taking place throughout the year include "Jurassic World: The Exhibition" on tour in Canada and Germany, the "Jurassic World Live Tour by Feld" at key U.S. markets, as well as "Jurassic Park" in concert with a live orchestra (in select cities around the world, including Tokyo and Osaka, Japan) and more for other U.S. and international regions.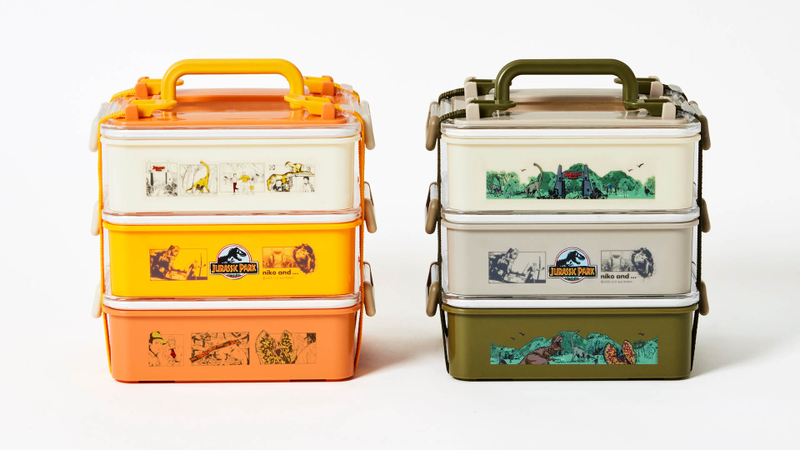 30th Anniversary 'Jurassic Park' lunchboxes, nikoand
Theme park celebrations, as well as exclusive film and new '90s-inspired nostalgia products, will be hitting retail throughout the year, with highlights including:
Universal Beijing Resort: Jurassic Traders will have new "Jurassic Park" 30th Anniversary products this summer.

Universal Orlando Resort: #JurassicJune celebrations that include specialty food and beverage, exclusive merchandise and a takeover at the Tribute Store.

Universal Studios Hollywood: specialty food and beverage and exclusive merchandise will be available during #JurassicJune.

A "Jurassic Park"-inspired LEGO line, marking the first time some of these dinosaurs and characters will be available in LEGO form; The Visitor's Center is available now for pre-sale on Amazon.com.

Mattel will debut a new collector line with 15 different SKUs and two new plush with a 1993 feel.

A new item revealed is the 30th Anniversary Plush Dilophosaurus, with more coming timed to #JurassicJune.

Mattel's "Jurassic Park" 1993 Classic line from Target's "Beyond the Gates" online series.

"Jurassic Park" x Tamagotchi Nano Dinosaur Egg version.

"Jurassic Park" CAPTIVZ Build N Battle 30th Anniversary eggs by ToyMonster – this exclusive range feature dinosaur species from the original "Jurassic Park" movie and rare dinosaurs to chase, including the gold and amber baby Velociraptor, available now.

Funko will have an assortment of new POP! figures celebrating characters, dinosaurs and moments from the film.

Rubber Road's TUBBZ ducks will have three new collectible SKUs for the 30th Anniversary: Raptor, Dilophosaurus and Muldoon.

WOW! Stuff's RealFX line will launch a new dinosaur species later this year.

Paragon FX Group has released a limited-edition recreation of Dennis Nedry's Barbasol canister (aka "Cryo-Can").

Dr. Squatch, a men's natural soap and personal care company, has launched two "Jurassic Park"-inspired bar soaps: King of the Briccs and Raptor Rush.

RSVLTS will continue to support "Jurassic Park" with new anniversary-inspired prints on their polos and woven shirts, launching later this summer.

Dumbgood is bringing back the colorways and graphics from 1993 to its apparel and accessories with new items launching later this summer.

TORRID will bring "Jurassic Park"-inspired fashions for all sizes with new collection launches planned for #JurassicJune.

Chubbies will expand its neon-inspired "Jurassic Park" line of men's swimwear to include boys' sizing this year.

H&M will have a '90s nostalgia line of apparel showcasing the "Jurassic Park" logo and on-screen moments.

Primark will launch a collection of children's apparel, home and lifestyle items for families, featuring iconography and dinosaurs from the original "Jurassic Park" film and a new first for Primark – interactive plush dinosaurs.

Box Lunch has apparel, accessories and collectibles for "Jurassic Park" fans of all ages with new collections planned for #JurassicJune.

Loungefly has revealed three new, colorful "Jurassic Park" accessories: a Dino Moon Mini Backpack, Dino Moon Zip Around Wallet and Life Finds a Way Cross Body Bag.

Goodr – known for its expansive range of athletic sunglasses – is launching a new line of limited-edition "Jurassic Park" sunglasses in three styles (T-Rex in the Rearview, Isla Nublar Tour 1993 and Bingo! Dino DNA) beginning June 30.

Crocs is expanding on its "Jurassic World" collection from last year with new 30th anniversary-inspired footwear coming later this summer.

Niko and… in Japan has launched a collaboration of zakka home and lifestyle items in stores available in stores and online now.
Additional products will be available beginning in #JurassicJune throughout the year from partners such as Iron Studios, Nobel Collections, Mondo, Toy Monster, Playmonster/Koosh, Hasbro, Funko, Rubber Road, Just Play, Wow Stuff, Jada, Spin Master, Random House, Scholastic, Insight Editions, Dynacraft, Advanced Graphics, Innovative Designs, Erin Condren, Bitty Boomers, KIDdesigns, General Mills and more.
More promotional exclusive items will be available to celebrate the 30th anniversary, including Hormel pepperoni and Jurassic World dinosaur-themed crackers, both available at Walmart.
Retail activations around the world include:
"Jurassic World": Beyond the Gates at Target.com has been reskinned in classic "Jurassic Park" colorways and iconography, with new collectibles releasing for pre-sale monthly.

Amazon's Merch on Demand for various "Jurassic Park"-inspired designs for tees, hoodies and more.

Smyths Toys will celebrate the film's iconography with in-store marketing and new SKUs including an exclusive "Jurassic Park" vehicle and dinosaur trackset.

"Jurassic World": Revealed is back for an exclusive collector series celebrating fans at BIG W, The Warehouse NZ.

Additional mall activations will launch across Southeast Asia during #JurassicJune.
Games and digital collectibles are getting into the action too. "Jurassic World Alive," a free-to-play geo-location-based AR game developed by Ludia and Jam City, will feature new gameplay celebrating iconic moments of "Jurassic Park" and the original dinosaurs. Players can also anticipate partnership announcements and new brand integrations culminating in an eventful gameplay experience honoring the 30th anniversary.
A collaboration with Limited Run Games to release The "Jurassic Park" 30th Anniversary Retro Collection is planned for later this year. The collection will include various versions of the "Jurassic Park" and "Jurassic Park 2: The Chaos Continues" games. Limited Run will also create exclusive, limited-edition Jurassic Park merchandise inspired by the titles – more news to come in the following months.
Frontier Developments will bring "Jurassic World Evolution 2" players even more dinosaurs for their parks with additional DLC packs and new content.
VeVe will also celebrate the anniversary this summer by dropping unique digital collectibles on its marketplace featuring items from the original movie.
Follow #JurassicPark30 on social for more details and upcoming celebrations.
Subscribe and receive the latest news from the industry.
Join 62,000+ members. Yes, it's completely free.
You May Also Like
Loading..