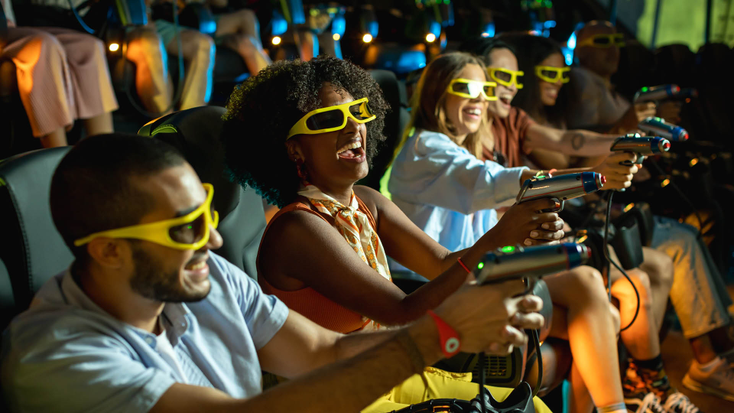 The "Challenge of the Mad Mage" ride at Kantmandu Park | Punta Canta
Falcon's Beyond
At A Glance
Simon Philips' career in licensing

Recent deals for Falcon's Beyond

Philips' instincts in licensing
Simon Phillips
knows how to take a brand into the licensing stratosphere. In the '90s, Philips broke into brand licensing when working with the Olympic committee to launch a video game, which was a first for in-game, third-party advertising.
"It defined sports gaming as we see it today," says Philips. "I moved from there to working with the Paralympics to launch its global licensing programs, and I had the privilege to put that together."
Philips' career trajectory took him to managing director, 4Kids; president, Marvel Entertainment International; executive vice president and general manager, DCP, EMEA, Walt Disney Company and has launched consumer product rollouts for Disney, Pixar, "Star Wars," Marvel, "Pokémon," "Teenage Mutant Ninja Turtles" and "Yu-Gi-Oh."
Simon Phillips, Falcon's Beyond
More recently, Philips was managing director, global consumer products,
, where he helped launch the "CoComelon" franchise.
"I was able to choose the best people to work with," says
Philips. "We created the consumer products program for 'CoComelon' from zero consumer products revenue to winning last year's award in Best Brand: Entertainment, Character, Toy – Animated award at the Licensing International 2022 Excellence Awards at
in Las Vegas. I've worked on some of the biggest consumer products programs in the world, but never have I experienced such a stratospheric growth in such a short period."
Earlier this year,
, a global entertainment development company specializing in IP creation and expansion,
added Philips as its president
. Previously a senior advisor to the company's board, the position was created specifically for Philips. As president, Philips will direct the future growth and expansion of entertainment-based businesses and the development of the company's IPs. His role will include developing and implementing comprehensive corporate strategies for future growth across all commercial operations of the company and its owned subsidiaries. Philips will also strategically build new consumer products and entertainment content infrastructure.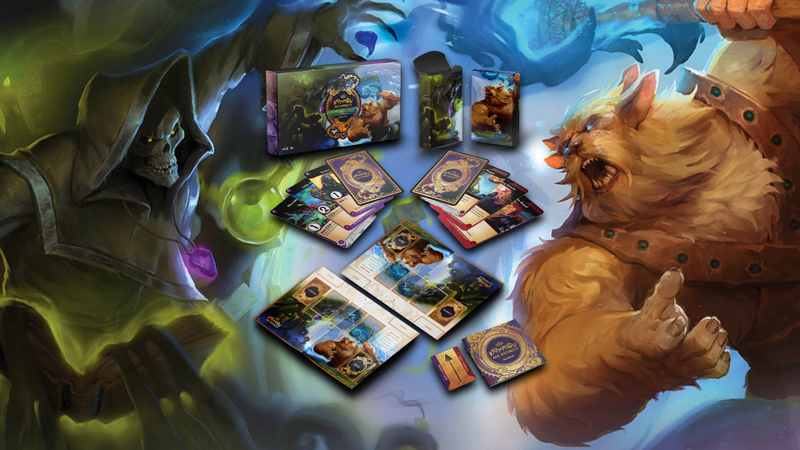 Trading card game, Katmandu: Age of Artifacts.
"In the past 30-plus years in my career, I've been fortunate enough to be involved with some of the most defining moments in entertainment and consumer products," says Philips. "I was privileged and fortunate enough to be at the tip of change. When I first engaged with Cecil and Scott at Falcon's Beyond, I understood the vision that they had, which is sort of disruptive. It is taking the development of an IP at a physical experience and then expanding storytelling outside of that. Instead of it coming from a movie or an animated series, they were starting with a physical location. People crave physical experiences, and we noticed that coming out of lockdown."
Philips didn't decide to join Falcon's Beyond full-time lightly. The opportunity means relocation for Philips and his family from London to Orlando, Fla., a city filled with location-based experiences.
"When I got the call from Scott (Demerau, executive chairman of the board, Falcon's Beyond) and Cecil (D. Magpuri, chief executive officer, Falcon's Beyond), my first instinct was, yes, my second instinct was … Orlando," says Philips. "Having been born in London and my wife was born and raised in New York, Orlando was not on our radar of places to move. However, the opportunity was so profound that I had to take it regardless of the geography. I had to put myself in the position to help define a new way for people to engage and consume."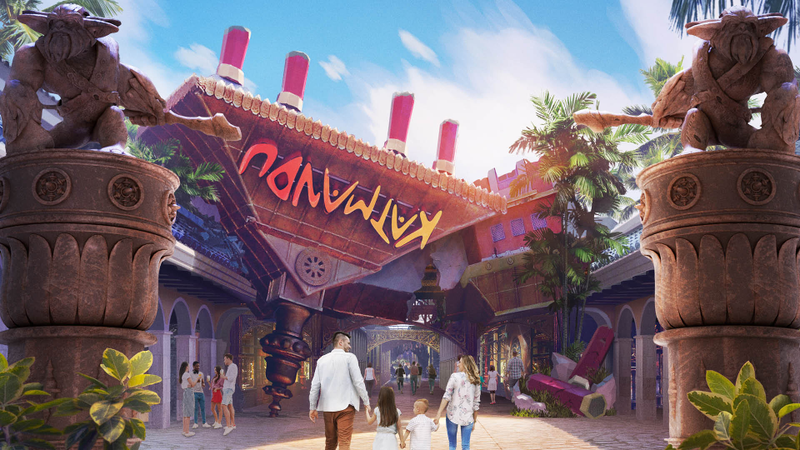 Kathmandu Park | Punta Cana.
The preschool show features Boro the Yeti, one of the characters first introduced at the original Katmandu theme park in Mallorca, Spain, and a group of fun-loving, mischievous young yetis. In this mission-oriented show, the young yetis go on adventures across Katmandu. Additional details, including the series' distribution partner, creative team and title, will be unveiled in the coming months.
As Philips adjusts to life in Orlando, he also takes in all that happens in the company in the first month with Falcon's Beyond.
"For me, it is about working with the incredible team here to understand the opportunities that go beyond the physical location," says Philips. "Falcon's is the leading company in designing and developing location-based entertainment, but what they do is exceptional. What I'm working on with the team is how we extend that physical experience and expand it into storytelling outside of the parks. How do we look at that? How do we extend our reach with physical locations in some markets into other markets? There is so much opportunity in this space."
Sometimes, it takes longer for others to align themselves with the prospects Philips sees in a property. He recalled a conversation with a former retailer about their hesitation about selling a licensed toy line around a new cartoon.
"'Pokémon' at the time was on UMA cable network," says Philips. "The very powerful buyer said, 'If you're not on linear TV, we won't support you.' We said we know how many kids are watching linear and how many kids are watching cable – and there are many more kids watching cable than linear. And her reaction was, 'I watch linear, and I don't watch cable. I don't understand this now.' Eventually, we explained it to her, and she supported 'Pokémon' and, as history tells us, 'Pokémon' is a massive program."
History has also shown that Philips' instincts in licensing are spot-on.
Read more about:
Subscribe and receive the latest news from the industry.
Join 62,000+ members. Yes, it's completely free.
You May Also Like
Loading..