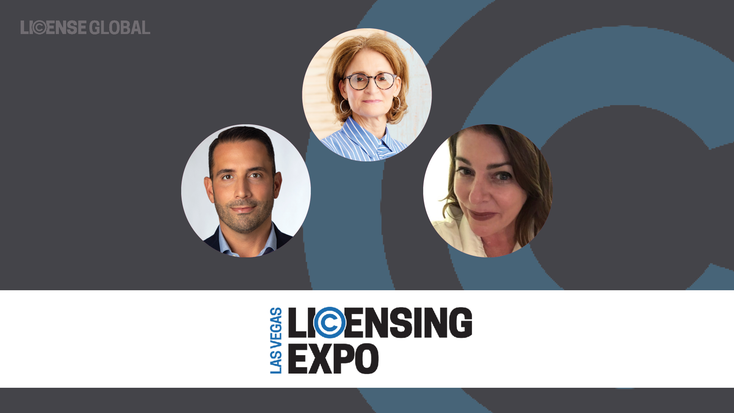 Licensing Expo 2023 speakers.
Global Licensing Group
Licensing Expo,
a global event dedicated to licensing and brand extension, sponsored by industry association, Licensing International, reveals its speaker lineup for the three-day show. Sessions will feature global brands speaking to topics, including building a lifestyle brand, entertainment properties fueling cultural phenomena and the future of sustainability in licensing.  
On June 13 at 12:30 p.m., Jose Castro, executive vice president, global collaborations, EMEA licensing and U.S. softlines,
Consumer Products & Experiences, will lead a Case Study Panel discussing the success of entertainment phenomenon, "Yellowstone," sparking the trend of "Cowboy Culture" and influencing growth in categories across fashion, lifestyle, location-based entertainment, food and beverage and more. Castro will be joined by Steven Armus, vice president, global partnerships and licensing, Wrangler, and Jennifer Staley, senior vice president, licensing and brand management,
.  
"The 'Yellowstone'
Universe has brought fans together worldwide and inspired trends in almost every category from fashion to food…and we're just getting started," says Castro. This franchise created new lines of products that fans have embraced and welcomed a number of new and amazing partners."
, known for its bright, refined island living-inspired wear, is a master of lifestyle brands, creating the quintessential, upscale casual lifestyle that embodies the concept of "never leaving the beach." The American multinational manufacturer will discuss "How to build a lifestyle brand while maintaining brand authenticity."
, executive vice president, retail, e-commerce and licensing, Tommy Bahama, will be interviewed by Ben Roberts, EMEA content director, License Global, June 14 at 11:45 a.m. in the License Global Theater.  
"Tommy Bahama has had impressive growth over the last 30 years as a true lifestyle brand," says Furciato. "Well-defined products, a loyal guest following and strategic licensing partnerships helped to build and amplify the brand's relaxed lifestyle message. I'm excited to share the story of how a men's silk camp shirt evolved into a dual-gender brand with a robust e-commerce, retail and restaurant business, and now a resort on
11 acres in the Palm Springs desert
." 
Helena Mansell-Stopher, chief executive officer, Products of Change, the leading international publication for sustainability in licensing, will discuss the latest environmental legislation and what this means for brand owners and licensed manufacturers over the next seven years in a panel discussion. This session will take place June 14 at 3:30 p.m., featuring industry professionals, Yalmaz Siddiqui, vice president, environmental sustainability,
; Matt Young, president,
(
); Jakob Max Hamann, sustainability lead, The
Group, and Sagan Harlin, senior manager, consumer products and strategy, NFLPA.  
At 11 a.m. on the closing day, Frederick L. Jones, founder, Saturday AM, and Anita Castellar, chief executive officer,
FanGirl Consulting & Brand Management
, will discuss the global growth of Manga, a style of Japanese graphic design known in comic books, the momentum behind diverse characters and how to build consumer connection through publishing, licensing and social media.   
"The intentional speakers selected for Licensing Expo provide the perfect mix of lifestyle, fashion, entertainment and sustainability experts, who break the expectations of everything licensing traditionally is perceived as and what a brand can extend to," says Ella Haynes, event director, Global Licensing Group, Informa Markets. "We have curated impactful leaders in the business to provide the licensing industry with unique content and insights to fuel brilliant business strategies that can grow brands beyond imagination and help to drive the industry forward."  
Licensing Expo will also host two keynote presentations,
on June 13 at 9:30 a.m. and
" on June 14 at 9:30 a.m. To access the complete list of free sessions taking place in the License Global Theater, including a presentation from WGSN on "The Rise of Virtual Influencers" and a Global Licensing Industry Study with Licensing International's president, Maura Regan, please visit the
Read more about:
Subscribe and receive the latest news from the industry.
Join 62,000+ members. Yes, it's completely free.
You May Also Like
Loading..