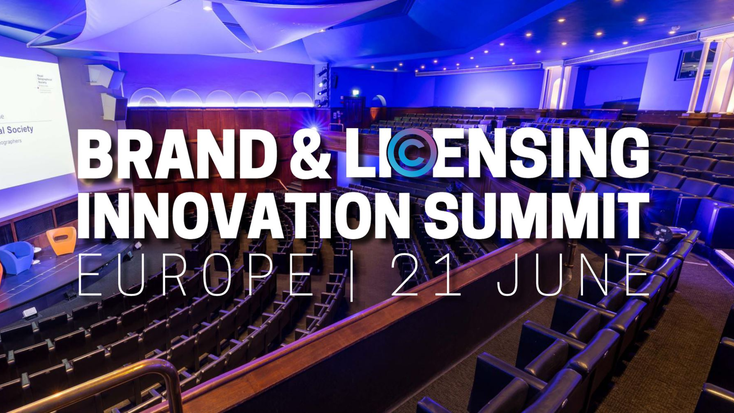 The agenda for the 2022 European
Brand & Licensing Innovation Summit
(B&LIS) is
, featuring interactive panel discussions and workshops to help delegates evaluate, shape and maximize opportunities around the future brand licensing and retail landscape.  
B&LIS returns on June 21 after debuting virtually last year and takes place the day before the
Sustainability in Licensing Conference
(SiLC) to create a brand-new two-day event for European industry leaders and decision makers held at the Royal Geographical Society in West London.  
Tickets are
now with special rates for two-day in-person passes for B&LIS and SiLC, with additional discounts for Licensing International and Products of Change members.  
Tackling trends including consumer spending, Web 3.0, NFTs and the metaverse, the role of purpose and addressing challenges with the licensing supply chain, the B&LIS sessions will spotlight how brands can create successful post-pandemic retail and licensing strategies with the
first few speakers confirmed from KidsKnowBest, Hunter Price, Asda, TrendBible, The Point 1888, The Smiley Company and Products of Change. 
The sessions will run from 9:30 a.m. to 5:30 p.m. June 21, followed by a drinks reception in the evening.  
The current program is as follows:  
8:00 a.m. Registration Opens 
9:20 a.m. Introduction from Global Licensing Group 
9:30 a.m. Evaluating the Modern Brand Landscape 
Start the day by setting the scene on some of the key trends coming through in licensing. License Global, alongside other knowledge partners will unveil exclusive insights into their new and reimagined Top 150 Licensors report, the only research of its kind focused on global licensing brands and trends that will be released later in the summer. 
10:10 a.m. Leaders Panel: Building a Post-Pandemic Retail & Licensing  
A panel of industry leaders will air their expectations, hopes and fears for a post-Covid future as it relates to retail, while giving an insight into the long-term opportunities for licensing and where they will be placing their bets for the coming years. This session will address: 
Which trends have been accelerated by the pandemic? 

How do you stay competitive and remain ahead of trends?  

What new opportunities are emerging for the licensing industry? 
10:50 a.m. Following the Money: How the New Age of Consumers Spend 
The panel will focus their discussion on Gen Z and millennials; where you can find them, what they want and provide an understanding on how they engage with brands in new and more meaningful ways. Find out how to tap into platforms such as TikTok, YouTube and Snapchat, how to choose the right influencer for your brand and enjoy practical examples from others who have done this successfully. 
11:45 a.m. Everything You Need to Know About Web 3.0 
This dynamic session will explore some of the hottest topics in our industry right now and provide you answers to some of the questions you need answered: 
NFT, Metaverse, IoT, AR, VR… 101 explanations of what you need to know  

Why should I care about Web 3.0 and is it here to stay?  

What are the challenges and opportunities behind these concepts?  

What new licensing categories will emerge? 
12:45 p.m. Networking Over Lunch 
1:45 p.m. Think Tank: Can the Licensing Process be Rebuilt? 
From supply chain challenges to the need for faster speed to market, does the licensing process need to be reviewed? Have your say and submit answers that will influence our panel of speakers as they debate some of the key pain-points in the licensing journey.  
This session will include a constructive debate with a cross-industry panel who, alongside the audience, will aim to drive actionable outcomes on improvements that can be carried forward toward getting meaningful products to consumers at the right time. 
2:30 p.m. Forecasting the Future of Retail through Consumer Trends 
Join this discussion on emerging and future consumer behaviors and understand how they influence the retail space. This session will be structured in two parts: 
Consumer behaviors post-pandemic: from new lifestyle choices to shopping habits, understand which new categories are emerging and how consumers are spending.  

Retail strategies post-pandemic: how are these changes impacting retail? From new product categories to creating more meaningful experiences in stores, find out how retailers are tackling some of these trends and what they can mean for your brand.  
3:45 p.m. Category Breakout Sessions 
To provide additional depth around emerging categories, join our interactive roundtables as they spotlight them in more detail. Hear a case study and take part in a Q&A discussion with a choice from three categories. 
4:30 p.m. The Good Fight: How Purpose Breeds Success 
What is purpose and why is it important to businesses and customers? What differences can it make? Our panel of industry change makers will debate how leading with purpose can create a competitive advantage for licensors, retailers and licensees alike. Understand what role the licensing industry has to play and most important, what opportunities this can create.  
5:30 p.m. Closing Remarks  
5:30 p.m. Evening Drinks Reception 
Brand, retail, consumer trend and licensing experts who would like to take part as a panellist are invited to contact Ella Haynes at
ASAP.   
"As the industry continues to navigate the ever-changing content landscape and consumer behaviour, the Brand & Licensing Innovation Summit is a critical opportunity to connect with business leaders to discuss, share and learn from one another," says Anna Knight, vice president, licensing, Informa Markets. "B&LIS will deliver a full schedule filled with practical, action-oriented sessions to help give delegates' businesses the tools they need to make the most of new licensing opportunities and maximise impact at retail." 
B&LIS one-day tickets are priced at £275 and can be purchased from
Brand & Licensing Innovation Summit Europe. 
SiLC one-day tickets are priced at £275 and can be purchased from
Sustainability in Licensing Conference
. POC and Licensing International members can enjoy a 20% discount on these rates (non-cumulative). Alternatively, two-day tickets can be purchased from either site for the discounted rate of £525. 
To find out about sponsorship opportunities at the B&LIS Europe 2022 event, fill out this
. 
Subscribe and receive the latest news from the industry.
Join 62,000+ members. Yes, it's completely free.
You May Also Like
Loading..