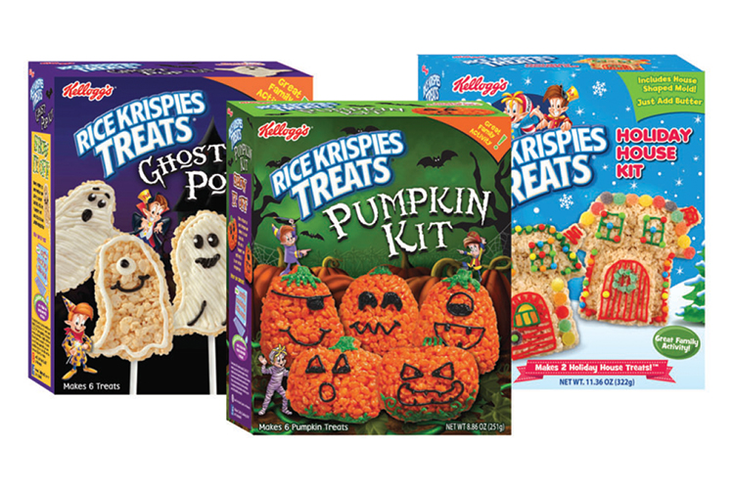 Although the licensing industry has heavily leaned on entertainment and character brands in recent years, another sector of the industry is quickly gaining traction and making waves in a host of categories–food and beverage.
The food and beverage sector is part of the larger corporate trademarks and brands category, which represented 21 percent, or $54.6 billion, of global retail sales of licensed merchandise by property type in 2016, according to the International Licensing Industry Merchandisers' Association (LIMA) 2017 Global Licensing Industry Survey. Furthermore, food and beverage licensing represented 6 percent, or $15.6 billion, of global retail sales of licensed merchandise by product category in 2016. In terms of product type, food and beverage licensing trailed only a handful of categories: apparel (15 percent), toys (13 percent), fashion accessories (11 percent), home décor (7 percent) and software/video games/apps (7 percent).
"It is a healthy market to enter and can by very profitable,
if done right," says Lauren Montemaro, associate director, Beanstalk. "There is an openness to licensing and there is a lot of activity and partnerships in the space because of this. Currently, we are seeing a lot of innovation with a focus on taste and health. More and more, we are seeing flavor as the most important purchase driver for many of the food and beverage players participating in licensing, especially with younger consumers who buy on impulse. We are also seeing a push toward organic and natural ingredients–health and quality are some of the more important purchase drivers today in the food and beverage space."
So, what does this mean for classic food and beverage brands like Hershey's, Kellogg's, Chupa Chups, Breyers, Welch's and more? A host of licensing opportunities in both the food and beverage sector and other categories such as apparel, accessories, home décor and more.
One example of a successful food brand in the licensing arena is Perfetti van Melle, which owns both the Chupa Chups lollipop brand and the Airheads confectionery brand. For Chupa Chups, the company has expanded the brand in both the food and beverage space and additional product categories, and now reports that the food and beverage portion of the Chupa Chups licensing business now represents close to 20 percent of the overall licensing business. Recent partnerships include Vandemoortele for doughnuts, London-based fashion label Fyodor Golan for an assortment of womenswear, Spanish fashion brand Macson for menswear, Cotton On for kidswear and Thailand-based Take n' Care for bath and body products, among many others.
Meanwhile, for Airheads, Perfetti van Melle has partnered with chains like 7-Eleven and Taco Bell for Airheads ice drinks. The confectionery company has also teamed up with Jelsert for an Airheads freezer bar based on its mystery flavor concept and Bahama Bucks for a shaved ice drink, among others.
Both brands have also collaborated with Unilever for water-based frozen novelties.
Moving forward, Perfetti van Melle is looking to expand both brands across frozen novelties, desserts, bakery products and drinks. In addition, one of the company's agents, Beanstalk, is exploring additional partnerships.
"To enter into the food and beverage arena, a brand should be well established and have longevity in the market to enjoy full consumer trust," says Christine Cool, licensing area manager, Perfetti van Melle Group. "If the brand is known for its large flavor variety, this is a huge asset to take to adjacent food and beverage categories.
"To have success and be sustainable, each food and beverage extension should bring an original proposal to the market with a clear unique selling point that adds value to the core brand," continues Cool. "Another key issue is striving for product excellence. To do so, food and beverage licensing programs require the full in-house support and coordination of marketing and research and development teams of both partners. It is also necessary for the brand owner to develop internal protocols that ensure the alignment of licensed products with the product policies of the core product."
Another food brand that is continuing to expand its reach through licensing is The Hershey Company, which is known for popular confectionery brands like Hershey, Hershey Kisses, Reese's and Jolly Rancher, and reported $1.5 billion in licensed retail sales globally last year.
According to Ernie Savo, director, global licensing, The Hershey Company, ice cream and frozen novelties are the largest category for the company's licensing business, both domestically and globally, followed by beverages, cereal and "ready-to-eat" desserts.
Key food deals for the classic chocolate brand include Kraft for Hershey's pudding and International Delight for Reese's-flavored coffee creamer, which originally launched as a limited edition item but will debut as an everyday product this year.
Most recently, CAA-GBG Global Brand Management Group signed on three new partners to develop a variety of products for the brand including Jacmel Jewelry for Hershey's- and Hershey's Kisses-themed jewelry, Animal Adventure for plush assortments and FloraCraft for crafting goods such as foam shapes and accessories.
Other key non-food deals for the Hershey's brand include s'mores accessories, grilling accessories, caddies and more from Blue Rhino, as well as Hershey's Kisses-shaped lip balm.
In the coming months, The Hershey Company will look to expand its reach in the frozen dessert space as well as the refrigerated space.
While many food and beverage brands have their own in-house licensing teams, many choose to look to agents to expand their reach into new categories. For example, The Joester Loria Group is known for representing a score of food and beverage brands such as Pepsi, Corona, Kellogg's and Entenmann's, among many others.
In the coming year, JLG is focusing on direct-to-retail partnerships that coincide the 2018 Pepsi Generations global marketing campaign, which will celebrate Pepsi moments that matter from the past, present and future. For its first spring 2018 collaboration, JLG has teamed up with Coach for an 18-piece collection of limited edition items including Pepsi-themed leather goods, apparel, footwear, accessories and more. JLG is also planning additional fashion-forward, Gen Z-targeted collaborations that will launch this summer and be in store for the back-to-school and holiday seasons. Other key licensing deals for Pepsi include Cotton Citizen, which developed a Pepsi-themed capsule collection featuring hoodies, denim styles and more.
Another PepsiCo brand that JLG represents is Mountain Dew, which kicked off a year-long partnership with VFiles last year that saw a series of capsule collections and activations. To enhance the collaboration, Mountain Dew teamed up with a host of influencers to promote merchandise drops and events. The result? More than 3 billion media impressions, including placement in top publications. The co-branded collection also saw key pieces launch at PacSun.
Meanwhile, for Corona, JLG has crafted a robust program that spans multiple seasons throughout the year (including Cinco de Mayo, summer and Day of the Dead). The brand's key categories include apparel, swimwear, footwear and headwear; however, home products have grown significantly in the past year with glassware, barware, serveware and more, according to Debra Joester, president and chief executive officer, JLG.
The Corona brand has partnered with Reef for a 3 season collaboration kicking off with men's and women's footwear and apparel collections timed for Cinco de Mayo, 2018. Corona and Reef plan join marketing support of the collaboration through Electric Beach events, social media, influencer campaigns, Corona's Summer Beach House promotion and other activities that will kick off during Cinco de Mayo and build throughout the summer. Corona x Reef footwear and apparel will be available at better specialty retailers that sell Reef branded product. This fall, the second Corona x Reef collaboration will hit the market to coincide with Dia de los Muertos on November 2nd.
Furthermore, Walmart continues to serve as the brand's largest retail partner, and national chains including Target, Kohl's and Kmart also have multi-category offerings.
In 2018, Spencer's will serve as a "Cinco de Mayo headquarters" for a broad assortment of Corona licensed products with merchandise, in-store displays and window signage.
Walmart continues to drive the greatest sales volume for the brand, with national chains including Target and Kohl's supporting multi-category offerings, and grocery retailers including Kroger and Publix supporting hard goods
"We find that partnering for extended collaborations over multiple seasons elevates consumer awareness and insures the collaboration delivers the desired impact. We are delighted the Reef collaboration with Corona extends over 3 seasons, insuring the partnership will break through the clutter of short term collaboration to drive buzz marketing, secure retail placement and engage consumers," says Joester.
In addition to its robust assortment of beverage brands, JLG has also reported success in growing Kellogg's and its lineup of brands including Frosted Flakes, Froot Loops, Coco Pops and Rice Krispies.
Recent highlights from the Kellogg's licensing program include a DTR partnership with retailer Typo, a division of Cotton On, that includes stationery and gift items including phone cases, journals, luggage tags, slippers, accessory pouches, cooler bags and mugs. The collection will also be supported by dedicated displays and shop windows. In 2017, JLG also teamed up with Uniqlo for a collection of graphic t-shirts featuring vintage Kellogg's characters, as well as Australian retailer Peter Alexander for sleep and loungewear.
JLG will also be expanding the Kellogg's home program this year. Partners include RSquared for tableware as well as Maxx Marketing for bowls, mugs and kitchen storage.
In an ancillary food segment, Brand Castle has signed on to develop seasonal Rice Krispies treat making kits for Halloween, Holiday, Easter and Valentine's Day, all of which are available at Walmart, Christmas Tree Shops and regional grocery stores.
Finally, for Entenmann's, JLG has teamed up with White Coffee for flavored coffees in single serve and ground bags, which will be available at Bed, Bath and Beyond, Christmas Tree Shops, regional grocery chains and more; Pelican Bay for pancake mixes, which will be expanded to include quick bread mixes in seasonal flavors; and Praim for branded chocolate bars, which will launch later this year.
Another licensing agency making waves in the food and beverage space is Brandgenuity, which represents brands like White Castle, Mrs. Fields, TCBY (in the U.S.), Welch's (in Europe) and Anheuser-Busch (in Canada, Europe and Asia).
One key licensing deal in the food and beverage space for Brandgenuity saw Anheuser-Busch collaborate with Savencia for the Pave a la Leffe, a cheese that leveraged the flavors of Leffe beer.
However, in the next 12 months, Brandgenuity is set to develop a host of food extensions for White Castle, which will range from meat snacks and salty snacks to condiments and sliced cheese; Mrs. Fields, which will include confections, baking ingredients and frozen breakfast items; TCBY, where the company will focus on frozen novelties and yogurt-based snacks; Welch's, which the agency plans to expand into juice, frozen fruit, smoothies and more; and more. Additionally, Brandgenuity will explore a host of food extensions for Anheuser-Busch.
Building on its robust assortment of properties, Beanstalk has also turned to food and beverage licensing with brands like Guinness, Baileys, Captain Morgan, Godiva, Turtles, Flipz and Filippo Berio.
For the Diageo family of brands, which includes Guinness, Baileys and Captain Morgan, Beanstalk reports that the top performing categories in the food and beverage space include confectionery, frozen novelties, meatballs, coffee and coffee creamers, beer batter/breading, baked goods, baking kits and salty snacks. Building on its lineup of top performing categories, popular licensing deals from the past year for Baileys included Ciao Bella Gelato for flavored gelato and Turn for liqueur-filled and non-alcoholic chocolate truffles.
This year, Beanstalk plans to focus on expanding the Diageo brands into more frozen options, on-menu and on-premise, meats and seafood, salty snacks, desserts, coffee and more.
Beanstalk is still in the early stages of developing licensing programs for Godiva, Turtles and Flipz; however, the agency is looking to extend the brands into food and beverage categories including ice cream, frozen novelties, beverages, baking, snacks, desserts and on-menu. For Filippo Berio, the agency is looking to add Italian-inspired products such as pasta, pasta sauces, dressings, bread and olives.
Finally, Seltzer Licensing has grown its robust food and beverage portfolio with brands like Breyers, Klondike, Popsicle, Good Humor, Popeye's Louisiana Kitchen, Del Monte and Campbell's, among many others.
Key highlights from Seltzer's licensing program from the past several years include Unilever, which has unveiled an assortment of co-branded ice creams including Oreo and Reese's to 15-plus countries around the world. The agency has also been focused on helping its clients use licensing as a solution for product format and category extensions domestically.
In 2018, Seltzer Licensing will continue to put an emphasis on international licensing as well as an overall focus on strategic/seamless food-to-food licensing extensions. The agency will also put an increased focus on brands like Campbell's, Unilever and Del Monte, among others.
"Food and beverage licensing, when done right, remains a highly lucrative category and one that continues to see growth particularly as more food and beverage brands view licensing as a real alternative to self or third-party manufacturing for product format and category extensions," says Stu Seltzer, president, Seltzer Licensing Group. "That said, recent retail trends and industry consolidation have led to limited shelf space and a smaller pool of prospective partners with adequate capabilities and quality. As such, food and beverage licensing, now more than ever before, requires a very strategic approach in order to ensure success and mitigate the inherent risks, which is why an agency like ours specializing in food and beverage licensing can really add value."
Read more about:
Subscribe and receive the latest news from the industry.
Join 62,000+ members. Yes, it's completely free.
You May Also Like
Loading..