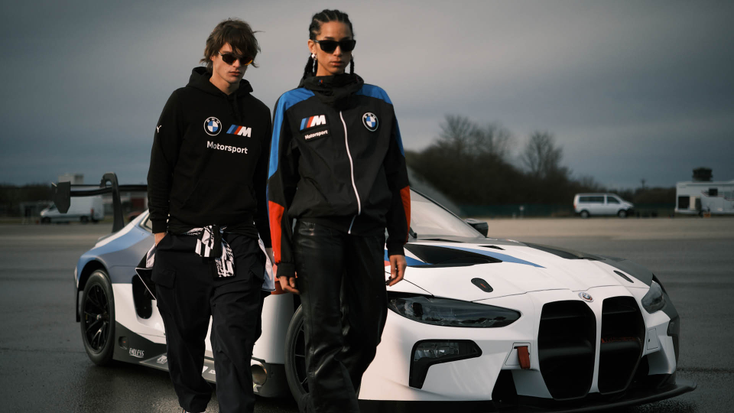 BMW M Motorsport x PUMA and eyewear from Marcolin.
Brandgenuity
At A Glance
The growth in food and beverage licensing

Ensuring products remain faithful to the core brand equity

Timing is everything
In 2003, four passionate licensing executives decided to join forces and launch an agency.
would focus on leveraging licensing as a tool for strategic growth and providing hands-on client service.
Marking its 20th year, partners Adina Avery-Grossman, Jay Asher, Andrew Topkins, Louis Drogin reflect on what they've seen in two decades of licensing and what's ahead.
Bringing Licensing to the Table
If there is one category that Brandgenuity has seen growth in, it's
. The agency represents brands such as
,
and the line of Sazerac spirits.
"Food licensing has grown exponentially," says Avery-Grossman. "As consumers' palettes have expanded and their desire for exciting new flavors has increased, companies have had to respond by looking for brands with unique flavors to 'spice up' their existing offerings. We are excited to share some of our work for Mike's Hot Honey, the authentic brand behind a trending new flavor. Mike's Hot Honey is excited because licensing
helps them build awareness and grow their retail footprint.
"We are making great strides with Sazerac brands (Buffalo Trace, Fireball and Southern Comfort) and its flavors, with salty snack partners and other food partners soon to be announced. The growth in snacking and at-home entertainment has fueled a trend of more convenient freezer snacks and apps. Brandgenuity, via licensee, Bellisio, was able to capitalize on these trends by bringing White Castle Chicken Rings and Castle Bites to grocery freezer aisles everywhere."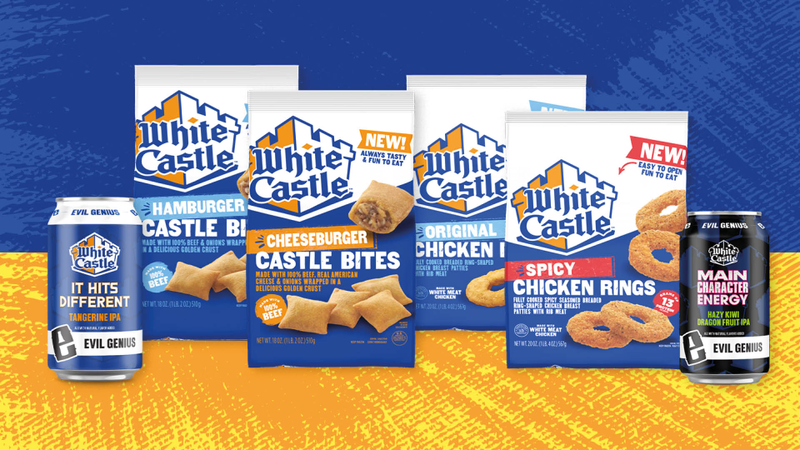 White Castle x Evil Genius Beer and Castle Bites, Brandgenuity
Lifestyle Lessons
Brandgenuity has represented several lifestyle brands including ARM & HAMMER, Ed Stafford, Banana Boat and Dr. Scholl's. Whether a household staple or in permanent rotation in your shoe collection, the agency works with the brand to ensure its licensed products remain faithful to the core brand equity and the consumer experience.
"Our clients' overall desire is to have fewer, bigger, better long-standing partners, especially in the corporate trademark space," says Avery-Grossman. "A greater focus is placed on how extensions
fulfill a strategic goal and deliver a quality experience. An example is the partnership between two category leaders – ARM & HAMMER in odor control and Medline in incontinence. Brandgenuity brought these partners together for FitRight Fresh Start, a full line of underwear and pads for women of all ages who experience bladder leaks, including new moms. The product is truly differentiated, with strong odor control and absorbency performance."
Sustainability is paramount to both brands and consumers, and Brandgenuity works with companies to uphold this initiative.
"Every one of our clients and licensees is engaged in this important conversation, and increasingly our clients are looking for partners who share this mission," says Avery-Grossman. "As a result, we are launching products with this in mind. The Groundtruth x Ed Stafford backpack was recently launched and is made from repurposed and recycled components and materials. We have also seen licensing as a vehicle for companies to exit businesses that are no longer a core priority but are
meaningful potential businesses for licensees or expand beloved brands that are not flagged for internal investment. It shows how licensing can be used as a strategic vehicle for portfolio management."
"Some long-term partnerships continue to grow and elevate, like BMW Motorsports x PUMA, which has been in the market for more than 10 years and continues to grow and evolve and reach new consumers by staying on top of current consumer trends and styles," says Avery-Grossman. "Others were high-profile, limited-time offer launches with streetwear and fashion brands including DC Shoe, Sunday Swagger, Wolverine, Huckberry, HUF, Supreme, Burton, Marc Jacobs and others."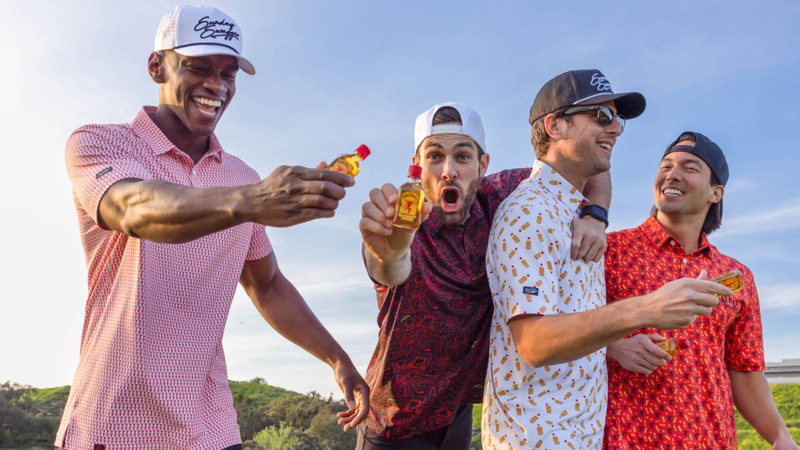 Fireball x Sunday Swagger apparel, Brandgenuity.
Global Reach, Done Locally
For most brands, the goal is to have a thriving global licensing program. But it has to start smaller before it gets bigger. Sometimes that global reach harkens back to a specific place and time.
"While we typically work on global partnerships, we have worked on regional partnerships as well," says Teri Niadna, managing director, Brandgenuity. "Our work with the NFLPA highlights the importance of localization. When the NFL began playing games in Germany this year, we needed to
quickly identify both in-market partners and distribution opportunities for global partners. We are currently finalizing plans with major German sports and fashion retailers for this year and adding local licensees in key categories."
"Recently, we worked with
Umbro to launch an MTV collab in the U.K.
to celebrate the rise of Acid House and rave culture in northern England, where Umbro was founded. Though inspired by a specific moment in the U.K. music scene, the collection achieved global distribution with its homage to nostalgic youth culture."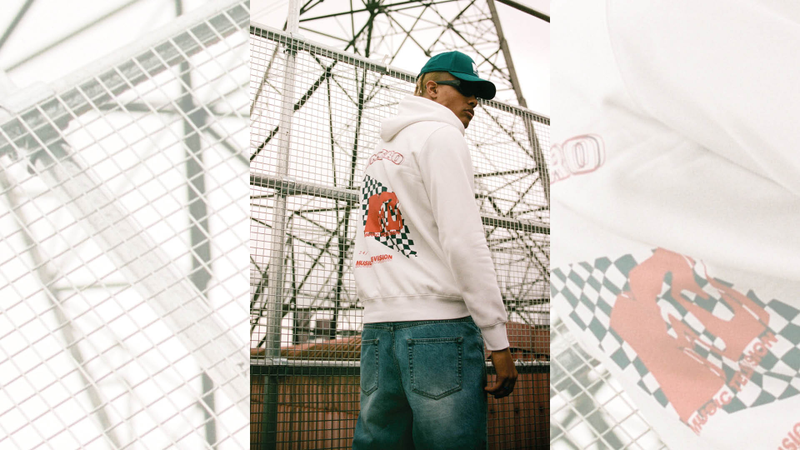 MTV x Umbro apparel, Brandgenuity.
Timing is Everything
Brandgenuity "select the right partners and work closely to ensure that there's a 360-degree activation plan in place to make sure that both the brand owner and the licensee are using all their marketing channels to promote and activate the partnerships from social media posts to in-store events, to a robust PR and marketing campaign," says Avery-Grossman. "A recent launch with
Sunday Swagger and Fireball is a great example of this – finding the right partner aligned with the brand equity, a partnership that got the brand team excited and ready to support on their channels. This launch started with great photo and video content, 'coming soon' teasers, planned social media, PR and influencer seedng."
Well positioned on License Global's Top Global Licensing Agents report year after year, Brandgenuity continues to sign new clients in the food and beverage and lifestyle spaces. The agency will reveal new partnerships in the respective spaces during
.
"Twenty years later, we're proud that we have enjoyed many long-term client partnerships that have benefitted from our senior-level client service, long-term outlook, brand-building approach and our commitment to deliver on their marketing goals," adds Avery-Grossman. "This industry is dynamic, as we are always responding to changing consumer preferences, new trends, new categories (and experiences) and new brands. We pride ourselves on never standing still."
Brandgenuity was recently named among License Global's
.
Subscribe and receive the latest news from the industry.
Join 62,000+ members. Yes, it's completely free.
You May Also Like
Loading..