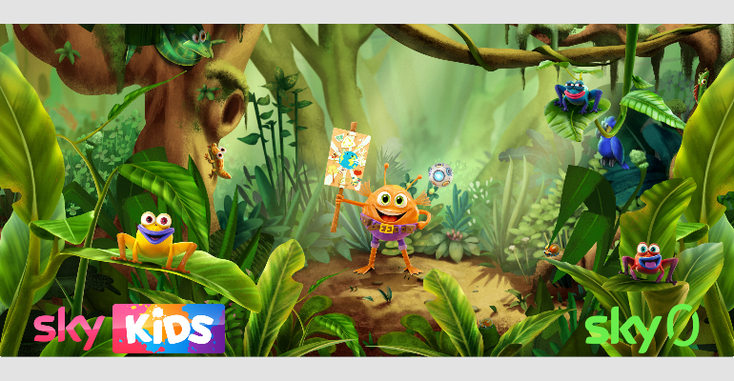 "Obki" a children's cartoon series on Sky Kids, is focusing on a sustainability agenda through a global platform through a series of worldwide licensing deals via newly-signed licensing agency the Radius Group.  
Launching at Brand Licensing Europe on Nov. 17 and supported by Products of Change, "Obki" will bring together sustainable companies to curate a range of brand lifestyle products, including apparel, plush, toys, food, drink and publishing for children. 
The cartoon series on Sky Kids features Obki, a loveable alien on his journey to be a positive force for good on Earth. The show is part of Sky's campaign to be net zero carbon by 2030 and its commitment to encourage its customers to #GoZero, by using its content and channels to raise awareness of the climate crisis and inspire viewers with actions they can take to protect the planet. 
Products of Change is a global educational hub aimed at driving sustainable change across consumer product markets and beyond and will highlight the
inroad that "Obki" on Sky Kids is making as a sustainable brand. With growing numbers of shoppers calling on retailers, brands and governments to implement change from Cop26, "Obki" is working with Sky Zero and Products of Change as part of its strategy.  
"'Obki' has a unique ability to command the most sustainable licensing partners and influence what toys, clothes and food consumers buy and how they use their purchases at home," says Damian Hopkins, global licensing expert and chief executive officer, Radius Group. Obki will lead by example, driving change in the character licensing industry, by collaborating with licensees and partners to deliver products with sustainability at their core."  
Obki founder Amanda Evans coins the term "small step sustainability" – the notion that providing customers with a wide range of branded goods that they know and trust as being truly sustainable will make it easier and quicker for them to make multiple sustainable decisions, both in store and at home.  
For 2022, Obki will focus on being the voice of positivity and proactivity in the face of climate change doom and gloom and communicate that small changes make a big difference. Customers will be able to view "Obki" on Sky Kids and obtain detailed information about the sustainability credentials of Obki's food, clothing, toys or homewares they are purchasing.  
"We want to educate consumers about Obki's sustainability principles and how they can shop more ethically and reach for the product that they know is better for the planet," says Evans. "Retailers will then be able to shift ethically minded consumers towards these products. Obki will become an active ambassador for climate change by inspiring the next generation to be environmentally intuitive in their thinking and decision making." 
"'Obki" is an example of a brand that embeds sustainability into its thinking and operations," says Helena Mansell-Stopher, chief executive officer and founder, Products of Change, "To see the ambitions of the team to build a truly sustainable licensed brand from content to product is pretty phenomenal, as well as incorporating a large proportion of the UN 17 Sustainable Development Goals within its sustainability framework. It is a real honor to be working with such a progressive team at 'Obki' to bring this to life, and I am really looking forward to watching its success around the world." 
Read more about:
Subscribe and receive the latest news from the industry.
Join 62,000+ members. Yes, it's completely free.
You May Also Like
Loading..