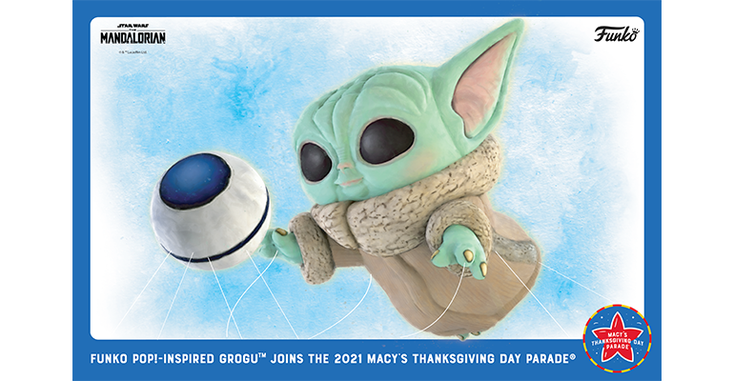 Funko, together with Macy's, and in collaboration with Lucasfilm, announced today that a Funko Pop!-inspired balloon featuring the character Grogu (known in pop culture as Baby Yoda) from the "Star Wars" series, "The Mandalorian" streaming on Disney+, will fly at this year's Macy's Thanksgiving Day Parade on Nov. 25.  
The Grogu-inspired balloon emulates the Funko Pop! version of the character. A limited-edition Macy's Parade balloon-inspired product line will be available for sale only on 
. Additionally, Macy's will have selected items from Funko available for purchase at Macy's Herald Square this fall.   
"The giant balloons in the Macy's Thanksgiving Day Parade have always reflected the very best of pop culture and there is no better example of that than Grogu, who has become an instant global sensation," says Will Coss, executive producer, Macy's Thanksgiving Day Parade. "We are thrilled to collaborate with Funko and Lucasfilm on this Funko Pop! version of the beloved character
that is sure to delight legions of 'Star Wars' galaxy fans."  
The balloon will measure 41 feet high, 29 feet long and 37 feet wide, as it flies down the streets of Manhattan in the Macy's Thanksgiving Day Parade, adding pop culture magic for Funko and "Star Wars" fans and delighting millions of spectators in person and on television. The newest addition will join a lineup filled with Macy's signature mix of giant character helium balloons, fantastic floats, marching bands, performance groups, celebrities, clowns and Santa Claus on Thanksgiving Day. 
"Funko is ecstatic to bring the Funko Pop! version of the character as a Grogu-themed balloon to the Macy's Thanksgiving Day Parade," says Brian Mariotti, chief executive officer, Funko. "Connecting one of pop culture's most recognizable characters from one of the biggest entertainment brands in the world with one of our nation's most beloved holiday traditions is truly a moment in pop culture history that will be remembered by Funko fans and millions of other viewers." 
Funko also collaborated with Lucasfilm to develop an all-encompassing line of consumer products, including: 
Funko Deluxe Pop! bobbleheads 

Funko hooded sweatshirt (kids and adults) 

Funko T-shirt (kids and adults) 
"Grogu has become a global phenomenon, captivating fans of all ages with his charm, humor and loyalty, as seen in 'The Mandalorian' on Disney+," says Paul Southern, senior vice president, franchise and licensing Lucasfilm and National Geographic, Disney Consumer Products, Games and Publishing. "This fall, fans will be able to see Grogu reimagined in a size befitting his impact in the 'Star Wars' galaxy and pop culture, as well as enjoy a new sampling of Grogu-inspired products in celebration of this momentous occasion." 
In a special episode of The Licensing Mixtape, Funko and Macy's sat down with License Global to talk about the project. Both Funko and Macy's share why Grogu was chosen to be a part of the annual holiday parade, which will air nationwide on NBC-TV, Nov. 25 from 9 a.m. to noon in all time zones.  
"We feature the best family entertainment, and we would like to feature immediately recognizable children's characters," says Jordan Dabby, vice president, partnership marketing, Macy's Parade & Entertainment Group. "We want characters that transcend generations and audiences. We know that our audience is children watching with their parents and watching with their grandparents. The ultimate litmus test is when you look at a balloon in Macy's Thanksgiving Day parade. No matter where you are, where you're from, that character is immediately recognizable and evokes some wonderful emotion within the family." 
"During a pandemic year when there was so much going on, it almost feels like The Child and 'The Mandalorian' provide us a little beacon of light to so many people and it just was such an awesome thing that came out that people gravitated towards and it made everybody happy like united so many different kinds of people," says Dolly Ahluwalia, vice president, licensing and business development, Funko.  
To hear more about this project, listen to License Global's exclusive interview with Funko and Macy's on The Licensing Mixtape here: 
Subscribe and receive the latest news from the industry.
Join 62,000+ members. Yes, it's completely free.
You May Also Like
Loading..