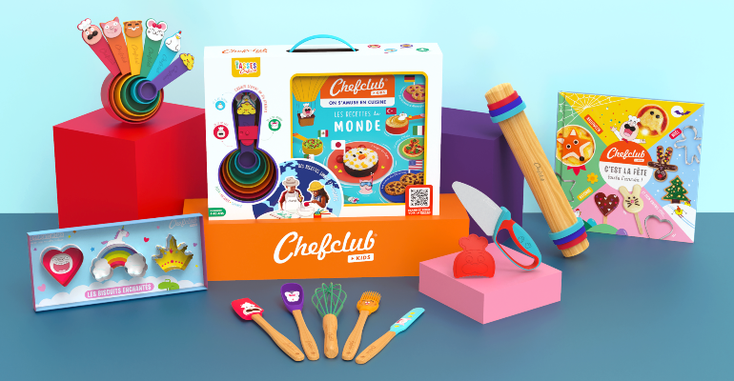 One of the world's most influential culinary channels on social media, France-based Chefclub aims to make cooking fun. One of the most powerful outlets for this driving value is through educating kids on how to cook through characters, short online videos and licensed products. The latest addition to the Chefclub Kids portfolio is the upcoming launch of a dedicated animated series for 5-7-year-olds titled "Chefclub Friends."  
Marie-Laure Marchand, senior vice president, global consumer products, business development, Chefclub, speaks exclusively to License Global to offer insights into the growth of the brand from food to family-friendly edutainment. 
License Global: How has Chefclub grown over the years to reach a level ready for adaptation into the animation market?  
Marie-Laure Marchand: In just six years, Chefclub has grown from a digital concept created by three brothers in a family kitchen in Paris into a worldwide 'eatertainment' phenomenon with 100 million subscribers and 2.5 billion
monthly views on social media.  
We developed the Chefclub friends' brigade, the animated mascots from our kids' channel within this growth. These popular characters have a recognizable look and feel that perfectly express our DNA and brand positioning between food and entertainment. They are at the core of our Chefclub style guide and have been instrumental in developing Chefclub consumer products. This has helped us take our digital brand into the real, physical world with cookbooks (700,000 sold to date), a 50-piece Chefclub by Tefal cookery range and 250,000 kids kitchen kits sold.  
We now have five themed channels that cater to different market segments, including our super popular Chefclub Kids. This channel has a passionate community of young cooks and foodies, the inspiration and springboard for animation. We want to create another way for our followers to immerse themselves in the world of cooking, using our popular Chefclub brigade of endearing characters but with the added element of adventure, fantasy and travel made possible through animation.  
LG: How have you conducted that adaptation and transformation from an online brand to animated storytellers in your new animation series, Chefclub Friends?  
MLM: The Chefclub Kids animated mascots are at the heart (and soul) of our move into animation with the Chefclub Friends series and are the core of our brand identity. Head chef Maurice and his kitchen brigade – Lola, Carlton, Colette, Elvis and the Kikitos – feature in our videos, communication, on the website, in cookbooks and cooking products, so they are well known as well-developed characters in our community. Each has a distinct personality and role in our virtual kitchen, which will be very easy (and fun!) to translate into adventurous stories on screen. We know that children love to follow the Chefclub Friends on our platforms and products, so an animated series is a natural way to add another dimension to the brand.  
LG: What can fans expect from the Chefclub Friends series, and how does it have a different twist to traditionally animated shows thanks to its background as a digital brand?  
MLM: Any new animation series benefits from having a pre-existing fanbase from other platforms, be it publishing or toys, for example. But having a massive fanbase from an established digital brand like ours provides a distinct advantage in today's entertainment industry. Firstly, there is no time lag in offering viewers exciting ancillary, immersive content beyond the series – essential for building brands and loyalty. We already have six years of excellent, relevant content immediately available for our viewers, which is a huge plus for keeping audiences engaged. And secondly, our existing production and channel capacities mean that we can simultaneously create customized content linked to our episodes which can be viewed on Chefclub Kids. This will allow us to go into greater detail on our channel – cooking recipes, for example – while keeping the animated series all about adventure and comedy. The opportunity for cross-promotion and building awareness between brands is enormous.  
LG: It's your sixth year, so how do you forecast the Chefclub brand to continue expanding through licensing, adaptation and brand extension?  
MLM: We have a lot of exciting and ambitious plans to extend our brand. First of all, we will expand geographically into new markets where we do not yet have a dedicated page available and increase our presence in key territories such as the U.S. and Europe. In places like the U.S. – where half of our 2.5 billion views are – we will focus on increasing content on different platforms (AVOD, FAST channels, linear, etc.). We will also capitalize on our digital expertise to diversify the formats we produce to distribute Chefclub programs on all kinds of media. Of course, we will continue creating a steady stream of the best entertainment content in the world.  
This will pave the way to move into the physical space to a greater extent, with pop-ups, cooking experiences and more consumer products. 
Read more about:
Subscribe and receive the latest news from the industry.
Join 62,000+ members. Yes, it's completely free.
You May Also Like
Loading..