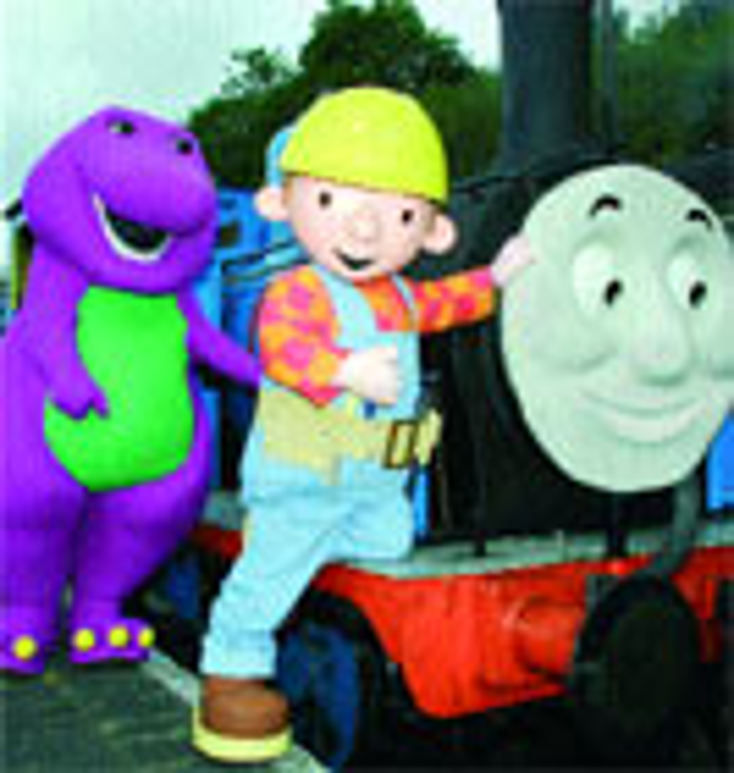 ]>The robo-fetish of Toy Fairs past was replaced by toys that can be spun, molded, baked, and even brewed. While trend watchers at this year's Toy Fair were hard-pressed to spot any real standouts, many did find a host of licenses co-existing and thriving in an increasingly competitive marketplace.
The Toy Industry Association validated the belief that even in a down economy, toys continue to succeed: Traditional toy sales were up 1.7 percent in 2001 to $25 billion, says Patrick Feely, chairman of TIA and president and CEO of Radica. He further predicted the overall industry would grow by 6 percent in 2002.No doubt, many of today's and even tomorrow's hot licenses will play an integral role in that growth curve. High-profile movies will tempt consumers to purchase merchandise for Spider-Man, Lilo & Stitch, and Spirit: Stallion of the Cimarron and sequels to Harry Potter, Lord of the Rings, Stuart Little, Star Wars, and many others. TV viewers also will keep the momentum going for favorites
such as Bob the Builder, Dora the Explorer, SpongeBob Squarepants, Clifford the Big Red Dog, Blue's Clues, Power Rangers, and Dragonball Z. Newcomers such as Angelina Ballerina and Butt Ugly Martians and format changes for Sesame Street and Barney also will attract a new generation of consumers into the fold."There are a lot of licensing opportunities this year," says Michael Tabakin, director of corporate marketing, licensing, and entertainment at Toys "R" Us. "It is going to be a good theatrical year with lots of exciting new films and sequels. TV properties will also continue strong." Play patterns have undergone a change with the robo-fetish of Toy Fairs past replaced by toys that can be spun, molded, baked, and even brewed. Many companies have taken a serious look at a new generation of goods that bring families together such as arts and crafts, games, spinning tops, dolls, and action figures.
Toy Fair HighlightsBinney & Smith: "Crayola will be a huge focus for the company with the goal of growing its licensing program by 30 percent vs. 12 to 15 percent posted in previous years," says Diane Adams, manager, global licensing. Some key categories are toys and games, stationery, publishing, digital (from software to Game Boy), home furnishings and accessories, among others.
Funrise Toy Corp.: The company enters the science category with nine Crayola branded Discover and Draw optical products such as microscopes, telescopes, and planetariums. "The line not only gives us a great brand but gets us into the specialty store market," says Director of Marketing David Schwartz. Also new is an Easy Bake (Hasbro) cotton candy maker, lemonade maker, and a cake-decorating center.
Curiosity Kits: The company more than doubled its edibles category from five skus to 13 skus with products such as Chocolate Oozin' Alien Eyeballs, Giant Crunchy Chocolate Bugs, and Chocolate Monster Pops. Also important is the Easi-Art Maker, the first children's oven just for arts and crafts, and the Fun-Maker line, which includes the Magic Color Sno-Cone Maker, Swirl Master, and Clay Maker.
Little Kids: Building on its bubble business, the company is adding more seasonal products. New licenses for 2002 are Sesame Street with six new bubble skus, and SpongeBob Squarepants with five products including a Sno-Cone Maker, Soak 'N Grow Spongies, and Jellyfish Soak 'N Splash. "SpongeBob was a perfect fit for us and could expand our age demographic," says President Jim Engle.
Hasbro: Excitement already abounds for new license BeyBlade, a line of 15 dueling, spinning tops (29 by year-end). The softer side of Play-Doh came into play with the company using easy-to-squeeze Play-Doh in all 2002 introductions. Play-Doh comes out of the can for the first time in a tube with shaped extruder and in a resealable foil bag.
Jakks Pacific: Jakks' Road Champs Gyro-Riders feature action sports figures that perform spinning moves with the pull of a ripcord. Attach them to skateboards, inline skates, snowboards, scooters, and BMX bikes. Jakks' division Flying Colors also is coming to market with several Nick-branded compounds such as Skweeez and new twists on Gooze and Zyrofoam.
Bandai: The company's largest-ever product line includes themed action figures, zords, playsets, and role-play sets for Power Rangers Wild Force, as well as other products for its Gundam brands. Two new properties came into the fold: Cyclonians, which incorporates a new spin on a classic play pattern when spinning top meets robot, and Hello Kitty with a line of small dolls. Bandai also is shopping around for a TV partner for Cyclonians.
Learning Curve: After acquiring the Madeline license in the fourth quarter, the company adds 44 new skus, bringing total skus to 100. New for 2002: poseable and ragdoll collections, playsets, and key holiday item Madeline's Horse & Carriage. Hello Kitty joins the FeltKids line, while the company pares down Lionel by more than 50 percent but adds new tracks, destinations, and characters for Thomas the Tank Engine.
Spin Master Toys: New deals signed for classic property Shrinky Dinks with newcomers Spider-Man, Spirit: Stallion of the Cimarron, and the rights to all classic Disney characters. The company also made its first two licensed food items after signing deals with Hershey's for Hershey's Chocolate Magic and with ICEE Corp. for an ICEE Maker.
Ohio Art: Licensing activity is planned around Betty Spaghetti with a new deal with Random House Children's Publishing for a variety of formats due spring 2003. Also on tap: a line of kids' toiletries from New Dana due June, followed by fragrance for third quarter. Etch-A-Sketch continues strong with sales up 15 percent and an exclusive deal with Avon for a Valentine Etch-A-Sketch due in other channels 2003.
Little Tikes: LT launched the toddler-size, electronic sounds-embedded Buzzz About Mailbox interactive center. According to Al Hellinger, director of LT brand development, other items receiving good reception included licensed goods such as plush from New York-based Prestige; infant ELA (electronic learning aids) from Lombard, IL-based Team Concepts; and a tool set and vehicle line playset from Markham, Ontario-based Thinkway Toys. New licensing opportunities for LT include ready-to-assemble furniture and children's publishing.
Razor USA: Chrysler is licensing the brand name-primarily known for scooters-for a concept car, the Dodge Razor. The brand will be featured on BMX bikes, skateboards in specialty stores, and at Toys "R" Us. TRU is doing a mid-year exclusive for Razor Jr. with a variety of items.
4-Kids Entertainment: Rollouts of Yu-Gi-Oh!, the kids-based entertainment property that originated in Japan, include exclusive distribution of trading card games in North America from Upper Deck Entertainment, based in Carlsbad, CA (under license from Konami); video games designed for Sony PlayStation and Nintendo Game Boy Color from Konami; and figures, puzzles, and games from Mattel.
Mattel: It was Barbie's expanded world, as Mattel aims to transition the icon from a traditional licensing opportunity to brand management, according to Richard Dickson, senior vice president, worldwide girls consumer products. New launches include Barbie as Rapunzel, in which she paints her way out of the castle. Barbie also has some new ways to get around town with a sparkling silver Volkswagen Beetle or Volkswagen Microbus. The 1970 Malibu Barbie is back...this time with SPF 30 sun protection.
Meanwhile, Matchbox is celebrating its 50th anniversary with a ride across America. A special collection of 50 vehicles will each represent one of the 50 states in the union. Each state vehicle will be sold with a miniature replica of the state's license plate.
Nickelodeon: Toy Fair attendees and members of the press got the chance to meet Joe (played by Donovan Patton), the new host of Blue's Clues. Joe has been integrated into product offerings. At the conference, Leigh Anne Brodsky, senior vice president, Nickelodeon consumer products, announced that Jimmy Neutron was nominated for an Academy Award in the animation category.
Peg Pérego: Children ages 3 to 7 now can drive around in their own John Deere tractor, trailor, or loader. All are chain drive/pedal. The John Deere Gator is a high-performance, 12-volt, two-seater vehicle, targeted at ages 3 to 7.
Subscribe and receive the latest news from the industry.
Join 62,000+ members. Yes, it's completely free.
You May Also Like
Loading..