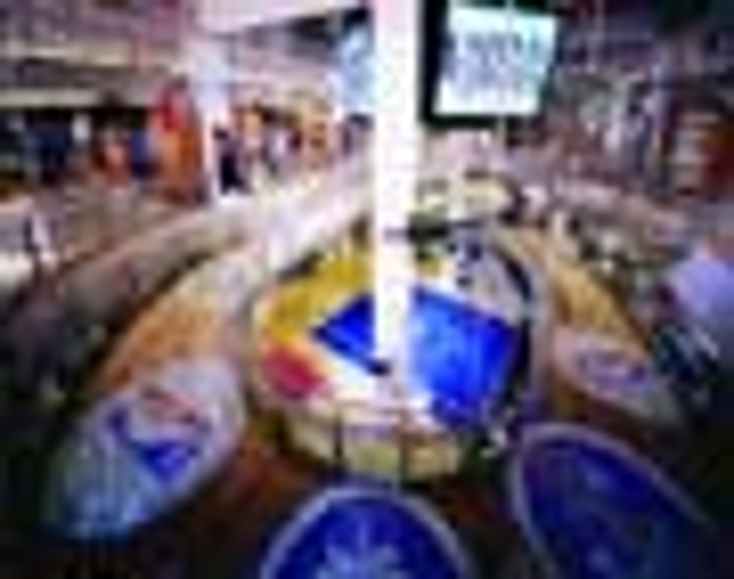 ]>Leading art-based licensors are evolving their patterns and distribution strategies.
Art licensors in the nearly $5 billion art licensed home goods category are facing new growing pains in the realms of creativity, distribution strategy, and legal issues. As their popularity rises, and the mass market beckons, artists are forced to find new ways to offer all tiers of distribution the patterns and respect each requires for successful sell in and sell through. But the real challenge is figuring out just how much to change to remain fresh but recognizable.At the Int'l Housewares Show, it was evident that Debbie Mumm changed her style dramatically when dinnerware maker Sakura in New York unveiled Mumm's In Full Bloom pattern, a contemporary, bright, and clean floral design. Traditionally, Mumm's product patterns featured homespun, folk-art-rooted images (stemming from her quilting background) and characters such as penguins and teddy bears.Other Mumm floral images, such as Lavender Tea Garden,
have been introduced on fragrant candles by Lincoln Candle Company, Convoy, OH, and will debut on shower curtains by Cincinnati-based bath products supplier Saturday Knight Limited.
"To not experiment and try new things is against my nature," says Mumm, based in Spokane, WA. "For me it's a balancing act between what comes from my heart and what the marketplace wants to see.""We have received overwhelming positive results to In Full Bloom," says Jeff Grinspan, Sakura vice president and director of licensing. Sakura is already building a collection of coordinated hand-painted accessories and matching glassware."Change is part of the biological imperative that ensures survival of the species," Grinspan explains. Retail buyers love newness, but the danger, for any artist or brand, is if the look mutates too dramatically. "Then no one recognizes the species."No stranger to change, Virginia Beach-based artist Danna Cullen has moved from moose themes to Marrakech designs in the span of four years or so. "I don't like to exhaust a pattern," she says. "It's certainly advantageous to be known and recognized, but you run the risk of getting stuck in a place and the world doesn't want you to go. I try to avoid that by being versatile at all times."
Water colorist Paul Brent, a big coastal scenes painter, has been swapping brightly colored seascapes for more neutral tones and palm tree subjects. The new grouping is called The Plantation Home Collection, and Brent has even changed his medium to oils. "We're changing our palette to meet the colors popular in the home d¯r market today," says Ellen Seay, licensing director, Paul Brent Designer in Panama City, FL.Susan Winget, managed by agent Courtney Davis, has taken on six to 10 licensees over the last month or so, says Linda Balogh, president, Courtney Davis, Menlo Park, CA. "Her [Susan Winget] look today is broad compared to five years ago. As a result, it has brought her into so many new businesses."Big PictureFolk artist Warren Kimble is approaching change more cautiously, but with the big picture of expanding distribution in mind. His agent, Linda Balogh of Courtney Davis, is steering product patterns away from Kimble's traditional icon-driven look (such as a colonial flag or red barn) toward a more "environmental" concept.
"We have created the At Home With Warren Kimble (AHWWK) collection to allow all our licensees to simultaneously tie into the same pattern looks and colors," says Balogh. "We're moving into a branded strategy."
That means a new AHWWK table linen from Elrene Home Fashions in New York may merely be a solid blue-sans the sailboat or silo. A sneak peek at flatware from Sakura reveals a three-rivet handle in one of at least three colors, with nary a flag in sight. The collection as a whole debuts at the April markets.
"We're giving the manufacturer room to develop a whole environment. We don't want to Kimbalize everything," says Balogh. The goal is for someone to walk into a house decorated with Kimble-inspired home furnishings and feel very comfortable, rather than to notice he or she is in a room full of art licensed product.
The merchandise for AHWWK will be customized to each distribution tier. For the big box chains that specialize in truly romancing a vignette, the collection has the opportunity to shine. For the gift tier, AHWWK offers merchants a single-theme, boutique-able presentation strategy.
The challenge for Kimble's new distribution frontier remains at chains such as Bed Bath & Beyond. In these big box operations, bedding at times is displayed acres away from tabletop, forcing some of the air out of AHWWK presentation oomph.
"To make this concept effective, we're relying on the big box stores to take AHWWK on in full," Balogh comments. "If we've done a good job up front, then the consumer will see a trend throughout the store."
The Next Level
Americana illustrator Mary Engelbreit, a fairly established art brand known for checkerboard and cherry designs amid black and bold color ways, is permitting just a few select licensees to take her patterns to a new, softer level. The goal is expansion, but only within the core gift tier trade. So far.
Although still recognizably Engelbreit, tabletop resource Michel & Company and fabric supplier Cranston have dabbled in downplaying the artist's use of sayings, cherries, and canine characters and instead have pumped up pattern elements such as lattices, harlequins, and swirl designs. For some, light blue, lavender, and sage tones are outshining the traditional Engelbreit palette.
"We're getting some good feedback on the lavender designs," says Andrea Zeeb of Culver City, CA-based Michel & Company, speaking of the response from independent gift store buyers. "What sells is the checks and cherries, but we're always pushing the art in a new direction."
This is a trend-bucking move for Michel since Engelbreit-sponsored customer research suggests that only about 22 percent of the loyal fans like the new, softer side of Mary. "My illustration style has remained pretty consistent over the years because this is simply how I like to draw," Mary Engelbreit says. "Sometimes I think I'd like to change my style a bit, but honestly, our customers really like the style I've been drawing for years. They seem so happy with it and I love drawing this way, so I think, why change?"
That said, the new style of images is meant to expand Engelbreit's home d¯r appeal within its core independent specialty and gift trade, a tier that has supported the artist for years, notes an Engelbreit spokeswoman.
The importance of distribution issues was underscored late last year when the firm closed 10 of its 11 company-owned Mary Engelbreit gift stores to focus on additional distribution with a variety of retailers, CEO Greg Hoffman said at the time. Since then, studio executives have been in intense meetings trying to determine the best course for future expansion while keeping in mind the needs of the gift store trade.
Rising Stars
Artists with a design background-i.e., those who have actually made product and are not just exceptionally gifted with a canvas and brush-are just getting their due as new stars of the home world.
Susan Sargent, a textile designer who knows her way around a loom and possesses a flair for color, is set to launch a fairly extensive home products program. Her agent is Art Impressions in Canoga Park, CA. Home-related licensees include bedding resource Springs Industries, Fort Mill, SC; York Wallcoverings, Borders & Fabrics, York, PA; and pottery marketer Present Tense, Sterling, VA.
"We felt like we had a good fit with Susan," says Lisa Behe, director of marketing, Present Tense. "We like bold and vibrant color patterns, and we like her fun and contemporary motifs. We have a lot of whimsical stylings in our own patterns that aren't run of the mill-and Susan's work is the same way. It's for someone who wants to make a statement at home."
Lexington Home Brands in Lexington, NC, has the rights for furniture and has sublicensed The John Richard Collection, Greenwood, MS, for home accessories. The launch of these products most likely will be October at the Int'l Home Furnishings Market.
Carpenter/designer/artist Barton Hatcher, a 25-year employee of Wilmington, NC-based Cape Craftsmen is another star-at least the home furnishings resource treats him that way. Although not collecting a royalty from Cape Craftsmen, Hatcher gets featured designer status in the Cape Craftsmen catalog alongside some of his stellar Flower Power furniture designs.
The collection includes items such as a 3-D flower-shaped table ($100 wholesale), some stools ($25 wholesale each), a wall cabinet, commode, and mirror. The just-launched Flower Power set is piquing the interest of several catalogs and one national chain, says John Hillman, president of Cape Craftsmen. The resource supplies 8,000 mom-and-pop-owned shops and some direct marketer catalogs.
Hatcher aspires to one day create a licensed line of home goods that "in no way" would compete with Cape Craftsmen, he says. His interests lie in categories such as lighting and modern designs of case goods and upholstered furniture.
Imitation Art
As an artist's popularity rises, so does the incidence of imitation. Sure it's the highest form of flattery, but it can be costly. Trademark infringement can damage the sales potential for the licensees paying the big bucks in upfronts and guarantees to have the privilege to use designs.
Changing styles and patterns is one way to keep ahead of imposters, but a better way to hold the perpetrators at bay is to confront them. "We have never litigated," says Steve Mumm, president of Spokane, WA-based Debbie Mumm, Inc. But he has contacted manufacturers who have produced Mumm designs on merchandise without permission. "A Canadian company once sold three different patterns of our designs on fabric to the [off-limits] mass market."
Mumm settled with the infringers out of court, but the incident roused the ire of the independent retail tier. "It hasn't been a big problem, but it is something licensors have a responsibility to address," advises Mumm.
Mumm says consumers are often the most alert and communicative watchdogs when it comes to infringement. "We get notes from customers saying they spotted a product that 'just didn't look right,'" he says. "If you allow one firm to infringe," he cautions, "you set a precedent for other businesses to likewise take advantage."
Going Solo
Danna Cullen made the switch from in-house artist at dinnerware maker Zrike to branded licensor. But it took four years, a lot of determination, and a flair for working the factory circuit in Asia.
After graduating from Parsons in 1989 with a degree in illustration, Cullen worked for a couple of footwear firms, designing product for labels such as Jordache and Bandolino. Her travels to Taiwan and mainland China factories while in the footwear business played a crucial role in getting her name in Zrike's catalog.
In 1994, eager to break away from corporate America, Cullen and a roommate roamed the halls of the 225 Building in Manhattan with illustrations of teapots and cookie jars. They were quickly overwhelmed with project work.
"What the dinnerware industry really needed was someone who could draw three-dimensionally," Cullen recalls. She got so much project work that Cullen opted to walk away from footwear and begin a full-time position with Zrike. There she helped develop a line of dinnerware for a well-known licensed artist and an established brand. Cullen also continued to do some project work on the side.
In 1998, Zrike sent Cullen to China, solo, to visit factories and make corrections and improvements on product as necessary. "I insisted at that time that if I accomplished the goals for the trip, that I would get my name on the back of the product I designed."
By the end of 1998 Cullen shifted to the role of licensed designer. Her name finally was placed on the backstamps of ceramic dishes.
Now, three years later, Cullen's designs at Zrike are heating up. "Danna has one of the best-selling designs in the company, and her Chanticleer pattern is the No. 1 seller at Marshall Field's right now," says David Zrike, owner, The Zrike Company in New York. Cullen's dinner plates retail for about $19 each, open stock.
Cullen is Zrike's first and only artist to transform herself into a licensor, but she's not necessarily the last, Zrike adds.
Cullen represents herself when brokering licensing deals. Her current roster of licensees includes The Rug Market, Los Angeles, for area rugs; Cape Craftsmen, Wilmington, NC, for home furnishings; and Rug Barn, Abbeville, SC, for soft home products such as pillows and throws.
Subscribe and receive the latest news from the industry.
Join 62,000+ members. Yes, it's completely free.
You May Also Like
Loading..