The beloved children's classic,
The Very Hungry Caterpillar
by Eric Carle, will be celebrating its 45th anniversary in 2014 and The Joester Loria Group has big plans for the property.
"
The Very Hungry Caterpillar
has been one of the top children's books for over 40 years, with more than 33 million copies sold worldwide," says Debra Joester, principal, TJLG.
Carle's distinctive, hand-painted tissue collage style and simple writing has delighted children worldwide for generations.
"The World of Eric Carle, anchored by The Very Hungry Caterpillar property, has transcended beyond books to become a classic infant/toddler brand, beloved by parents and children alike," says Joester.
Joester says The World of Eric Carle licensing program has become increasingly successful worldwide since
The Very Hungry Caterpillar
celebrated its 40th anniversary in 2009.
Recent highlights include the kick-off of a Pottery Barn licensed program in 2010 with more than 40 products. The retailer recently renewed the license.
Recent highlights include the kick-off of a Pottery Barn licensed program in 2010 with more than 40 products. The retailer recently renewed the license.
Another recent success, The World of Eric Carle spring 2011 Kohl's Cares for Kids promotion, was the best-performing program in Kohl's Cares history, says Joester.
New Product Lines
Carle also has a big international following.
"This is a truly global property that has great appeal in Australia, Germany and Japan, as well as in the U.K.," says Joester. "Key retailers include BabyOne in Germany, Kruidvat in Belgium and John Lewis in the U.K. Target, the strategic partner in Australia, recently reported 50 percent sell-through for apparel and has now expanded the program to toys and other categories."
The brand, which now has 100 licensees in 13 countries, continues to add new programs. In Japan, where
The Very Hungry Caterpillar
is the No. 1 book by an international author, there are new product lines ready to ship including paper crafting books from Kawade Shobo Shinsha, table and wall clocks from Alias, fashion t-shirts from Design Graniph and a Benelic gift line targeted to young women.
In Germany, two new licensed lines will soon debut: licensed porcelain and melamine infant/toddler dinnerware sets from Koninklijke Kempen en Begeer and puzzles from Schmidt Spiele.
New domestic licenses include a line of infant development toys from Kids Preferred introduced at Babies 'R' Us and Buy Buy Baby, and a full range of paper party goods from Celebrate Express.
The company is pursuing a new adult gift collection to include tabletop, décor and gifts, as well as silk scarves and ties for future licensing agreements.
The book's 45th anniversary holds even more opportunity–and not only for The Very Hungry Caterpillar brand. A year-long campaign in collaboration with Penguin and other publishers will kick-off in time for holiday 2013.
While
The Very Hungry Caterpillar
is the best-known Carle book, The World of Eric Carle brand encompasses 70 books including
The Grouchy Ladybug
,
Brown Bear
and
Brown Bear What Do You See?
Several Carle favorites are featured in new style guides being developed by The Eric Carle Studio and TJLG.
Popular in the U.S. and Abroad
Caterpillar is a proven, evergreen property with 72 percent U.S. brand awareness among parents of children ages 2 to 5, according to Joester. In the U.S., 60 percent of children ages 0 to 5 own at least one Carle book–that percentage jumps to over 94 percent for children the same age living in households with income exceeding $100,000 annually.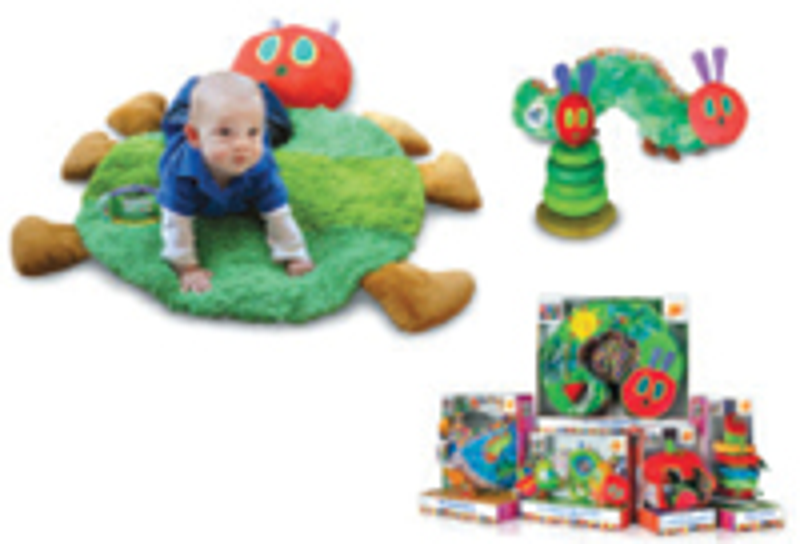 Carle's signature vibrant colors and iconic characters have enduring popularity not only because they are familiar to parents, but also because they carry the cachet of an educational property that delivers learning experiences. Each year, schools nationwide celebrate Carle's art with activity kits and reading activities that coincide with The Very Hungry Caterpillar Day on March 20.
In 2012, thousands of public libraries launched The Very Ready Reading Program with literacy guides, parent take-home materials and in-library marketing.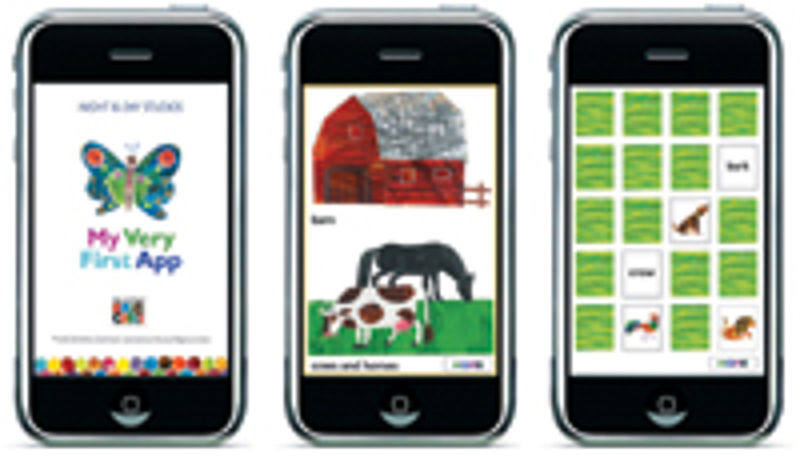 Carle remains an enduring presence in the children's publishing industry with his most recent book,
The Artist Who Painted a Blue Horse
, occupying 18 weeks on the
New York Times
best-seller list in 2011.
"Eric Carle has always provided children with great, inspirational art," says Joester. "That's what enables us to bring his designs not only to the children's market, but to develop products for juniors and adults who grew up with his art."
Social media platforms and apps are increasingly important venues for children to connect with The World of Eric Carle and Joester says TJLG is actively pursuing new ways to engage children.
"We are using social media to engage with moms every day through Facebook, Pinterest and Twitter, and offering lots of activities they can do with their children," she says.
Apps are a growing market for the brand. Night & Day Studios has adapted Carle's vibrant illustrations from My Very First Books into a suite of interactive, educational games. Children will be able to learn and play with more themes and characters from The World of Eric Carle as multiple new apps are introduced annually.
"Forty percent of American kids have access to tablets or smartphones and the number is growing exponentially," says Joester. "Studies show parents believe apps for young children offer a more interactive and educational experience than passive television viewing, and we are delighted with the early success of The World of Eric Carle apps."
Subscribe and receive the latest news from the industry.
Join 62,000+ members. Yes, it's completely free.
You May Also Like
Loading..