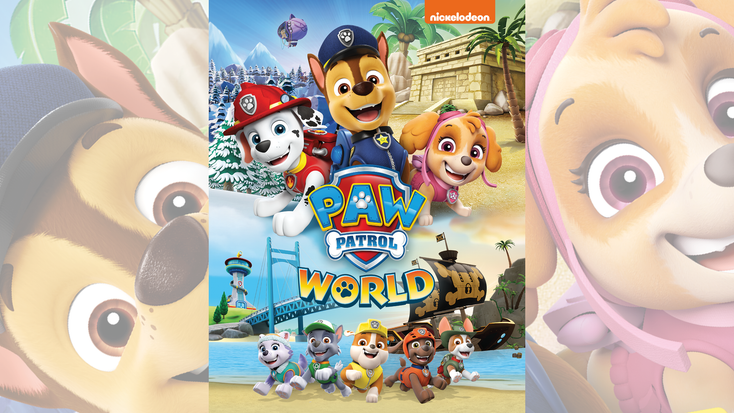 "PAW Patrol World" promotional poster
Outright Games
At A Glance
Big name collaborations

Trend Spotting and Standing Out from the Crowd

UNICEF Partnership
Founded in 2016, family business,
, has been making waves in video game publishing over the last few years. Terry Malham Sr., who has over 40 years of experience in the industry, set up the company.
In the seven years since its inception, Outright Games has released a roster of 28 games featuring some of the most well-known family franchises, including "
," "DC's Justice League: Cosmic Chaos," "
," "Peppa Pig World Adventures," "Transformers: Battlegrounds" and "DreamWorks Dragons: Legends of the Nine Realms."
It has accomplished this by partnering with some of the biggest names in entertainment, including Sony Pictures, DreamWorks Universal, Nickelodeon, Warner Bros. and Hasbro, to bring characters and stories to life.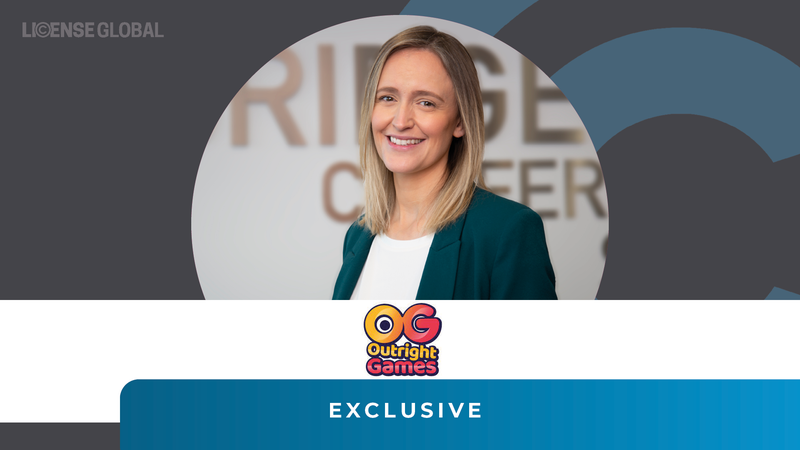 Stephanie Malham, Outright Games
"We saw a huge gap in the market for quality, officially licensed video games for kids and started Outright Games with our primary goal being to address this need," says Stephanie Malham,
chief operating officer, Outright Games and Terry Malham Sr.'s daughter. "My brother, Terry Jr., is part of the team and leads our business development and licensing division. Our focus as a family-founded business continues to be on making the best games possible, that are the most fun for families to enjoy together.
"There are a lot of complexities that go into creating games for such a wide age range, ensuring they're simple enough to control and play for the youngest gamers, but still engaging and challenging for older siblings and parents. As such, we ensure that all of our titles are focus-tested by the appropriate age group very early on in development, and this has led to the implementation of features such as auto-drive controls, automatic camera controls, gameplay assists and so much more to ensure the experience is scalable for different age ranges."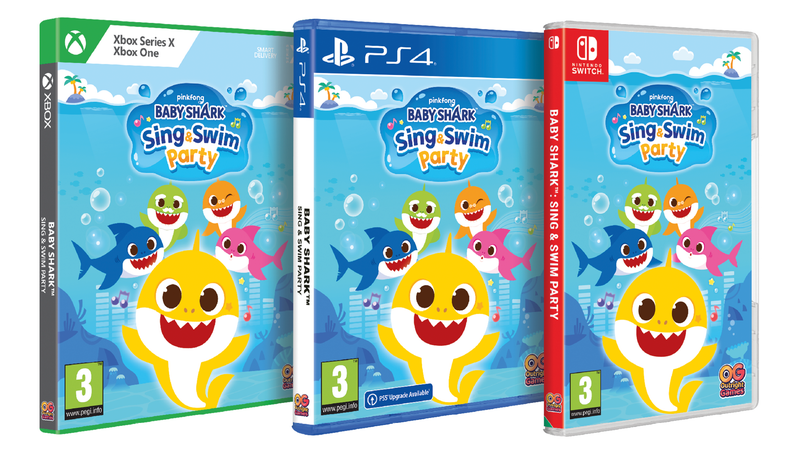 "Baby Shark Sing & Swim" video games for XBox, PlayStation 4 and Nintendo Switch, Outright Games.
Trend Spotting and Standing Out from the Crowd
The global video game market was valued at $195.65 billion in 2021 and, according to Grand View Research, is expected to expand at a compound annual growth rate of 12.9% from 2022 to 2030. While licensing has helped Outright Games stand out in this fiercely competitive space, the company works closely with its network of licensing partners, as well as its business insights and creative design team, to track popular trends. This keeps the team in tune with audience expectations and enables them to monitor the growth of new licenses.
"When one has been identified, our game design team takes the lead on creating a fun and authentic concept which then is evolved in partnership with the licensor's brand teams, eventually becoming the foundation of the game that we will eventually create," says Malham.
Working with licensed IP means that all Outright Games' titles come with a pre-built audience, which can be a challenge to over-come, but it is also the company's unique selling point. Many of Outright Games' titles don't focus on the well-known, often told story of the IP that audiences might expect when going to the cinema to see a movie. Instead, they focus on a "smaller" brand path and delve deeper into bringing other aspects of the story to life.
"One of the most exciting things about the way we work with our partners and IP holders is that our games tend to most often focus on the newest iterations of the brand, be it the latest TV series, movie or toy line," says Malham. "That said, so many of the licenses we work with have decades of history, legacy and built-in fanbases. We have a fantastic relationship with all our licensors, and the back and forth between us, their experts on each brand and our own internal evangelists and mega fans ensure we're looking after these franchises in the best way possible."
Many IPs featured in the games are just as beloved by adults as by younger audiences. By including older references and Easter eggs that pay direct homage to the lineage they come from, the titles can cater to a wider spectrum of ages.
"We've created games based on legendary franchises such as
,
and
, which have been set in the worlds of their highly successful animated series adaptations," says Malham. "We understand there might be a whiplash effect of older fans seeing that a new Transformers game has been announced and then finding out that it is being made for younger gamers."
Malham explained that the key, when marketing these products, is the clarity of the messaging around them, in terms of the branding and the name, to ensure there's no confusion about the games' intended audience.
"We're creating video games, for the new generation of fans of these well-established series franchises that will also appeal to long-term fans as well," Malham continues. "We do this by putting our target audience first and then ensuring the games are fun to play as a family. We want family members who already love the IP to be excited that there is an incredibly fun way to introduce new fans to something they've been a part of for decades and in a medium that is incredibly modern and ever-expanding."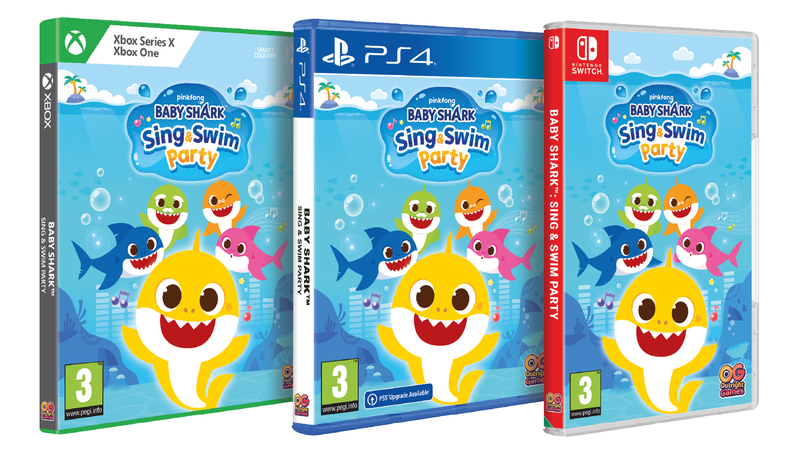 "Baby Shark Sing & Swim" video games for XBox, PlayStation 4 and Nintendo Switch, Outright Games.
Outright Games, UNICEF Partnership
In April,
Outright Games announced a long-term partnership with UNICEF
in support of the world's most vulnerable children. The agreement sees the company leverage its access to children's brands to raise a minimum of £200,000 ($257,000) for UNICEF's Resources for Results Fund. The Fund helps pioneer new ideas to address challenges faced by children worldwide while enabling UNICEF to rapidly support those in need during humanitarian emergencies.
"We noticed an ongoing campaign between UNICEF and Hasbro back in 2021 and reached out to UNICEF to discuss a potential collaboration for the launch of our game 'PJ Masks: Heroes of the Night,' which we were also working on with Hasbro," says Malham. "From there, we began talking with the charity in more detail, and it became clear how well our values aligned with UNICEF's incredible work. We realized that we were perfectly positioned to sign a bigger partnership agreement with them and have now become UNICEF UK's first official video game industry partner."
One of the partnership's first major activations was the launch of the "Hasbro Kids Bundle," which collected some of Outright Games' best licensed titles from Hasbro, with all profits from sales going directly to UNICEF.
"We've announced that there will be
more bundles launching this year
as part of the ongoing partnership and that they too will feature collections of some of our very best games from our amazing licensing partners," adds Malham. "You'll have to stay tuned to find out more, but they're coming soon, and we're so excited to continue our amazing work with UNICEF."
With such a fast-moving and rapidly developing story, it's no surprise that Outright Games has a host of activities in the pipeline for the coming months. Building on the work with Sony Pictures and the Jumanji franchise, the latest game, "Jumanji: Wild Adventures," will release later this year, one of seven titles that are due to launch between September and December that will represent the breadth and variety of the portfolio of games.
"We have games being released based on film franchises, TV shows, books, toy lines and streaming content, ensuring we will have something for everyone to play this holiday," concludes Malham. "These games include not only the biggest blockbuster franchises in the world, such as Transformers and Jumanji, that speak to older gamers, but we have the biggest '
' game ever made, bringing a fully open-world Adventure Bay to life for the first time ever, that younger fans will be delighted by.
"We're looking at every entertainment medium to inspire us to create amazing interactive experiences, such as 'Pinkfong's Baby Shark,' which originally came to life on YouTube or our upcoming title, 'Rainbow High: Runway Rush,' based on the incredibly popular doll line. 'The Grinch: Christmas Adventures' will be based on the best-selling book series, and this will be the first game based on the iconic character in over 16 years. Finally, we still have one more title to announce that will release later this year and be the first major video game based on one of the most popular current kids' TV shows in the world."
Watch the "PAW Patrol World" Trailer ...
Read more about:
Subscribe and receive the latest news from the industry.
Join 62,000+ members. Yes, it's completely free.
You May Also Like
Loading..