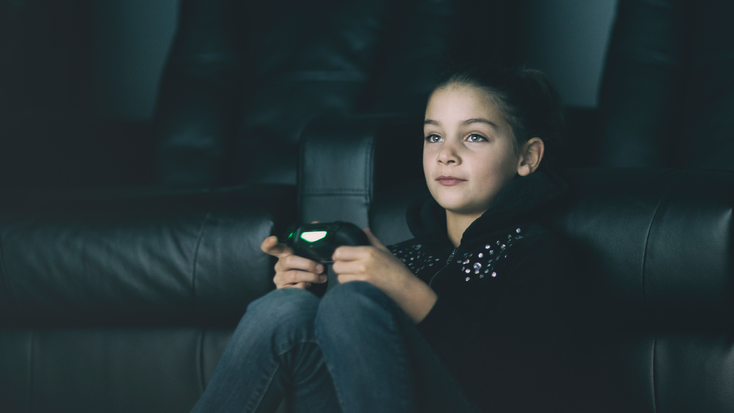 Girl gamer
Rebecca Nelson, Getty Images, iStock
At A Glance
Intellectual property at play

The many levels of licensing

What's next for gaming  
Video game titles
have provided players with the most interactive and immersive stories, exciting gameplay mechanics and memorable experiences in intellectual property history. So great is the power of the in-game experience that individual titles, characters and stories – even consoles – have driven some of the biggest fan bases around the globe and continue to do so long aft er any game's life cycle. Today, according to Exploding Topics, there are a reported 3.09 billion active gamers worldwide, with that player base expected to rise to 3.32 billion by 2024.
According to Fortune Business Insights, the video game market is also expected to reach a market value of $665.7 billion by 2030, cementing itself as the go-to entertainment medium for numerous vital demographics, namely Gen Alpha through millennials. However, the power of gaming is not just in numbers. The sheer time spent on any given video game title dramatically outweighs that of any other medium in the entertainment sector, providing
fans and players with over 80 hours (about three and a half days) of gameplay, re-playability and countless multiplayer experiences. In short, the power of gaming lies within its immersive capabilities. That immersion and the subsequent fandom it creates has allowed brand licensing, consumer products and the broader business of collaboration to thrive in the space and explore increasingly creative avenues of engagement.
Intellectual Property at Play
The market size is clear, with 79% of the online population heavily engaged in gaming, per Newzoo. Equally interesting is the growth of intellectual property's role within that medium, making way for significant mergers and acquisitions. Brands like Embracer are driving new adaptations aft er acquiring the studios behind – and subsequent rights holders of – global video game franchises, such as "Tomb Raider," "Hitman," "
" and "Deus Ex." The group also acquired the business of tabletop gaming brand,
, and globally renowned comic book publisher, Dark Horse Comics. After opting to restructure its acquisition-heavy strategy this year due to global economic uncertainty,
is now focusing on the assets within its portfolio with licensed – or licensing-active – games such as "Payday 3," "Warhammer 40,000: Space Marine 2," "
Hot Wheels Unleashed 2: Turbocharged"
and many more hitting shelves soon. One pivotal case study and a significant move within the gaming business is
Microsoft's acquisition of Activision Blizzard for $69 billion
. At the time of writing, this acquisition faces legal delays after competitors and governing financial bodies in the U.S. and U.K. stated the merger would provide
too much power within the market, namely due to the IP ownership and potential console exclusivity of Activision's extremely popular "
" franchise as well as "Overwatch," "Warcraft " and "Diablo" and the subsequent esports leagues connected to each title. Microsoft currently owns studios 343 Industries ("Halo"), Playground Games ("Forza"), Obsidian Entertainment ("The Outer Worlds") and ZeniMax, owners of Bethesda ("Fallout" and "The Elder Scrolls"), all of which have long-standing global fan bases. Regardless of the result, brands like Embracer and Microsoft have spotlighted the importance of IP in gaming and its deep connection with fans.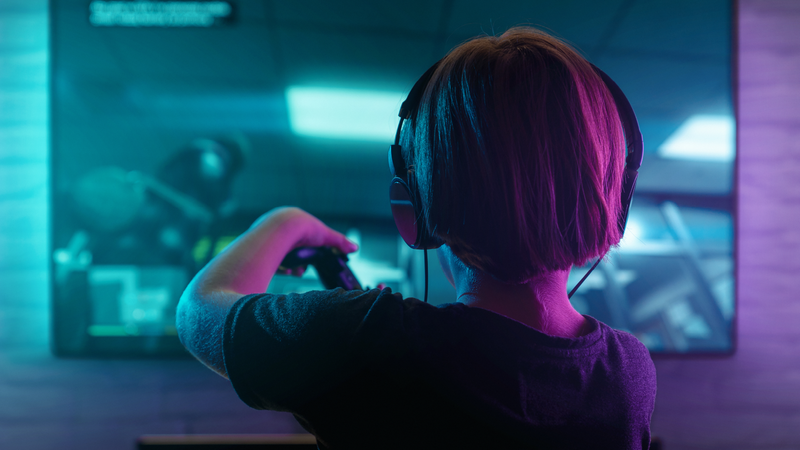 Little boy playing video game, Nastco, Getty Images, iStock
The Many Levels of Licensing
Intellectual property in gaming has also been behind meteoric success stories in both physical and digital fan engagement initiatives, allowing brands within gaming to grow alongside the gaming business. One significant role of licensing in gaming is in-game collaborations, appearances and downloadable content. "Call of Duty" recently came to the fore after Snoop Dogg and Nicki Minaj arrived as playable operators to celebrate
50 years of hip-hop in "Call of Duty: Modern Warfare II" and "Call of Duty Warzone,"
alongside playable characters from Amazon Series' "The Boys" and recent appearances from characters, such as Rambo, Leatherface, The Terminator, Shredder and more. This model is not just confined to "Call of Duty."
With over 170 collaborations since its launch in 2017 (Dexerto), Epic Games' "
" became a leader in the space aft er holding regular events, battle passes and series with topical appearances, collaborations and licenses from Star Wars to Marvel, "Cobra Kai," "Dragon Ball" and "Stranger Things." Titles such as "Fall Guys," "Mortal Kombat," "Dead by Daylight" and "Sea of Thieves," among many others, also adopted this licensing model and saw ongoing success with fans worldwide.
In-game licensing allows both parties to engage with players, promote new launches and even host in-game events, such as the now-renowned Travis Scott or Ariana Grande concerts, giving fans a new way to play each time. The most recent is
Nike's partnership with Epic Games on "Airphoria,"
an in-game concept designed to combine the signature stylistic elements of Air Max with the dynamic landscape of "Fortnite." Powered by Epic Games' groundbreaking Unreal Editor for "Fortnite" (UEFN), Airphoria allows fans to engage with Air Max sneakers and the Nike brand in a new way, according to its creators.
"Airphoria represents a new, immersive experience for Nike as it amplifies its efforts in gaming and virtual products," said Ron Faris, vice president, general manager, Nike Virtual Studios, during its launch in June. "As digital and physical worlds become more seamless across the products and experiences we off er, we're always seeking authentic ways to deepen our connection with fans, expand access points to Nike across our digital ecosystem and inspire a love of sport and play." While digital collaboration is a proven method of engagement, one exciting model becoming more celebrated in fan circles is the video game experience. We're not simply talking about cosplay conventions or esports, albeit both are huge markets with dedicated followings, but also
location-based experiences (LBE)
. Just one exciting model within the LBE market is the video game concert.
, for example, recently revealed dates for an orchestral experience dedicated to fans of FromSoftware's "Elden Ring" with the "
Elden Ring Symphonic Adventure
," set to premiere in Paris in January. From Software and Bandai Namco's "Elden Ring" reached 20 million players this year after launching to critical acclaim in 2022.
"After the worldwide success of 'Elden Ring,' our ambition is to expand the franchise further and offer new experiences to our fans," said Aadil Tayouga, director, licensing and business strategy, Bandai Namco Europe, during the reveal in July. Working with Overlook Events to produce the experiences – the people behind "Dragon Ball Symphonic Adventure" and "Assassin's Creed Symphonic Adventure" – the event will merge 4K gameplay and key story moments paired with orchestral and choir music.
Whether it's "Fortnite" and Unreal Engine's collaboration with LVMH or
"Minecraft's" celebrated line of apparel, food and beverage, toys and footwear with Crocs
, the collaboration market is an open opportunity to engage with fans of all demographics. "Minecraft" is one key collaborator in the licensing space. Recorded as the most played video game on the PC of all time according to Newzoo, "
" has created best-in-class partnerships with Mattel, Disguise, Kellogg's, Crocs, Pringles, Cheez-It, Burberry, PUMA, Ravensburger, BBC Earth and Lacoste to name a few, expanding its signature gameplay and aesthetics into authentic, fan-focused and creative consumer extensions.
Speaking with License Global for the launch of this year's Fashion Issue
, Federico San-Martin, director, Minecraft Consumer Products, said, "'Minecraft' gives us freedom to create. I love that it allows the community to craft together and to celebrate creativity. You can create anything you want in 'Minecraft.' 'Minecraft' is for everyone. The gameplay is very engaging, and it is easy to play […] It's a beautiful brand because it allows people to come together." The accessibility of a gaming title like "Minecraft," its resonance with its player base and the ongoing engagement it can organically create through gameplay, stories, seasons, live-service updates and downloadable content means any given gaming title can become a 24/7 global immersive experience. However, it's not just games playing in the licensing world. Even consoles are engaging fans at retail, including PlayStation, Nintendo, XBOX and Atari, all creating fashion, apparel and accessories to help fans showcase their identity.  
Friends having fun playing video games at home, DisobeyArt, Getty Images, iStock
What's Next for Gaming  
License Global investigated areas of interest for brand owners across the licensing landscape regarding gaming in the
Top Global Licensors 2023 report
, spotlighting 30% of global licensors planning collaborations with video game brands in 2024. This year alone, "Hogwarts Legacy" sold over 15 million copies and grossed over $1 billion, Warner Bros. Discovery's fifth $1 billionplus game, next to games within the Mortal Kombat, Game of Thrones, DC and LEGO franchises. EA's "Star Wars Jedi: Survivor" saw millions of players explore the universe within the first two weeks of launch this year, and Nintendo's "Zelda: Tears of the Kingdom" sold 10 million copies in just three weeks, becoming one of this year's most globally played games – with countless others still to hit shelves.  
For 2024, new games preparing for launch are aiming to fill the increasing partnership demand. Titles such as "Suicide Squad: Kill the Justice League," "Star Wars Outlaws," "Warhammer Age of Sigma: Realms of Ruin," "Ark 2," "Avowed," "Blue Protocol" and "Final Fantasy VII: Rebirth" and more are due for launch, alongside movie adaptations of major gaming franchise, "Borderlands," and the third movie in SEGA's blockbuster franchise, "Sonic the Hedgehog 3."  
For gaming, its ongoing power comes from its creativity, versatility, engagement and immersion, from upcoming indie titles to global triple-A studios. For the brand licensing community, the increasing time spent in-game and the widening demographic of players, platforms and genres mean there are countless partnership opportunities for brands to meet the players wherever, and whoever, they are.
Read more about:
Subscribe and receive the latest news from the industry.
Join 62,000+ members. Yes, it's completely free.
You May Also Like
Loading..