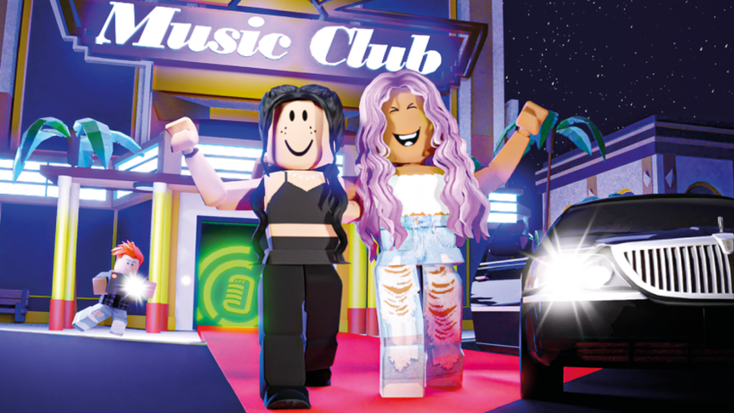 "Roblox" avatars outside the in-game Music Club.
Roblox
According to the Metaverse Marcom newsletter, brands like
(18.4 million), SEGA's Sonic (18 million), Warrior Cats (12.5 million), Hello Kitty Café (10.3 million) and Teenage Mutant Ninja Turtles (7.5 million) came out on top for monthly visits. The top 20 games garnered a collective 106.5 million.  
However, in July, the top 20 games garnered 128.3 million, giving August a 17% decrease month over month.  
"Well-established branded games near the top of our rankings take a dip month-over-month, but we also saw brand-new experiences fail to take off in their first month," says Metaverse Marcom on LinkedIn. "As we enter fall and back-to-school season in September, we imagine that we'll see even further visit declines in next month's list." 
Metaverse Marcom's June report also
showed a decline in "Roblox" users. Summer break for young users did have higher numbers than now, the beginning of the back-to-school season, but overall visits for the top-20 branded "Roblox" games still took a dip from May to June by 11%. 
"From a seasonality perspective, this decrease in branded games visits comes as somewhat of a surprise and is worrisome," says Metaverse Marcom on LinkedIn. "June is the start of summer break in much of the world, giving kids more time to play "Roblox." So, does this decrease in branded game visits mean fewer kids played "Roblox" in June? Or does it mean fewer kids played branded "Roblox" games in June? One comparison seems to point to the answer being the latter – fewer kids playing branded "Roblox" games in June." 
Non-branded games, however, had an increase of 3% in June. Branded products are not to blame for the decrease in branded games and the increase in non-branded games. Branded products still sell, with
License Global's Top Global Licensors report
noting that retail sales of licensed consumer products and experiences in 2022 exceeded $278 billion among the top 84 brands in the report alone.   
What caused the decrease in branded game visitors? Evergreen content continues to perform in the licensed consumer product space, but when it comes to entertainment, getting fatigued by constant reboots and sequels has proven to be a thing in the entertainment industry. This year, in April, it was announced that a reboot of the "Harry Potter" film series would take place via HBO television series, and many fans weren't happy. So much so that
entertainment commentary writers like Jamie Burton at Newsweek
saw the trend and highlighted why original Harry Potter fans are convinced that the reboot is "going to fail." 
"While nothing has been confirmed in relation to a TV reboot of the Harry Potter series, fans of the franchise have shared their reasons for why they think a remake won't work," says Burton. "The reasoning ranged from it being unnecessary at this point to Rowling's fall from grace in the eyes of the LGBT community." 
Burton also highlighted other journalists' and commentators' thoughts on the project, including British journalist, Ed Fortune, who "was surprised by how far the attempt at a reboot got," and suggested the franchise is in a "slow decline" stage. "This is either a phoenix rise or a death rattle," he wrote. "Too early to tell, but I do note that no names are attached to the project, which you'd expect at this stage." 
Twitter Blue subscriber, Alec Mavrinac, called for the industry to "get creative" and find new IPs rather than leaning on nostalgia to rake in the revenue. "Can we come up with some original content and stop reusing past films that are successful enough to not have a lame reboot?" he asks. "We don't need any more films relying on nostalgia to sell."  
Though
, oversaturation is a possibility, and consumers could choose to move on from their favorite IP temporarily until the déjà vu calms down. 
Without being able to comb over years of data that doesn't yet exist, this is simply a hypothesis. Still, the adults playing "Roblox" could be searching for something new because of their immense loyalty to the original IP. Assuming children are the only ones playing on "Roblox" (they're not, but they're an important piece of the puzzle), parents may not be in charge of what IP children love, but they are in charge of what they're exposed to. How can they fall in love with a rebooted or extended IP if their parents are loyalists to the originals? 
Branded games are still doing numbers in the millions for "Roblox," but the increase in non-branded games shows a shift in desire for consumers. Though nostalgia and brand loyalty will always sell, consumers are also constantly on the hunt for their next great love in IP – new show, new movie, new video game. The available data (shown above) argues the need for "IP balance." To succeed, the licensing industry doesn't want to be completely out with the old and in with the new but cannot cling to older IP as its only saving grace. The next big thing is out there, ready to capture numbers. 
Read more about:
Subscribe and receive the latest news from the industry.
Join 62,000+ members. Yes, it's completely free.
You May Also Like
Loading..