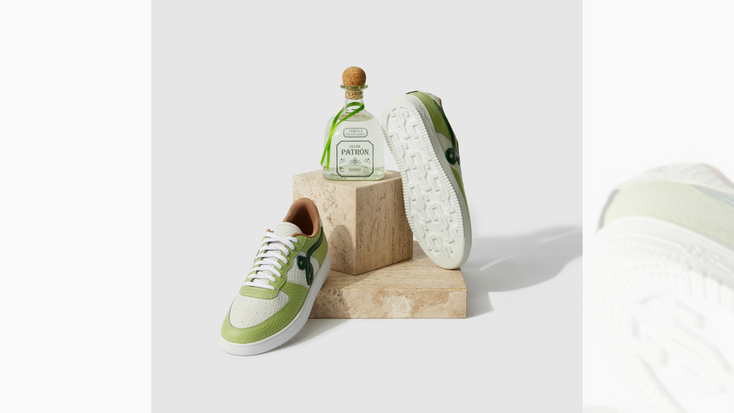 Patron x John Geiger Sneaker
Cinco de Mayo
Liquor brands have gotten the celebrity treatment over the years. Partnerships like like Kendall Jenner and 818 Tequila, George Clooney and Casamigos and Wild Turkey Longbranch Whiskey with Matthew McConaughey (created by the celebrities), or Sean Combs and Cîroc, Jay-Z and D'Usse and LeBron James and Lobos Tequila (promoted by celebrities,) keeps consumers coming back for more. 
When consumers associate a product with a person they hold dear to them, the revenue comes rolling in. License Global digital editor, Barbara Smith,
previously reported the power of celebrity association in liquor licensing
. In the report, Smith pointed out the partnership between Combs and Cîroc led to the creation of nine vodka flavors, a premium spirit, RTD cocktails and an increase in sales.
Data from Numerator has concluded shifts in consumer behavior related to holidays. The cultural touchstone of a holiday gives consumers an excuse to gather and celebrate, and with celebration comes the need for celebration
supplies like alcohol. 
Take Cinco de Mayo. In a 2023 Q2 Holiday Intentions Preview, Numerator examined U.S. consumer intentions around upcoming spring holidays, and sourced insights from verified purchase data to get a glimpse at 2023 Cinco de Mayo shopping habits. 
They found that 40% of U.S. consumers plan to celebrate Cinco de Mayo, with Gen Z and millennials more likely to celebrate than other generations. 92% of Cinco de Mayo celebrators plan to purchase something for the holiday, with 54% purchasing alcoholic beverages.
Among the purchasers of alcohol, 52% will purchase beer, 41% will buy traditional cocktails/mixed drinks, 33% will buy spirits and 24% will choose wine.
Numerator also concluded that the holiday increases unit purchases for individual companies. Mexican brands that made the list include Corona (18%), Natural Light (16%), Dos Equis (13%) and Modelo (12%). In the spirits category, tequila sees the biggest boost for Cinco de Mayo with 1800 Tequila seeing a 59% increase in units, followed by Hornitos (50%) and Patron (+28%).
The data shows that celebrating holidays impacts the purchases of consumers, and therefore what they buy can shift in the spirit of that holiday. Holidays like Cinco de Mayo have untapped licensing potential. When people think Cinco de Mayo, they often think of spirits, giving licensing executives in the alcoholic beverage space the room to explore its power.Case in point: celebrations can go further than alcohol purchases for Cinco de Mayo. Product collaborations like 2022's Patrón Tequila x John Geiger sneakers transformed the holiday into a sort of pseudo-celebrity. The brand and designer collab could have worked on its own, but the collaborators upped the ante by releasing the collab specifically for Cinco de Mayo.
In this licensing deal, Cinco de Mayo was treated as the star of the campaign, a reason to purchase beyond just the designer and the alcohol brand – just like brands have done with celebrities in the past.
"Patrón has a captivating energy that brings like-minded partners together with us; these collaborators become part of our familia," says Chloe Lloyd-Jones, vice president, marketing, Patrón Tequila. "Sharing a passion for craft and bold innovation, Patrón is excited to be teaming up with John again to bring this unique offering to life in time for Cinco de Mayo, a moment that is all about gathering with great company and great cocktails."
In License Global's spirits report, Smith concluded that only time would tell what's coming next for the world of spirits. Just like bunnies and Easter or shamrocks and St. Patrick's Day, licensing deals can benefit from the "celebrity" power of any holiday. Licensing executives just need to get the creative juices flowing.
Read more about:
Subscribe and receive the latest news from the industry.
Join 62,000+ members. Yes, it's completely free.
You May Also Like
Loading..