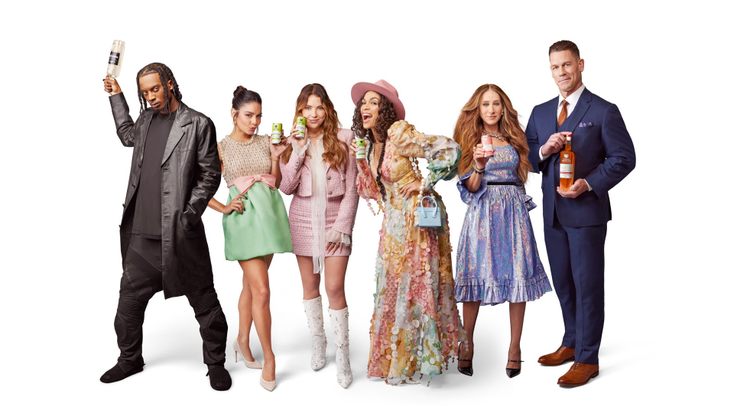 (From L to R): Playboi Carti, Vanessa Hudgens, Ashley Benson, Rosario Dawson, Sarah Jessica Parker and John Cena.
Thomas Ashbourne Craft Spirits
Celebrities promoting (or creating) their own brands is nothing new. The power of celebrity cannot be overstated. The market for celebrity-involved spirit brands is expansive. Some create (think Kendall Jenner and
, George Clooney and
and
Wild Turkey Longbranch Whiskey
with Matthew McConaughey), some invest and then may own (Diddy and
, Jay-Z and
and LeBron James and
) and some endorse (Nick Offerman x
Lagavulin Offerman Edition Single Malt,
Vera Wang x
). You get the point.
When Sean "Diddy" Combs joined the Cîroc brand in 2007, it was unlike the typical celebrity-fronted spirit. Although the Diageo-owned brand was firmly established in the spirits world, the addition of Diddy to the mix took the brand to the next level. The partnership has lead to the creation of nine vodka flavors, a premium spirit, RTD cocktails and according to The Financial Times, a jump from 60,000 cases sold in a year to 169,000 cases sold once Diddy was involved.
License Global has reported on celebrity spirits, including a Dry January campaign by Tito's Vodka featuring Martha Stewart and the Marlon Brando estate entering the licensing space for spirits. This category will only continue to grow year aft er year.
Case Study: Drink it Up by KISS
Created in 2020 in partnership with Brands for Fans and
, part of
merchandise and brand management company, Bravado, the brand initially rolled out KISS Black Diamond Rum. After more releases, including Monstrum and Detroit Rock combined with success overseas, the brand finally
in 2021, including a gin option. 
According to Jesper Poulsen, general manager,
, expanding into the spirits category made perfect sense for the brand.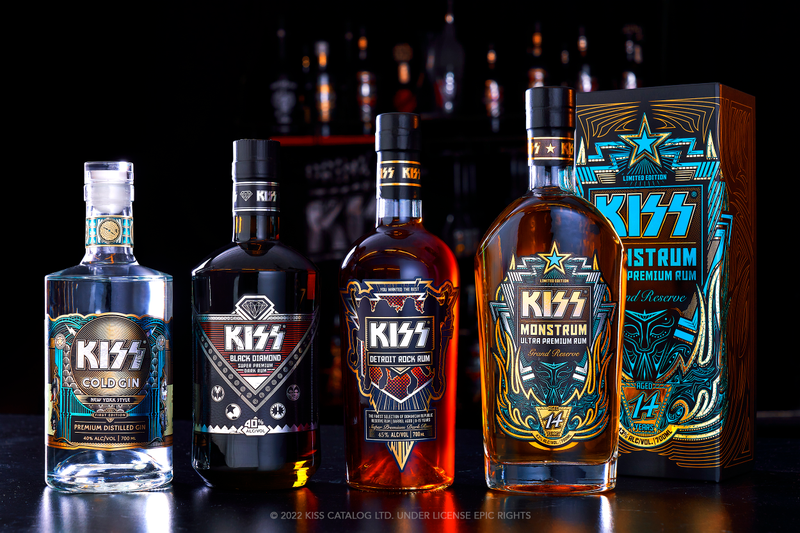 "The music collectibles category has exploded over the last few years," says Poulsen. "This has created a halo of categories, including spirits, that want to layer in collectability and music into the collaborations of their assortments." And like other brands mentioned above, the celebrities are more than just figureheads for the brands. For the Drink it Up line, both Gene Simmons and Paul Stanley have contributed to the production of the line including taste, branding and promotion. Poulsen says it was important to create an "overarching brand."
The line has become an integral part of the band, with the annual KISS cruise featuring the entire Drink it Up Line onboard, and the restaurant chain Rock & Brews (which Simmons and Stanley are part owners of) serves a cocktail with an offering from the line. "KISS is one of these peculiar brands that can really do anything," says Poulsen. While Epic Rights can't divulge exactly what's next for the brand, Poulsen has taken note of trends emerging in the spirits space, including mocktails.
"It is certainly something we're looking at," says Poulsen. "We have artists that are in AA, and those types of opportunities are much more in line with what they are and follow the same model creating an extension of a brand that is something that hasn't really existed as much in the past." 
Ready-to-Drink is Ready to Rock 
As the pandemic wanes, consumers are ready to reenter the world, which means gatherings with friends or family, or even a solo outing just to get out of the house. It can be too much hassle to bring all that's needed, which is where a ready-to-drink (RTD) cocktail comes in handy. 
An RTD cocktail is a single-serving, pre-packaged alcoholic beverage. According to Grandview Research, the global RTD cocktail market has hit $782.8 million, citing "demand for flavored drinks with low alcohol content due to the rising health concerns." And just like any other trend, celebrities have been joining in on the fun.
Already existing brands like Cîroc released
, a line of four seltzers with 7% ABV (with Diddy at the forefront of the campaign). For other celebs, this is their first foray into the space. Last year,
Thomas Ashbourne Craft Spirits
, a celebrity branded ready-to-drink cocktail brand, hit the market. The initial launch featured six celebrities: Sarah Jessica Parker, John Cena, Ashley Benson, Rosario Dawson, Vanessa Hudgens and Playboi Carti each launching their own take on classic cocktails that are premixed and ready to serve.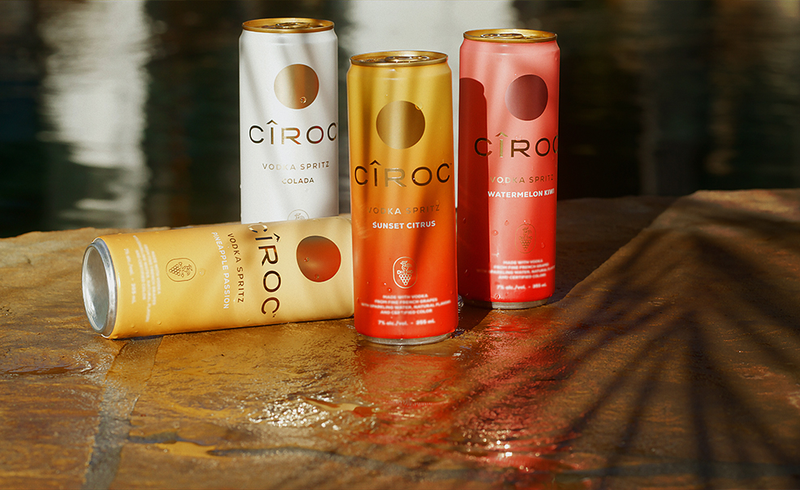 Mixing It Up with Mocktails
Drinking is falling out of fashion with some millennials and Gen Zers. According to a study done by the
National Public Health Information Coalition
, 57% of the group would prefer to go to the gym for an hour rather than drink, and 69% find heavy-drinking culture boring. There is a term for this cultural shift:
. The term, coined by author, Ruby Warrington, explains those who are redefining their relationship with alcohol, regardless of whether they have had an issue with it in the past.
As more millennials and elder Gen Zers are exploring life sans alcohol by choice, more brands have taken note. Overall, sales of no (and sometimes low) alcohol beer and spirits have been rising consistently. According to a
, sales of non-alcoholic drinks hit $395 million in the U.S., for a year-on-year growth of 20.6%. Sales of alcoholic drinks have also dropped. 
In recent years, an explosion of mocktails (some of which are owned by celebrities) have hit the market.
and
, created by Bella Hadid and Katy Perry, respectively, are drinks that are meant to evoke the same taste as a wine or cocktail, but without a hangover or the sluggish feeling that may come the next day. Both brands also have adaptogens, which are plants that are supposed to help calm stress, help with sleep and improve overall well-being. Just like wines and other spirits, Kin can be consumed on its own or as part of a mixed beverage. On the Kin website, consumers can find a variety of recipes featuring twists on classic cocktails including the "Kinacolada" and "Kin Julep." 
There's no way to really know what's coming next in the world of spirits. Could it be more RTD cocktails? Possibly an entire line of celebrity juices? Only time will tell.
Read more about:
Subscribe and receive the latest news from the industry.
Join 62,000+ members. Yes, it's completely free.
You May Also Like
Loading..