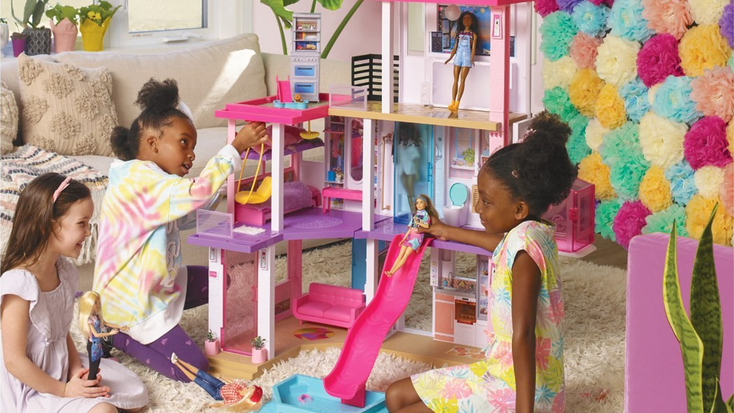 Children playing with a Barbie DreamHouse.
BeautiTone
Pantone's color for 2022 might be
, a periwinkle blue, but if you look around the fashion world, you're more likely to see a plethora of pink. And not just any pink – Barbie pink. Form may follow function, but fashion often follows film (and film stars). We've seen it for decades: Katherine Hepburn was one of the first actresses to routinely wear pants (thanks, Kate!). Prior to that women could be arrested for wearing pants in public (source:
,
). Audrey Hepburn (no relation to Kate) popularized the iconic little black cocktail dress in "Breakfast at Tiffany's" (1961). The eponymous "Annie Hall" (1977) menswear style worn by Diane Keaton took off and never really went away. 
While Barbie has appeared in almost 40 CGI/animated films, none of those would be considered fashion influencers. But that's about to change. License Global announced Mattel's plans for a
back in 2019 (aka pre-pandemic). Because of COVID-19, the film is only now in
production for release next summer.  
Recently, pics taken from the production leaked across the internet, with Ryan Gosling and Margot Robbie in Barbie's signature pink spurring the color into an upsurge. There's even a term for it: Barbiecore (source:
). According to the
, the trend has become so hot that, as of last week, TikTok has recorded 19 million views for #barbiecore. 
Proprietary Pink 
Barbie can't take full credit for the hot pink rage. The color is also Valentino creative director, Pierpaolo Piccioli's, signature color (source:
). Last season, the fashion brand featured monochrome pink runway looks and hot pink-clad celebrities (source:
). The collection features "Valentino Pink PP," a hue Pantone developed exclusively for the label. Although Barbie may not be the lone influencer, she has verifiable ownership of her own pink shade. The color often referred to as "Barbie pink" is officially Pantone 219C, and Mattel owns the trademark (source:
). Its 2011 Pink In Pantone Barbie is now a collector's item. 
Barbie fans know they can buy her plenty of pink clothes, a pink closet to put the clothes in, pink furniture for her pink-themed Dreamhouse and plenty of pink accessories including luggage. Barbie has had a variety of cars through the years in various colors, but perhaps the most memorable models were pink – in 1962, a pink Austin Healey convertible sports car and in 1991, a Porsche 911 Carrera Cabriolet hot pink convertible.  
Barbie has been around for more than 60 years, and her pop culture love runs deep indeed. Barbie is a bona fide global icon – since her debut in 1959, more than one billion Barbie dolls have sold around the world and (source:
). In 2021, Mattel's Barbie brand generated gross sales amounting to about $1.68 billion dollars, up from about $1.35 billion the year before (Source:
). That translates to lots of licensing opportunities for Barbie's signature color.  
Looking for pink items for your own dreamhouse? Barbie's hot pink color pops up all over. In July,
reported that BeautiTone, a Canadian-made and -owned retail paint brand, partnered with Mattel Canada to release a curated collection of Barbie-inspired colors. And among those was … a vibrant pink.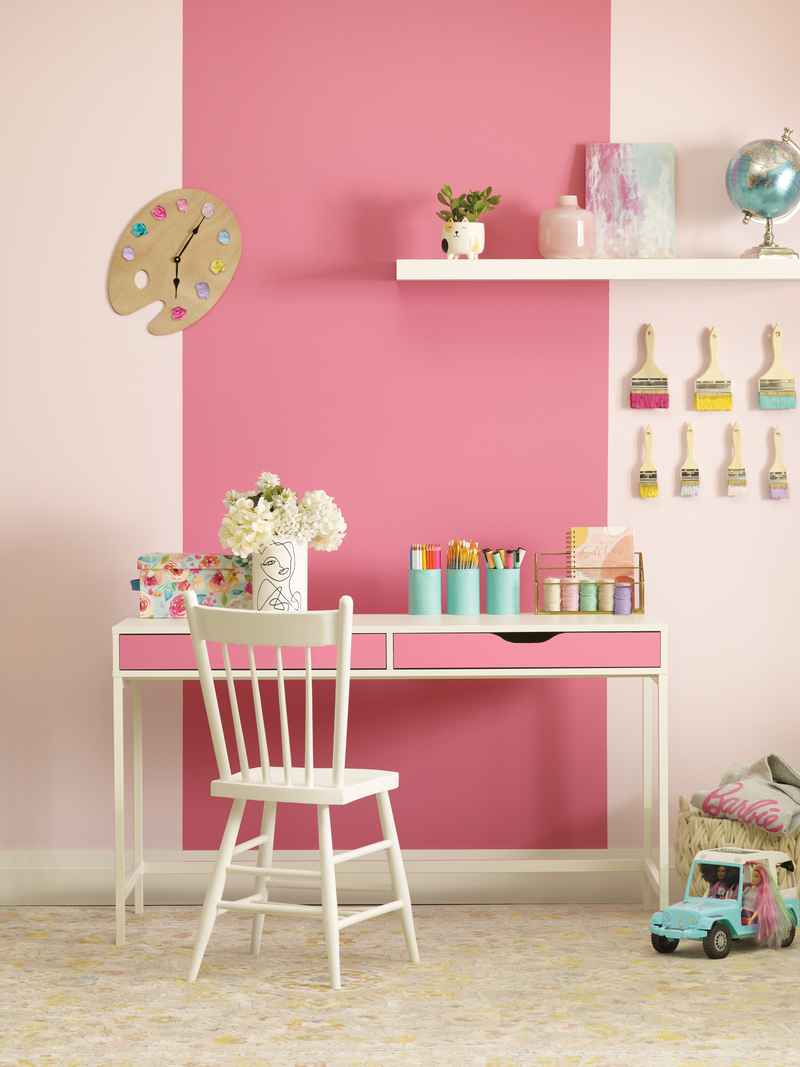 In June, CHI launched a
featuring three limited-edition hairstyling tools, available in a lighter shade called Barbie Dream Pink. 
Earlier this year, U.K.-based skincare brand, 7th Heaven, and Barbie launched
featuring three vegan face masks. To help users feel pretty in pink, the collection featured a Pink Neon Toning Peel-Off mask, Pink Rose Cleansing Clay mask and Pink Chocolate Purifying Clay mask.  
Haut Pink Couture 
Since Barbie has always sported amazing clothes herself, it's no surprise that many Barbie-based collabs are tied to fashion. Looking for a hot pink Barbie bag?
reported that MyBag partnered with Núnoo, a Danish bag and accessories brand, and the Barbie brand to launch an exclusive collection last March.  
In June, License Global reported on
Forever 21's latest Barbie collaboration
that included apparel items, swim, sleepwear, beauty and accessories as well as home décor, inspired by the Barbie Dreamhouse.  
One of the most successful Barbie pink fashion collaborations was with French label, Balmain, on a ready-to-wear and accessories collection (as covered by
earlier this year). Developed as a celebration of Barbie's and Balmain's combined impact on fashion and culture, the two brands are launching a new global ready-to-wear fashion and accessories collection.  
As we approach next summer's release of the live-action "Barbie" film, expect the Barbiecore trend to remain strong. And it's no coincidence that
is the Day One Keynote at
next month. Presented by Richard Dickson, president and chief operating officer, Mattel, the keynote presentation will focus on the life, cultural impact and future of fashion icon, Barbie. You can bet there'll be plenty of pink on hand. 
Subscribe and receive the latest news from the industry.
Join 62,000+ members. Yes, it's completely free.
You May Also Like
Loading..