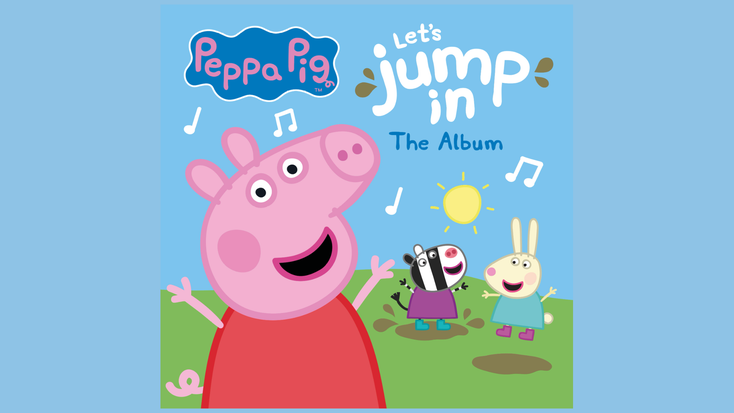 Cover for "Let's Jump In: The Album."
Hasbro
Peppa Pig's fourth studio album, "Let's Jump In: The Album," is now out across all digital streaming platforms, including Spotify, Apple Music and Amazon Music. The album, released by Hasbro and Magic Star, consists of seven new songs inspired by Peppa's tagline, "Let's Jump In!" 
The focus single, "Let's Jump In!," is an anthem that inspires children to feel confident trying new things, with Peppa by their side.  
Other tracks include "Bing Bong Garden," tied to Season 9's Playgroup Garden episode which encourages children to grow their own plants, flowers and vegetables from seeds; "Cruise Ship Holiday,"  which captures the tropical vibe of Peppa's family holiday, shown in this year's four-part Cruise Ship special and, for any parents who are potty training their little ones, "The Magic Word is Potty" will be an accompaniment to help children as they navigate away from diapers. Plus, kids and families can enjoy a sped-up dance remix of the "Peppa Pig" theme song for the first time. A marketing plan will support the album release, including activations across PR, social and digital. 
"Music
is such an important part of 'Peppa Pig' and acts as a powerful learning tool, so we're excited to deliver another upbeat album that teaches her fans about the world around them and instills confidence to dance like no one's watching," says Matt Proulx, vice president, global experiences, partnerships and music, Hasbro. "With catchy new songs such as 'Cruise Ship Holiday' alongside refreshed favorites like the sped-up dance remix of 'Peppa Pig's' theme song, fans and parents alike are sure to groove and sing along. Ahead of Peppa's big 20th anniversary in 2024, we are laser-focused on delivering fresh content across platforms and formats for all to enjoy, so stay tuned for more from everyone's favorite pig!"  
"Peppa Pig" music has over half a billion streams across three albums, and more music is coming soon with a deluxe version of the album with five additional original songs releasing on Nov. 3. 
Peppa's first album, aptly titled "My First Album," came out in 2019, with her second, "Peppa's Adventures," and her third, "Peppa's Club," coming out in 2021 and 2022, respectively. With four albums under her belt,
has transformed from a TV IP to a music superstar.  
What aided in Peppa's musical success? The IP had 15 years of existence under her belt in 2019 when her first album was released, but to get kids hooked, Hasbro looked to Peppa's musician persona to get parents to make album purchases. Hasbro's marketing for Peppa as a musician included trolling well-known adult musicians, like Kanye West and Adele, placing her in adult discourse. 
When Peppa's second album got a better review than West's 11th on the music review site, Pitchfork ("Peppa's Adventures" got a 6.5 while "Donda" got a 6), Peppa took to Twitter to poke fun at the rapper. She tweeted, "Peppa didn't need to host listening parties in the Mercedez-Benz stadium to get that .5," followed by a pig snout and a dropped microphone emoji, alongside pictures of the two reviews. 
When Adele was promoting her album "30," she took to Instagram live to chat with her fans. When a fan asked if Adele would ever collaborate with Peppa Pig, she said no.
(and Peppa) took this opportunity to confront her. In a call with Capital FM in the U.K., Peppa said, "Hello Adele. That made me really, really sad when you said you wouldn't collaborate with me. Why not? Don't you like me?" 
Adele immediately said she regretted it, saying she spent three years watching the show with her son. She said any time Peppa wanted to sing and jump in muddy puddles, she was game. 
With this new album freshly released, it's a matter of time before Peppa's album is used to spread brand awareness yet again.  
Read more about:
Subscribe and receive the latest news from the industry.
Join 62,000+ members. Yes, it's completely free.
You May Also Like
Loading..