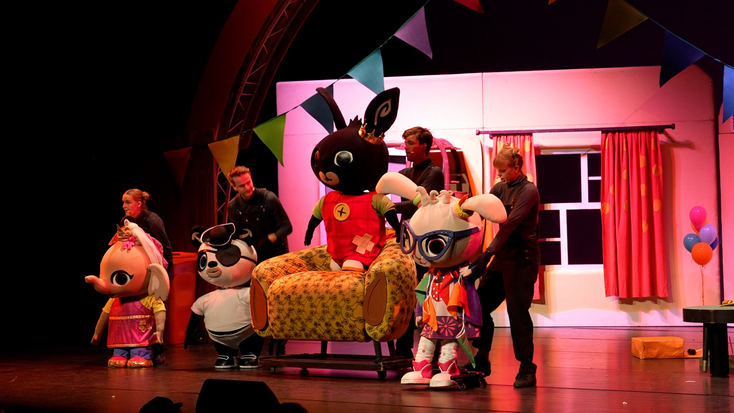 "Bing's Birthday" live show.
Acamar Films
Acamar Films, independent producer and distributor of "
," has signed an extension agreement with Dutch theater partner, Trend Media, until 2028. The Camden-based creative studio has also signed a new agreement with Polish children's theater specialist, Good Walk, to bring the sell-out "Bing" live show, "Bing's Birthday," featuring handmade puppets, to venues across Poland.  
"'Bing' delights children from the stage just as much as on the screen and these partnerships illustrate the strong performance of 'Bing' as a theatrical property," says Kirsty Southgate, director, experiential and promotions,
. "Trend Media has successfully developed a top-performing theatrical show in the Netherlands, and we are all thrilled for Good Walk to bring the 'Bing' live show to Poland for the very first time." 
The agreement with Trend Media makes the theatrical specialist responsible for the 'Bing' theater show in the Netherlands until 2028. The current 'Bing' theatrical production, "Bing
is jarig" ("Bing's Birthday") premiered in the Netherlands in October 2021. The musical production follows Bing and his friends as they celebrate Bing's birthday. 
"'Bing is jarig' is a phenomenon in the Netherlands," says Gert-Jan van den Ende, co-owner, Trend Media. "We've seen children in Bing clothing, carrying Bing toys, wide-eyed in the theater as they watch their favorite characters on stage. They are fully engaged in the production, screaming in delight when they first see Bing and watching rapt for the whole performance. The Bing theatre experience really is one for all ages and is a real event for the whole family. We are so excited to continue to bring Bing to Dutch theatre audiences and look forward to growing our partnership with Acamar Films."  
Trend Media is developing a new Bing theater show in partnership with Acamar Films set to launch from October 2024 with a third production being planned for October 2026.  
Good Walk will tour the Polish version of "Bing's Birthday" ("Bing na Żywo: Wielkie Urodziny") across Poland from this November until at least December 2025.  
"Polish audiences are going to love 'Bing na Żywo: Wielkie Urodziny,'" says Monika Klonowska, senior project manager, Good Walk. "Not only is there already a huge fanbase for Bing in the country with families excited for any new way to experience the property but this production will be the first of its kind in Poland, a children's live show based on a popular IP featuring puppets. The craftsmanship and creativity that has gone into 'Bing na Żywo' is something very special and we know that the show will be appreciated by Polish audiences whatever their age."  
Read more about:
Subscribe and receive the latest news from the industry.
Join 62,000+ members. Yes, it's completely free.
You May Also Like
Loading..