Animating Experience
Animating Experience
The leaders and innovators of European animation gathered for the annual Cartoon Forum where producers, broadcasters, and distributors met to look at the latest animation projects There were two mantras repeated at Cartoon

The leaders and innovators of European animation gathered for the annual Cartoon Forum where producers, broadcasters, and distributors met to look at the latest animation projects

There were two mantras repeated at Cartoon Forum, held in Girona, Catalunya, in September, when European animation producers showed 400 hours of content with a total budget of 216 million euros to broadcasters and distributors aiming to pick by co-producers, pre-sales, and distributor funding.
The first phrase was "360-degree approach" and the other was "24-hour engagement"—both about exploiting the multiplatform age at the same time as thinking about projects beyond potential broadcasting deals. So producers at the event were putting TV, Web, mobile, DVD, games, publishing, and licensed consumer products into their pitches. Indeed, according to organizer Cartoon—the European Association of Animation Film, which is supported by the European Union's Media initiative, 15 percent of this year's projects included new technology formats at conception.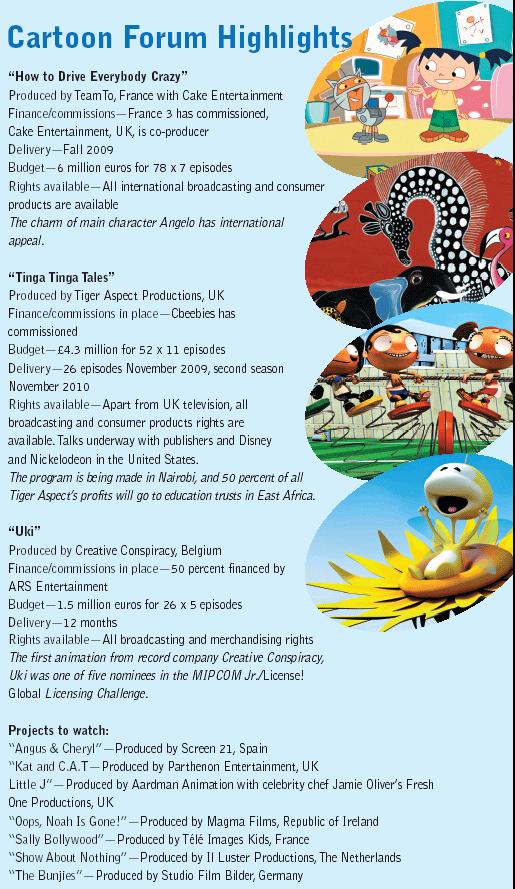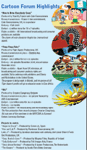 The funding landscape for animation projects differs across Europe. All may be able to get initial project funding from the European Union's Media initiative, but in some countries it is simply a commercial venture—for example, in the UK—while in others animators are also able to tap into regional and arts funds to support their concept work.
However, financial support to produce a trailer does not get any project made, and as Carlos Biern, head of co-productions and new technologies development at Spanish producer and distributor BRB, says: "There are now four streams of revenue that an animation needs to put in place—co-production; broadcast sales and pre-sales; Web and new technology platforms; and consumer product.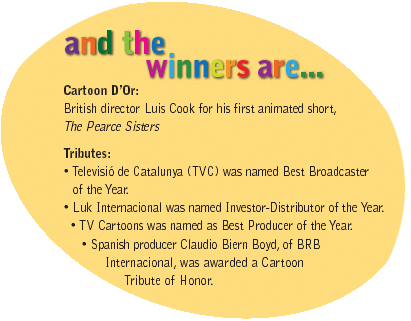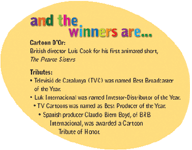 "But the business model is changing. The traditional model has 80 percent of the budget coming from sales of the visual rights to broadcasters and 20 percent coming from mid-term deals such as DVDs and licensed product. The new model is 40 percent from the visual rights, and 60 percent from online, mobile, and so on, plus consumer products."
Although many of the animations shown at Cartoon Forum would "not have any global appeal in merchandising," Biern says, "those that do currently don't leverage consumer products enough."
Joan Lofts, director of UK distributor and licensing and merchandising business Contender, agrees that producers can no longer fund the production of animation series "without licensing and merchandising deals."
Lofts says: "It is crucial these days because the broadcast landscape is so tough. Kids' animation producers need publishing and toy deals to get going—broadcasting sales are simply not enough."
From an international perspective, some of the animation projects shown are unlikely to find a market—although 20 of the 60 projects did come out of the event with some form of initial funding.
Christopher Skala, senior vice president, programming at HIT Entertainment, who was looking at preschool programs, says, "Aesthetically speaking, there is a gulf between the UK, the U.S. and Canada, and the rest of Europe. I'd say that 90 percent of the projects will not get interest from international broadcasters on aesthetics alone. And there is not enough thought put into the product possibilities—in the preschool market, the producers have to understand how children express themselves."
Corinne Kouper, producer at French TeamTo, adds, "We have to look at different platforms as we cannot necessarily depend on a second window from a broadcaster. We have to think of the extensions at the time the concept is developed as there is a much shorter time to maximize the potential of the show."
John Morris, president, distribution of Germany-based EM Entertainment, says that animation producers have much greater understanding of the wider market than in the past, and at this year's Forum much of the excitement was around the role of new platforms. "The time focus at Cartoon Forum is very different from that of consumer products producers, but European animators are much more levelheaded than they used to be and there is more realism about the financing of their projects through third-party equity. The producers also now understand that consumer confidence affects what you can do with a brand," he says.
Next year's event will be held in Ludwigsburg in Baden-Württemberg in southwest Germany.
Subscribe and receive the latest news from the industry Article
Join 62,000+ members. Yes, it's completely free.
You May Also Like
---